Happy Labor Day! Let's kick off September with a shout-out to all practitioners and staff who work endlessly to serve their community. We're featuring office designs with facilities to help doctors and staff unwind and have fun at work.
Tania Sobchuk, OD, opened a private practice in 2004, which allowed her to add new features not only for her patients but also for the doctors and staff. There is a "doctor's library" where the doctors can relax and chat when they aren't seeing patients and a zen room, which has a massage chair, spa music and an aromatherapy diffuser to help her team relax. See more.
Dr. Sobchuk added a feature in mid-August of 2020 after seeing her employees who were parents of school-aged children struggling with a virtual learning format. She launched a morning-long office classroom where four staff members can bring their elementary-grade children to work with them at 8 a.m. She hired a high school student as a supervisor, created guest wi-fi and access to the refrigerator. See more.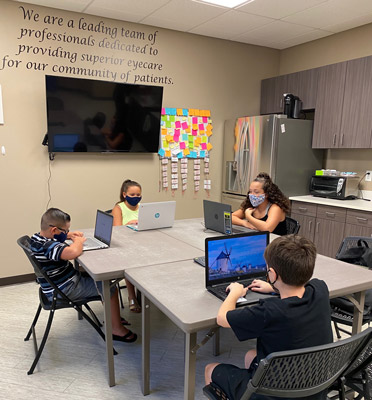 The concept was inspired by Lena Walker, OD, who hosted a "micro school" pod at a staff member's property halfway between her two practice locations, inside a 100-year-old farm. Dr. Walker brought in a teacher who would teach and stress the importance of masks to the kids. See more.
Shannon Avena, OD, works with a team of 13 people that includes three doctors and 10 staff members. She invigorates communication and teamwork by holding a meeting every Wednesday morning. Dr. Avena also meets directly with each department at least once a month to brush up on training, new education and check if there are any concerns. See more.