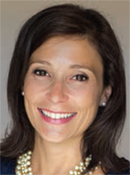 Leslie O'Dell, OD, recently joined Wheatlyn Eyecare to bring dry eye services to the region. The timing was good, not only from a service-delivery perspective, but also because the practice was undergoing a remodeling and new signage. As a result, the Dry Eye Center of Pennsylvania, housed within Wheatlyn, has a chance to open up with a little extra fanfare.
The partners at Wheatlyn embraced the idea of a dry eye center where patients could be diagnosed and interventions could start earlier, she says. One of the exam lanes in the practice is dedicated exclusively to dry eye services, with a microscope for demodex cases.
The patients who come for dry eye consultations are provided different questionnaires at check in. "We are now providing more dry eye products at retail," she says, noting that it's important to her to know that patients are purchasing the prescription and over-the-counter products that she is recommending. "It's overwhelming if they walk into a pharmacy. There are so many OTC choices, and there is the temptation to purchase a generic product instead of the prescription brand that I recommended," she says.
Patients can purchase these products at the dispensing bar, where they also pick up contact lenses or have their eyeglasses adjusted. Wheatlyn has a second location, but the dry eye services are centralized at the main office. "We have set up good protocols that the doctors follow to know when to send them over," she says. She has also been busy develop step-by-step protocols for in-office manual expression for meibomian gland dysfunction (MGD), following the LEO method: liquefy, express, observe. "LipiFlow is a great way to treat MGD, but if a patient is not going to elect to have that treatment, other options need to be offered. MGD is chronic and progressive in nature, so simply not treating it is not an option."
Read more: From Dr. O'Dell and others on dry eye.
Learn more: Dr. O'Dell was at the American Academy of Optometry recently to present some of her research. Here's an EyetubeOD video.