What special elements distinguish your office from the ones around it? Unique art can illustrate the care and attention to detail that you put into all that you do. Women In Optometry has had the opportunity to share so many of your one-of-a-kind creations, as well as ideas shared among colleagues and our WO readers. Here are few new concepts that recently caught our eye.
Have one to share? Email us.
Vibrant Eyes Pop in New Exam Room Design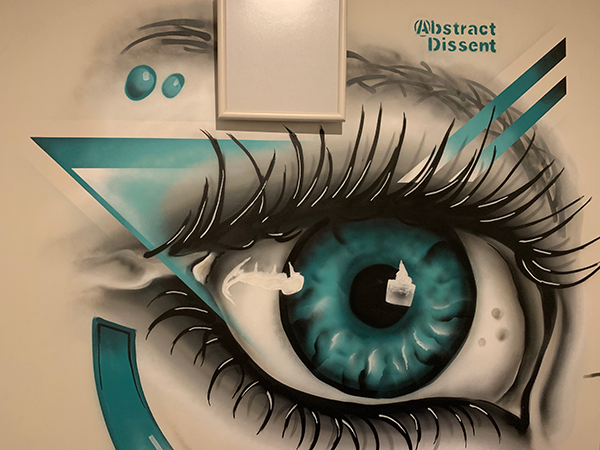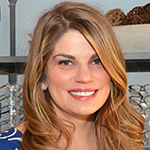 This summer, Melanie J. Denton Dombrowski, OD, MBA, FAAO, of Salisbury, North Carolina, worked on a post-COVID closure reinvention of her practice Salisbury Eyecare and Eyewear. Her plans included a refresh of the office space and of her mission with a stronger focus on dry eye care. She added a special treatment room for dry eye services, and she repainted her exam rooms with a plan to add an accent wall. She originally considered eye-patterned wallpaper, but the artwork by Shane Pierce of Abstract Dissent came to mind. She first saw his work in the graffiti park in town, and since then, he's become popular in the area, painting murals around the community at other local businesses and schools. Painting eyes has become one of his trademark, specialty designs. "His eye art is absolutely stunning," Dr. Denton Dombrowski says.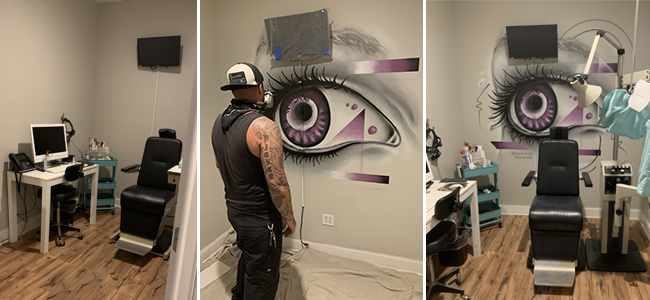 Pierce responded to her inquiry on Instagram that it would be a perfect match, as he is passionate about painting for small businesses. The transformation took just about four hours. (Check out this quick video that Pierce shared of the process.) "His work is incredible and totally freehand, and it was honestly amazing to watch," she says. The new exam room additions have been well-received by her patients. "They're so lifelike and almost pop off of the wall in person."
Fun with a Pun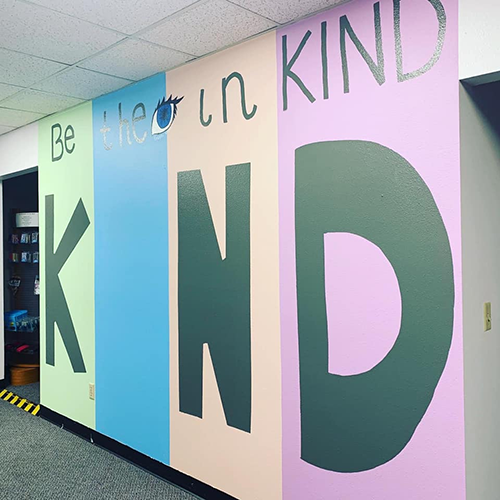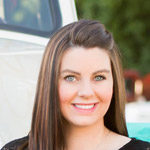 Amber Gatti Dunn, OD, of King City, Oregon, made a number of renovations at her practice Gatti Vision earlier this year. The redesigned hallway on the way to the exam room is sure to catch the attention of her patients with floor-to-ceiling color blocks of green, blue, peach and purple.
She says that the mural took about 15 hours to complete, and it reads: Be the "eye" in kind. Dr. Gatti Dunn painted the background and lettering, and her 16-year-old sister painted the eye. The open space for the letter I is the perfect spot for a photo op.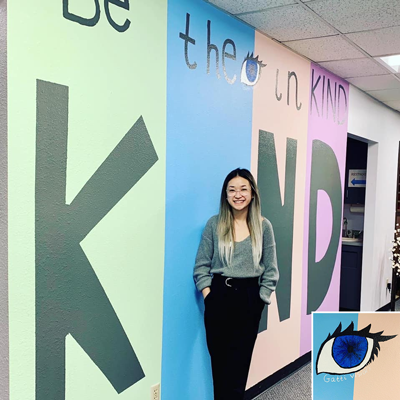 Dr. Seuss (and Your Colleagues) Offer Words of Wisdom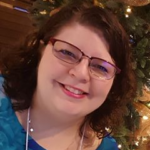 Dawn Dunford, OD, FCOVD, of Stonewall, Manitoba, encourages her colleagues to stop in and visit other optometry offices—a great way to learn from each other and bring something new back to your own office. Three summers ago, she took a road trip with her family from Manitoba to Oregon, to northern California, through Yellowstone and then onto Mount Rushmore. "It was epic, and along the way, I purposely visited two offices that specialized in vision therapy," Dr. Dunford explains. During her visits at the offices of Joanna Carter, OD, in Medford, Oregon, and Gabby Marshall, OD, FCOVD, in Bend, Oregon, she picked up some great ideas for her own vision therapy services such as hanging Marsden Balls from the ceilings using carabiners and hanging flippers on the back of the door in a shoe storage unit.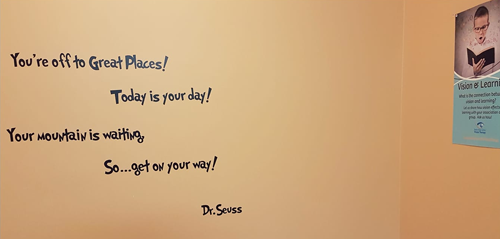 Another concept gleaned from her colleagues that she implemented at her practice Doctors Vision Centres Vision Therapy was the addition of a special wall for her vision therapy graduates, and she now utilizes it for new ODs who complete their new residency program. It displays a popular Dr. Seuss quote: You're off to Great Places! Today is your day! Your mountain is waiting, so…get on your way! "We can learn so much from one another. Why reinvent the wheel?"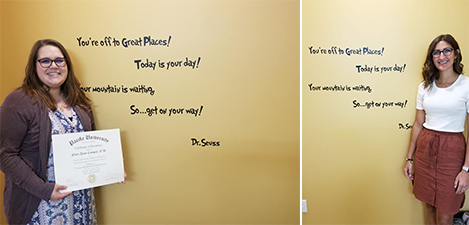 WO Note: This popular quote—as well as other fun artwork—is also featured in the vision therapy office of Megan Sis, OD, MS, FAAO, in Coon Rapids, Minnesota.
Inviting Art for the Whole Family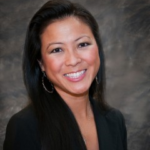 Angela Tsai, OD, FVAO, of Fredericksburg, Virginia, opened her new office just days before the calendar turned to 2020, and she added many fun and artistic details that make the space warm and inviting for patients of all ages. There are whimsical paintings of animals wearing eyeglasses and an alligator activity center for her youngest patients mounted on the wall. She's also incorporated that popular Dr. Seuss saying in a bright and colorful arrangement.