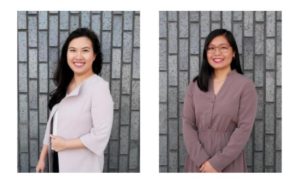 Jennifer Law, OD, and Kim Vu, OD, both attended the University of Houston College of Optometry, but they didn't meet each other until a mission trip during their second year. "Everything fell into place – we were compatible and had similar interests and visions for the future," Dr. Vu says. After graduating in 2016, each doctor built her career as an associate OD until fate brought them together again.
"In the past, we would talk about the idea of eventually owning a private practice. When Dr. Vu messaged me asking if I was serious, it was enough to get us going. She was ready, and I felt ready," Dr. Law says.
BUILDING ON MEMORIES
Houston Heights, Texas, was the duo's meeting place after a long day of work. "When we were looking for locations for an eventual practice, we didn't think too much about the Heights because it wasn't bringing in any new businesses – it was a historical neighborhood," Dr. Vu says. Yet, when the city came to an agreement with its neighbors and opened opportunities for growth, it was perfect for the duo who already formed many memories there.
They found a suite next to a large supermarket and small shops, which made it attractive to passersby. "It helped that this was the only supermarket within a three-mile radius," Dr. Vu says. Before the foundation was even built, the duo signed the lease in 2018.
BUMPY RIDE
Despite the smoothness in obtaining a location, Dr. Law and Dr. Vu ran into unexpected challenges along the road. "Obtaining the loan was the greatest challenge. The bank was stringent in reviewing our loan requests," Dr. Law says. The two doctors requested a loan for 30 percent of their costs, which the bank optimistically agreed to at first. "Our request wasn't out of the ballpark and it wasn't big compared to our colleagues. Yet, the bank kept declining and wanting to involve our spouses in," Dr. Vu says.
Although Dr. Law and Dr. Vu were both the income-producers of their households, the bank still requested they put down their spouses' names to receive their loan. "I don't know if gender was a factor because we were two female ODs going into practice together, but from what our male colleagues shared, they were able to receive loans with a greater amount," Dr. Law says.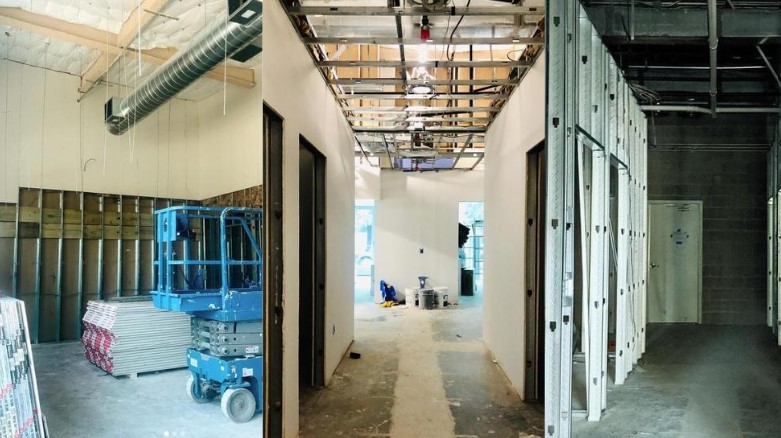 Thankfully, the construction delay due to the COVID-19 pandemic bought them extra time to seek out another bank. "We still ended up taking less than what we had in mind, but we obtained our loan in June 2020," Dr. Vu says.
TAKING MATTERS INTO OWN HANDS
In order to save costs, the duo took the reins for finding and purchasing the majority of the fixtures and hardware. "Most of the shelving in our optical area is handmade by us. We took a lot of trips to Home Depot," Dr. Law says laughing. In total, the two doctors saved approximately $14,000, Dr. Vu says.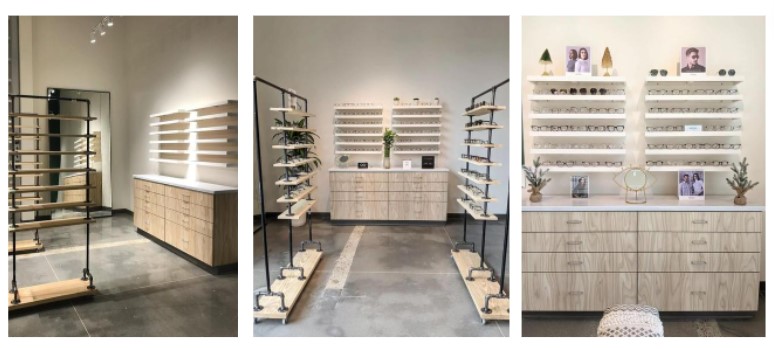 Coordinating with the historical and artsy feel of Houston Heights, the practice is decorated around a matte, deep green color palette. "It's a color you often don't see in an optical area. Although it wasn't intentional, a lot of our male patients comment that they enjoy how the whole practice has a unisex design and that it doesn't make them feel left out," Dr. Vu says.
The practice is a 2,000-square-foot space with two exam lanes (one fully equipped).
PRACTICE PEARLS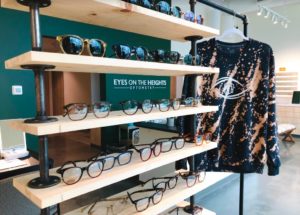 "We experienced several difficulties and pushbacks along the way, which made us sit down and re-evaluate our process," Dr. Law says. Thankfully, they made great connections with their contractor and architect, who both occasionally call and check in. "We had our grand opening pushed back due to the pandemic and loan delays, but our realtor, architect and contractor were all considerate and understanding. It's really important working with people who you know are on your side," Dr. Vu says.