At the 10-year anniversary celebration of Bella Eye Care in August 2021, Judy Nguyen, OD, recalls guests telling her that they would love it if she opened a second location. While Dr. Nguyen agreed that she could use more space, she didn't think it would work logistically; she lives 20 miles away from the office and wasn't looking to add more commuting to her plate.
She was, however, open to the option of expansion. When the opportunity arose to add more space to better serve her patients in her existing location just weeks later, Dr. Nguyen decided to move forward. One of her neighboring businesses, a nail salon, was considering downsizing and giving up some of the space. But after a month of negotiating, the deal fell through.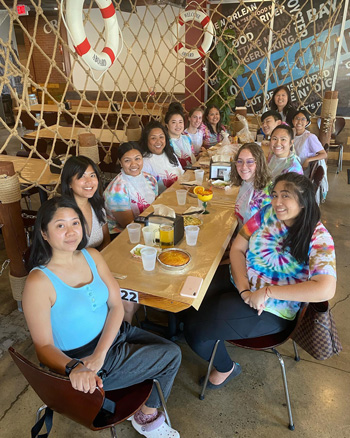 Dr. Nguyen was back to the drawing board when her neighbor on the other side, a dry cleaner with three locations and a warehouse, decided to close this space. In October 2021, the landlord asked if she wanted the extra room, and Dr. Nguyen accepted. "I had been bugging them for years," she said, laughing.
The dry cleaner's space was the same size as hers—1,000 square feet—so she could double her office size with the expansion. The expansion allowed her to add two exam lanes for a total of four, which is essential for her team that includes five doctors (and one optician who is a third-year student at Berkeley College of Optometry and will join as a full-time doctor once she graduates).
There's also a bigger pretesting area and more space for contact lens training and trial storage. "We've been bursting at the seams," Dr. Nguyen says. She's also looking forward to having more space for her dry eye spa and specialty services; Dr. Nguyen focuses on myopia control, and one of her associates is training with the College of Vision Development to offer binocular vision and vision therapy (VT) care.
BUSINESS AS USUAL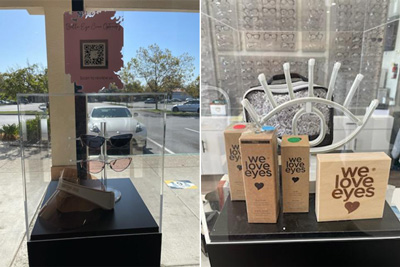 During the renovations, which lasted from December 2021 until July 2022, Dr. Nguyen was open for business with a sign out front that apologized for the commotion. "It's a lot of noise, but most patients are understanding and excited for us," she says.
First, the work started on the new space, framing the walls and working on the HVAC system to prepare it to connect the units. Then, once the floors and cabinetry were installed, the office closed for three days to move everything from the old space to the new space to refresh that space.
A CHANGE IN DIRECTION
Dr. Nguyen says that her vision for the final space evolved throughout the renovations; she had originally planned to use one design company and envisioned a feature wall painted in peacock—and her contractor had it painted that way—with an ocean theme. Then she found OMG! Consulting for digital marketing and education for the tablets she would have in the office, and she discovered that the company also offered design services. "The consultants asked me about the vibe of the office, and I didn't know—no one had ever asked me that  before."
It was a chance to really think about the final product, and Dr. Nguyen ultimately decided she wanted a luxurious feel that was still approachable for the family and children. "I wanted it to be a little more modern and tech-friendly where patients could feel like they could come and hang out." One popular technical addition this year has been adding Optify software, which allows patients to narrow down their frame selection before they come into the office. It's helped streamline the process once patients are in the office. She's also focusing on education in the new space with three 65" TVs mounted on the back wall (originally planned for peacock, but now white) with loops of information about myopia control, eye health, the history of frame lines and more.
Blonde-toned floors are now gray wood, brightening the space, and the walls are bright cream with a splash of midnight oil at the framework for the doors. She says that she's glad she hired a professional painting team to make the space so cohesive. It was an extra expense that she hadn't originally planned on, but it was worth it. "It's gorgeous and looks like one space—and you can't tell what color it used to be." Finally, the two spaces were connected when the middle wall was knocked down.
The OMG! consultants helped her pull it all together with their shelving and display options as well as a custom centerpiece table for displaying some of her high-end eyewear in the center of the optical area. There are also shadow boxes hanging in the windows that can be periodically refreshed with new displays.
The practice has two doors to enter, and the front desk seats two. There's so much more space for patients to spread out and browse the optical, which has doubled in size as well.
THE FUTURE IS SPACIOUS AND BRIGHT
Dr. Nguyen is considering her next technology purchase to expand the care she provides for dry eye, and she says that she's excited for the potential of a larger VT room. "We can start to have three doctor days; in the past, there were days when my patients wanted to see me, but I gave up the day so my associate could work when her kids are in school."
Putting the team first is just part of the culture at Bella Eye Care Optometry and it has been for years. To thank her staff and doctors, especially during the noisy renovations, Dr. Nguyen has been known to surprise her team with special trips and time off, known as Bella Bonding Days. This year, they attended an escape room together and all went out for lunch, and the entire team was treated to a spa day. As the renovations neared an end, Dr. Nguyen hosted a perfume-making party in her backyard where everyone got a chance to take home two scents of their choice. "I had to show them my appreciation."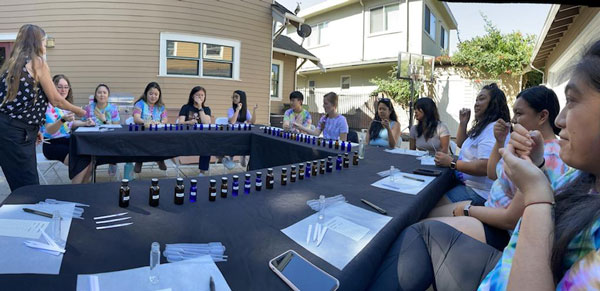 She's also thanking her patients and celebrating her myopia clinic kids through the month of August with a tie-dye celebration. Dr. Nguyen purchased 200 white shirts with her practice logo on it and is setting up a tie-dye station on the sidewalk outside of the office. She first had these tie-dye shirts done for her staff, and the interest grew among patients. She was sure to add some adult sizes, in addition to kids, for other patients who want to take a turn at tie-dye.