A KID-FRIENDLY SPACE NEEDS LIGHT TOUCH
When Megan Sis, OD, MS, FAAO, opened the doors to Pediatric Vision Development Center in Coon Rapids, Minnesota, in May 2019, it was a place to call her own where she could focus on pediatric vision therapy care. Warm and welcoming, the space has lots of natural light that streams through giant windows in her therapy area. A palette of orange, green and blue is incorporated in her logo and strategically though out the office space. There's pop art of brightly colored animals wearing eyeglasses, and a cozy nook for children to wait for their appointment. See more.
VISUAL INTEREST AT ALL LEVELS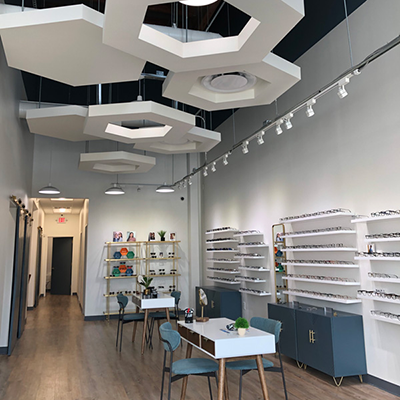 Natalie Vu, OD, worked with a contractor and architect to transform her space from a blank shell without any walls into the home of Look Eye Care in Houston, Texas.
She chose wood tones, grays and whites with brass accents, and the optical is the focal point of the space. She's incorporated some interesting ceiling designs and open shelving for a minimalist style that's modern and sleek. One of her favorite features is the floating hexagon clouds created by her contractor. She and her husband Joe Nguyen, OD, selected the location after narrowing the Houston market down to six neighborhoods where they wanted to be. See more.
DRAWING UP HER OWN PLAN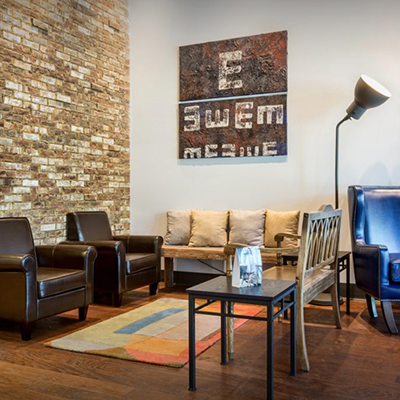 Even before she ever saw the place that would eventually become Jackson Eye in Fairburn, Georgia, Danielle Jackson, OD, had already committed some of it to paper. While she was working in a corporate location, she began dreaming and doodling. When she finally found her space, she was ready. She built the frame boards she had designed and finally ordered the items she had been identifying over the previous year. "I knew what my vision was," she says. See more.
RURAL FLAIR IN THE SUBURBS
There's an agricultural, farmhouse theme to Sight Eye Care in Richmond, Texas. Mina Hoang, OD, tapped into the green surroundings of her location with splashes of green and teal throughout her clean, minimalist-look new office. It features a tall, open ceiling to make the space feel larger than it is. Dr. Hoang loves a modern style, but she wanted to make sure that she also created a comfortable space. "When patients come in, I want them to feel like they are visiting someone's home," Dr. Hoang says. See more.