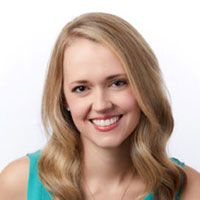 When you arrive at Wentz + Woodrich Eyecare in Lubbock, Texas, you can't miss the floor-to-ceiling moss green wall decked with illuminated script reading: See the Bright Side. It's the most positive of outlooks after all that Karly Woodrich, OD, and Garrett Wentz, OD, have been through since they opened in March 2020, only to be shut down five days later for emergent care only. "There are things that happen—and there's been a lot since we opened—but it's important to try to see the bright side," Dr. Woodrich says. "It won't always be this way. We try to live personally by that motto and at our practice, as well."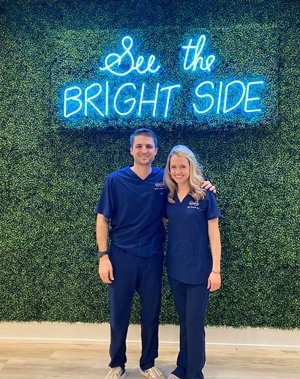 SEEING THE OPPORTUNITY IN OWNERSHIP

Dr. Woodrich admits that she wasn't one to commit to ownership immediately after her 2015 graduation from the University of Houston College of Optometry. "It wasn't on my radar; I was just happy to be an optometrist." She spent her first few years working for a local private practice gaining experience; she had worked in the same location as an intern during school. But then, she says, she started to think about the possibilities of utilizing the profession to its fullest potential. Dr. Wentz, who was a colleague at the time, had an entrepreneurial background, as did Dr. Woodrich's husband. "It led to ideas that I thought were dreams at first," Dr. Woodrich recalls. "My dad told me, 'If you don't act on a dream, it will never become a reality.' That stuck with me, and I felt I had to do it, and the time was right."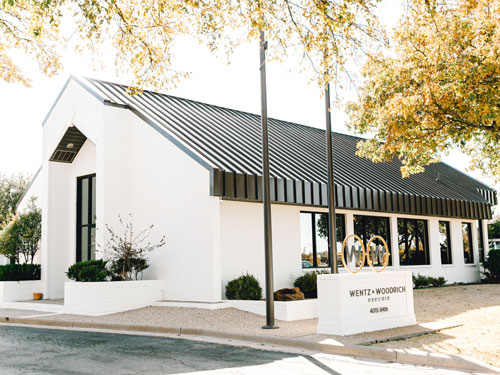 Dr. Woodrich and Dr. Wentz wanted to stay in West Texas, so they started weighing the options of purchasing vs. a cold start, going with the latter so that they could establish their vision just as they imagined it. They found a central location in town in an existing building that was once used for cotton trade. It took about eight months from finding the space until opening.
Their total space is 3,270 square feet, and they've set up about ¾ of it so far. Taking pointers from the offices where they worked before, they designed a space with a circular office flow, starting with when patients enter the practice through the optical. "We wanted to be an efficient but thorough place for an eye exam, and that aligned really well." Dr. Woodrich says that she enjoyed the process, which began with sketches on paper and modifications along the way to their finished layout.
The design of the space is airy, bright, clean and cheery. "We wanted people to come in and feel it's a happy place to be," she says. Most of the walls are windows, creating an openness in the space. The rest of the walls are white with an accent wall in navy blue to warm up the space. The flooring is a light wood tone and other wood décor elements and accents are throughout the optical.
WHEN THERE ARE WINDOWS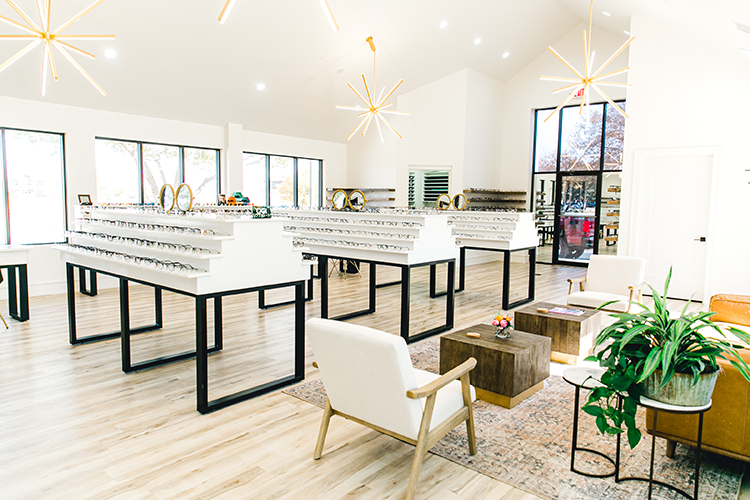 While they love their large windows in the optical, it did pose the need to get creative with frame displays. There are a few wooden shelves used but Dr. Woodrich gives kudos to Dr. Wentz for designing their three main optical displays: tiered, pyramid-shaped tables propped up on rectangular metal beam supports. Each is completed with a piece of white granite on top—which really allows the frame styles to pop, Dr. Woodrich says—and a mirror for patients and customers. These optical displays are also set up with lights if they want some extra illumination.
TECHNOLOGY AND SPECIALTIES SERVE PATIENT BASE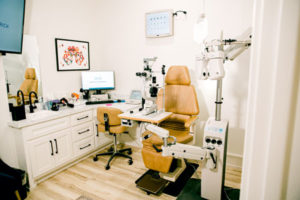 Both Dr. Woodrich and Dr. Wentz had not practiced with an autorefractor before, so that was an exciting addition for the business. They also do have a non-automated room, and they tend to put their more challenging cases in that exam lane. They invested in a Topcon Maestro for imaging, which combines both retinal imagery and OCT capabilities. Into their first year, they also added a visual field with topography for Dr. Wentz's focus on specialty lens fittings.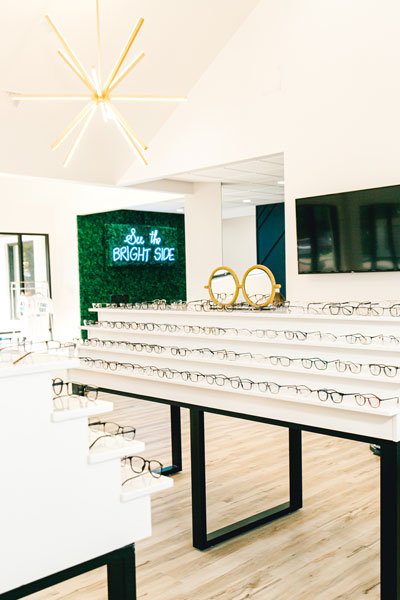 Dr. Woodrich has been exploring the area of myopia management, a recent interest that she hopes will become a passion working with her pediatric patient base. She's very curious about the potential, as she wore eyeglasses as young as six years old and she has two young children that she anticipates will also by myopic.
Dr. Woodrich and Dr. Wentz contemplate the best use for their remaining office space: perhaps a lab for finishing lenses, providing more convenience for patients who want eyewear right away, or more exam lanes to one day accommodate an associate OD. Until then, they will continue showing those around them the bright side, from helping patients see more clearly in the office or through their community outreach, working with their staff to help reach those who don't have easy access to eye care.