Redesigning, relocating and expanding your practice can be a daunting task; but when it's done right, it can be huge for your business. We're featuring five practices that relocated close to their original location in order to better serve their patients.
Postponing Relocation for a Decade Proves to be Smart Move
Jewell Ginter, OD, is no stranger to remodels, renovations and relocations for Ginter Eyecare Center in Lubbock, Texas. "Our old office was well-used," she says of her second office location. That space went through four remodels and expansions in the years since she moved there with her five employees in 1997 from her original location in a mall, which opened in 1982. Read more here.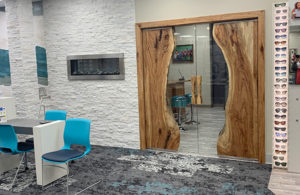 Tripled Office Space Size in 12 Years
Starting cold usually means starting with a small physical space. That was the case for Michelle Presson, OD, and her husband Shane Presson, OD, when they opened Karns Vision Center in Knoxville, Tennessee, in 2008. They had moved back to the area to be closer to family, and they saw a need for an optometrist. "When the kids were in school, we drove up and down the highway looking for a location," she recalls.
What they didn't expect was to outgrow that original 1,250 square feet so quickly, but by their five-year anniversary in 2013, they were ready for their next step. With their landlord unwilling to go month-to-month and no room for expansion, they searched for a new space. Read more here.
A Short-Distance Move Allows for More Long-Range Planning
On June 7, Denise Hill, OD, celebrated two milestones in one celebration: the 10-year anniversary of her practice Hill Vision Center and its brand-new location, just 150 yards away from where she opened its doors back in 2008. Read more here.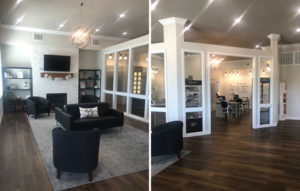 Hitting Pause On Relocation Proves to be a Smart Decision
The week that the COVID-19 closures hit Michigan in March 2020, Kelly Carrier, OD, was preparing to take out a loan to relocate her office Dexter Family Eye Center. "I decided to wait; I imagined there would be better loan opportunities once this was over." It was a smart move, as Dr. Carrier was able to secure a Small Business Administration loan a few months later in July. Read more here.
Half-Mile Office Relocation Makes a World of a Difference
The week of July 11, 2022, Marianne McDaniel, OD, closed to relocate Mascoutah Eye Care from its original location to its new home just half a mile away. It was a move many years in the making: Dr. McDaniel says that she had been outgrowing the space in downtown Mascoutah, Illinois, for some time and wanted to add an associate but simply didn't have the room. In 2021, she expanded her services to provide neurovisual medicine and the time had come to expand. Read more here.
Do you have a practice design story? We'd love to feature you. Email us at mbijlefeld@jobson.com.