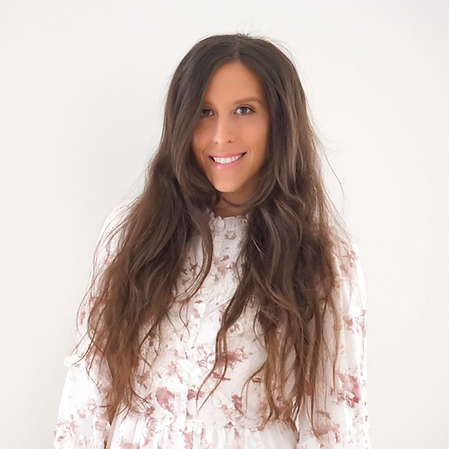 Denise Balacich, OD, just celebrated the one-year anniversary of her practice, Navesink Eye. After having her third baby in November 2021, she and her husband discussed what her next big life goals were. Opening a practice was one of them.
Dr. Balacich's realtor-mom helped find a vacant space "through the first door on the first floor" of a medical building in Red Bank, New Jersey. After spending nine years at an "overly sterile" opthalmic practice, Dr. Balacich wanted to transform the space from a "huge" surgery center into something "pretty and tranquil."
CREATING CHARACTER
Dr. Balacich and her contractor-husband Rodrigo transformed the space by removing the wall separating the front portion. The 1,750-square-foot practice now holds an exam room and a pretesting room, with four more rooms ready to be transformed when needed.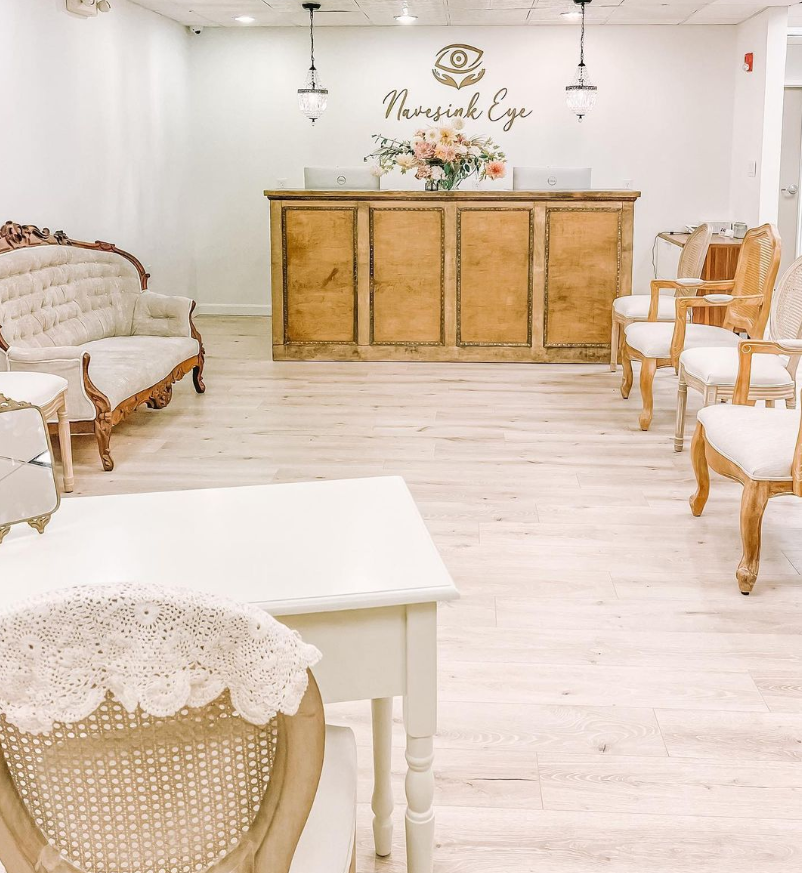 Rodrigo built the front desk, optical shelves and the corner display case, installed the vinyl flooring and hung farmhouse doors in every doorway. "Anything I show him, he can make," she says. "He brings my ideas to life."
Rodrigo also built the miniature shelves that sit inside of Hobby Lobby frames repurposed as eyeglass displays. Dr. Balacich says Hobby Lobby and Facebook Marketplace are two places to find affordable pieces that either are vintage or at least look the part.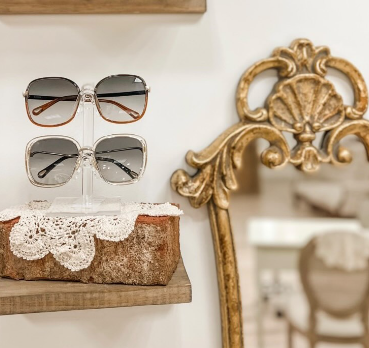 Many of the mirrors on the back wall are from Hobby Lobby as well, but others are vintage—and secondhand—from Facebook Marketplace. That's also where Dr. Balacich found the two desks that now sit in her office and the contact lens area. When searching for something timeless, she doesn't mind splurging on the real deal, she says. "Wooden pieces [of furniture] just aren't made the same nowadays, so when I find a beautiful piece secondhand, it's a score."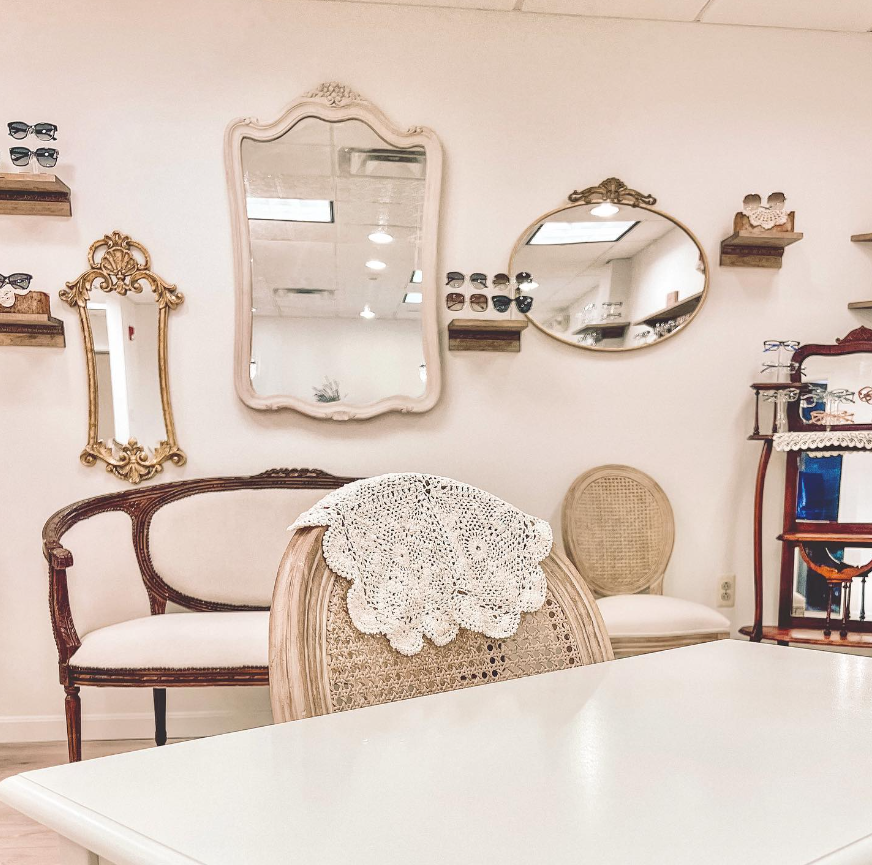 The optical area features two antique couches that Dr. Balacich's mother-in-law reupholstered, and the other chairs were affordable pieces from Walmart that Dr. Balacich sprayed with Scotch Guard. The space already had recessed lighting, but Dr. Balacich added track lighting on the optical shelves to make up for the lack of windows. The chandeliers hanging above the front desk and optical are from Wayfair, and thrifted doilies on chairs and draped on flat surfaces add an antique feel.
KEEPING IT IN THE COMMUNITY
Navesink Eye is just a 10-minute drive from where Dr. Balacich went to high school. She says she's built lasting relationships with many of her patients; one patient even sent her a bouquet of locally grown flowers when she opened the practice. Dr. Balacich loved the flowers so much that patients can now almost always find a fresh custom bouquet from Grace Farm Flowers on the front desk.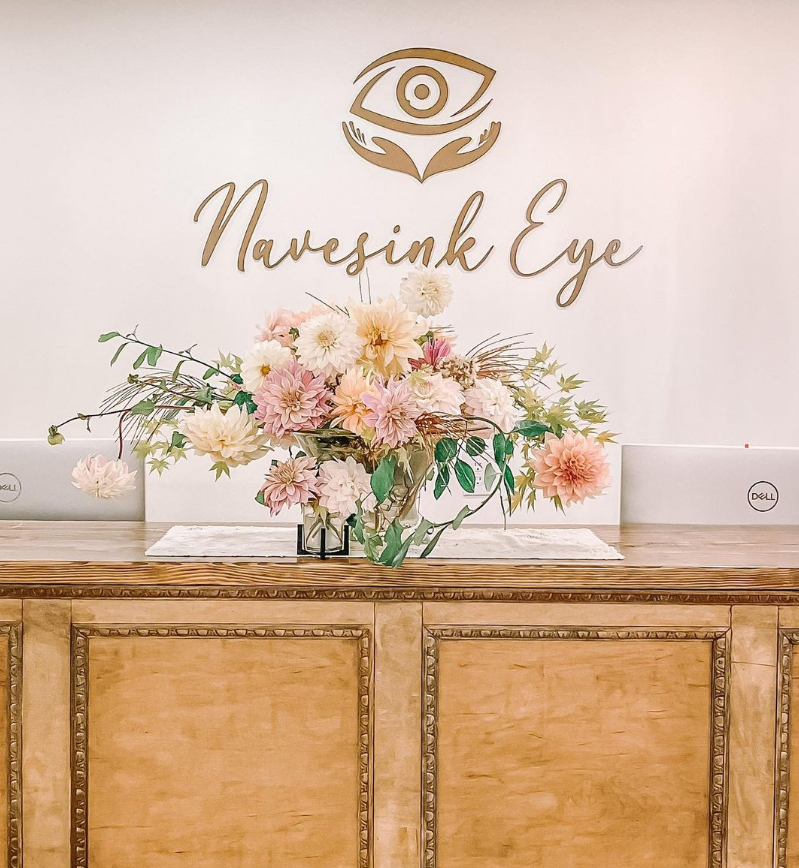 Local art is also present throughout the practice; Dr. Balacich framed some old optical photos and found drawings at local art fairs. Others were gifts from patients.
It's exactly what she envisioned. "I did this all for my kids. I wanted a mom-and-pop shop feel, and the community has been so supportive," she says. "I love it."
Dr. Balacich lives in Middletown, New Jersey, with her husband Rodrigo and three children. She enjoys traveling, DIYing and baking bread. Check out her and the practice online:
Website: https://www.navesinkeye.com/
Facebook: https://www.facebook.com/navesinkeye
Practice Instagram: @navesinkeye
Dr. Balacich's Instagram: @dr.denisebalacich
Dr. Balacich also runs a separate Instagram account, @redress.the.address, where she and her husband post updates on their life, home and DIY projects.
To check out more design inspiration stories from WO, click here.