In the summer of 2021, OluFunso Ibrahim, OD, returned from maternity leave with her second child to her work as a contractor with a sublease doctor. She said she was dropping off her lab coat at the dry cleaners when she found the future home of her own practice by chance. "I was pulling out of the parking lot and saw a new building adjacent to the plaza, and I thought 'maybe I could open a practice here.' I feel like it was God ordained because it wasn't a goal for the year."
She wondered, "Am I prepared? Do I have the capital?" and those questions led to a few phone calls. One call was to a friend in Florida, who connected her with the lawyer she used when opening her own practice. That lawyer referred her to someone local in Maryland, and her lawyer then gave her a contact for a realtor.
With the ball rolling, Dr. Ibrahim considered a few other spaces, but she found herself drawn back to that original space and signed the lease in September 2021. It took several months to finalize the permits, and then construction was underway in the empty shell by July 2022. "It was a nice blank canvas so I could do what I wanted," she says. She was the first tenant in the new construction space.
MOVING FORWARD ON OPENING THE PRACTICE
The pieces were finally coming together on a goal that Dr. Ibrahim had for her future career without a specific timeline set in stone. She had gained experience in a retail setting as she focused on paying back student loans after her 2017 graduation from Salus University Pennsylvania College of Optometry. That job built up her confidence as an eye care provider, she says.
"I got really good feedback from my patients, and they would request me and want to come in on days that I was working. It affirmed that I could have my own practice." She then became an independent contractor with the sublease doctor, learning about staff management and leadership. And now as a mom of two, she felt it was finally time to push forward and establish her own office.
Through her research, Dr. Ibrahim came across an article on Review of Optometric Business that offered great advice about opening a practice from the owner of Texas State Optical. She's also thankful to a colleague she met at a National Optometric Association convention who provided great insights.
She reached out and absorbed even more advice, as well as a recommendation to contact Eye Designs as she finalized her layout. She's also thankful to the team there as well as the guidance of her contractor, who helped her finalize the design with important details to help her pass her permits—like the required number of water fountains, for example.
She chose a modern and timeless style for the space, which is nearly 2,400 square feet. Dr. Ibrahim says that it was important to have a look that would still be appealing a decade from now. There are some dark accents and lots of straight lines and precision. There are two equipped exam lanes, as well as a dry eye spa room.
She picked up a passion for dry eye during her externship rotations, and she enjoys lectures and CE focused on anterior segment. "I love it, and it's a great way to specialize and set yourself apart." For that reason, one of her must-have technology investments in the office was the Topcon CA-800 Corneal Analyzer, which will allow her to measure tear breakup time and monitor tear meniscus to measure improvement from treatments.
MAKING A MARK THROUGH NETWORKING AND PATIENT IMPRESSIONS
In the fall of 2022, Dr. Ibrahim left her work as an employed OD to focus solely on getting her practice open and networking in the community. She started building her network with other local health care providers. Her children's pediatrician refers patients who fail vision screenings, and she's been visiting nearby primary care providers to let them know she's ready to help with their patients.
During her search for an office space, she met an urgent care doctor who was looking for an eye care provider where she could send patients, noting that she sees at least one eye-related emergency each day at her clinic. Dr. Ibrahim also provides vision screenings at her church and enjoys educating those in her community about the services she can offer and the importance of eye health care.
THE OPENING
She opened her doors in November 2022 to Eye Site in Lanham, Maryland. She looks forward to providing a wonderful patient experience that will encourage individuals to refer their friends, neighbors and families. After all, Dr. Ibrahim's own experiences during annual exams left a positive impression on her as she grew up. "I admired a woman who came to work and didn't necessarily separate her personal life, but instead she could balance it with her career," she recalls. "It was unique, and that visual representation attracted me to optometry." As a college student, she shadowed an optometrist and spent time working closely with an optometric technician, which further solidified the decision.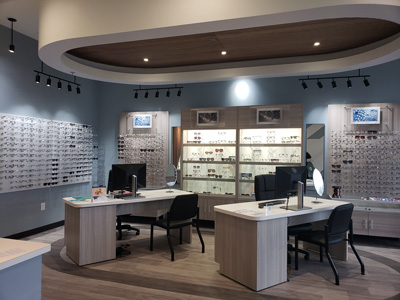 Dr. Ibrahim encourages her colleagues to take a leap if owning a practice is truly their dream. "I didn't have all the pieces together at first and didn't know all that it would take. I would have been scared to get started if I knew," she says, laughing. But she's thankful she took the plunge forward to bring this dream to reality. "Oftentimes, we feel like we need to have all the pieces together and know all the details, but you can take it one step at a time. One piece of information leads to the next and the next."
Read more practice design stories here.