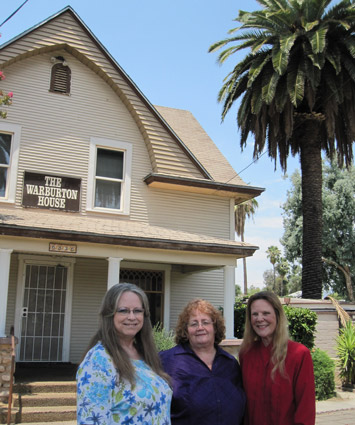 Pamela J. Miller, OD, FAAO, JD, FNAP, opened her practice 40 years ago in a two-story Victorian house in Highland, California. While the practice name incorporates her name, she named the house the Warburton House to honor her parents: R. Warburton Miller, PhD, JD, and Joyce Miller, MA, MFT, Fellow American Psychotherapy Association, Diplomate American Psychotherapy Association. Her parents have an office in the building as well.
Recently, a patient agreed to paint a wall mural for Dr. Miller's office that would depict both the history and essence of the area. "At one time, Highland was a major citrus growing and packing area, placed against the mountains and framed by the natural Arrowhead landmark above the valley. My family and I have been citrus farmers for more than 60 years, and I am a native to this area, so both landmarks are meaningful to me and many of our patients. It also evokes memories of the historical foundation of the Highland area."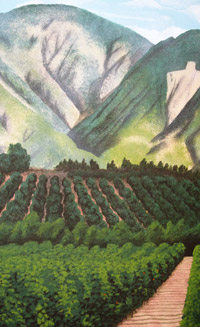 The mural covers an entire wall that hides a staircase. It is a striking point of interest set off by the wooden floors in the office and many mirrors. "Our office is basically done in yellow and white, with a yellow formica front desk top and glass around the front and sides, so you can see the mural from the exam room, the front office and the dispensing area," Dr. Miller says.
The mural gives an overall impression of the area with the orange groves, the mountains and the Arrowhead, which is above the iconic Arrowhead Springs Hotel with its therapeutic hot springs, which has been a TB sanitarium, a luxury hotel, a hospital for WWII solders, a church headquarters for Campus Crusade for Christ and more. It is currently empty but the lore of the hotel and the natural arrowhead shape in the mountains are prominent among Native Americans and longtime residents in the region.