Once Lynne Roy, OD, and her husband, Phillip Roy, OD, made the decision to open their own practice, the process moved fairly quickly, she says. It took about 10 weeks to complete the buildout leading up to their opening day on March 1.
"Our move was bittersweet," Dr. Lynne Roy says of practicing for the past 29 years in a LensCrafters sublease. "We have a lot of fond memories, but the new practice gives us new professional challenges," she adds.
To narrow in on a potential new space, Dr. Lynne Roy used an app to analyze her patient demographics and opportunities in a radius around their previous office that was at least three miles away. They ended up picking a spot four miles north in Brookfield, Wisconsin. "We were able to move closer to where our patients live and not further away," she says. The doctors acted as general contractors, working closely with Rob Stensland, owner and lead architect with Optometric Architects based out of Iowa, whom the couple met at the American Academy of Optometry meeting last September. "We liked his approach and his designs, and he worked with us to meet our needs," Dr. Lynne Roy says. "My husband and I spent days taping out his suggested blueprints."
Stensland's past experience in designing optometry offices was a huge bonus. "We talked with him about our current patient flow and how we envisioned it in the new office," she explains. The practice had previously worked with Practice CoPilot CEO Tony Milian, who helped them improve their efficiency dramatically several years earlier as they switched from paper to electronic records, and they were able to incorporate many lessons learned in their new design. Together, the doctors and Strensland went back and forth on the plans.
While their 2,900-square-foot space was one of the smaller sizes that Stensland had worked with, he was able to hit all the marks on their wish list with four exam lanes, two pretesting rooms, two bathrooms, a specialty testing area, a large contact lens room, a finishing lab, a separate nook for an Optos Daytona, a business office, and a breakroom.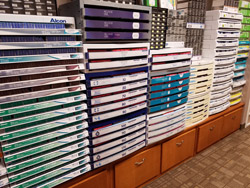 "Rob was mindful of getting high finishes where it mattered and keeping the cost down where it didn't," she says, as they worked toward their goal of creating a unique office space. Through OD's on Facebook, Drs. Roy were able to pick up second-hand frame boards from a colleague in Illinois, saving thousands of dollars. Understanding the budget constraints, Stensland incorporated the classic boards into the design and added custom cupboards to not only update the look, but give added storage as well. He also suggested specialty hardware to create window displays—helping give the entire optical a fresh and slick look. The frames and shelves in the windows work well catching the attention of passersby and those in the optical itself. "It's looks nice and it's been very user-friendly," she says.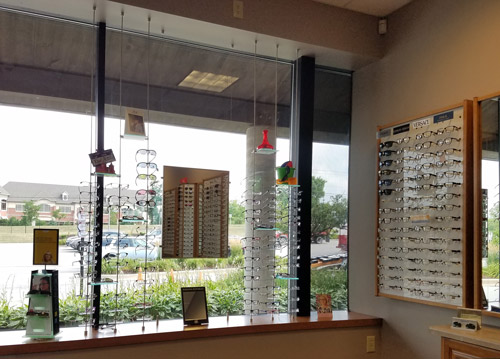 The doctors took possession of the space by early November 2015 and completed the demolition themselves. The former exotic aquarium and fish store is located in a quiet strip mall with a hearing aid store, podiatrist's office and pain management center, a perfect setting for their office. There was one surprise when they took ownership of the space—an alligator had been left behind. "Thankfully our landlord took care of that," she says, laughing.
Dr. Lynne Roy says that she has appreciated working in this profession for nearly three decades, adding that it's been an ideal career for her as a woman and mom, raising two children, now 30 and 22 years old. She says that she's finding even greater work and life balance in her new business venture and appreciates the mentors she's had to help her develop a deeper familiarity with the optical. "For 29+ years, we made all of our money with exams and contact lenses, so we had that part down. We are thankful to have had many mentors who helped us with this transition to private practice," she says.