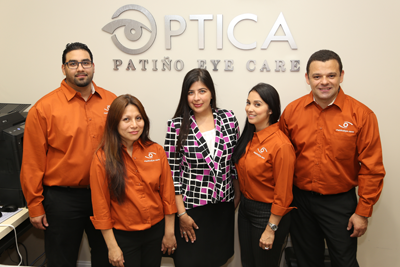 Lucia Patino, OD, of Queens, New York, would sometimes hear people tell her that they wanted to come into the office she opened in 2008 in a 700-square-foot space. But when they looked in through the front window or door, the reception area was jammed. That happened fairly quickly in the small office. "If a patient came in with a stroller or a few family members, that pretty much filled the space," she says. In fact, the front office staff worked standing up to save a few feet of space.
"It was New York living," she says, laughing. The office had a tiny lab and Dr. Patino's desk was inside her exam room. A foldable table was set up for staff lunches and then put away again.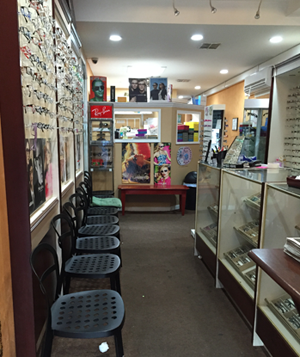 In 2014, she and her husband, Rodrigo Molina, who is her office manager, began looking around for a larger office. "We had gotten to the point that we were seeing so many people that we had to expand," she says. He happened to spot a 2,000-square-foot space just around the block. "It used to be a jewelry store, so it was wide open. We built it up as we wanted," she says.
The timing was also perfect because Dr. Patino was pregnant with the couple's first child, who was born this past January. So when work started on the redesign, it included a play area for the baby and room enough for a changing table in her office.
Now patients can look in through the beautiful floor-to-ceiling windows and see a roomier and welcoming reception area. Two staff can sit at the reception desk, and the optical is large enough so that four opticians can be in there. There are two exam lanes and a contact lens room. Plus, there's a dedicated break room for lunch or staff meetings. "And I have a small office area in the back," she says, quite a luxury after seven years of having to wait until the patient schedule was completely open to be able to attend to office duties.
"We are able to serve our patients in a much better setting. They can come in, be seated comfortably and they can watch informational videos on services such as InfantSEE or diseases or ocular conditions on two large plasma screens," she says.
Despite the fact that Dr. Patino had about six months left on the lease to her old office, she made the jump anyway. "The opportunity was there, and we had gotten to the point where we were not able to serve our patients as well as we wanted," she says. "From the first day that we opened in the new location, we've been seeing more patients." And anyone who stops by the old location will immediately see the signs posted there to direct patients to the new place, just a short walk away.