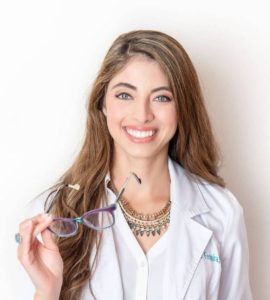 Celesta Ferreira, OD, was raised by hardworking, entrepreneurial parents, who taught her at a young age about management quirks and realities. Not surprisingly, her end goal was to own her own business, and that idea only grew as she attained her optometry degree. 
SCOUTING FOR THE PERFECT PLACE
A native Texan and family-oriented person, she had a few items on her location checklist. First, the spot had to be up-and-coming with promised growth opportunities. "The practice should be located in a place where people of all ages and multi-generational families resided – a neighborhood that was primarily occupied by schools and residential areas," she says. Second, the practice had to be close to home. "I have two small sons and, as important it is for me to provide service for my patients, my priority is always my family," she says.
She could check all the boxes in Cypress, Texas, a neighborhood that is expected to expand dramatically over the next 10 years. With multiple schools nearby and her home 10 minutes away, it was the perfect spot to start building Cypress Optique.
BUMPY ROAD
Originally, the 2,000-square-foot practice was expected to be completed by December 2021. Yet, with new regulation inspections, the practice pushed back its grand opening for two months. 
To add to the hassle, the construction was done meeting the 2021 standards – and some new regulations that took effect in 2022 now had to be addressed. "My parents told me to prepare for hiccups along the way, but the miscalculation definitely was a headache. We had to reschedule our inspection three weeks later, despite having our marketing done and pre-booked several appointments," she says. "Thankfully, our patients were understanding and so kind."
It wasn't all bad news – the delay in opening actually solved the supply chain issue in furniture deliveries. "Due to shipping and staffing issues, our custom-made furniture was expected to arrive past the grand opening date, but it all worked out in the end. We were able to greet our patients with a complete design," she says.
INCORPORATING HER PERSONALITY
Dr. Ferreira's biggest priority was to make sure her personality shone through the design. "I wanted my practice to represent my personality, interests and patient care style," she says. Integrating her favorite colors, she chose a deep navy, marble and white palette with accents of gold and silver. The gold and silver combination adds a bit of shine to the practice. It especially pops in the waiting and optical areas where gold-embellished lighting hangs from the ceiling, and silver and mustard yellow chairs contrast against the marble dispensing tables.
Most of the furniture pieces were custom-ordered, with material and color chosen by Dr. Ferreira and her husband. From the brown leather sofa in the waiting area to the barn doors in her exam rooms, the designs aren't something patients commonly see.
The waiting area also features an espresso bar and snack area so her patients can relax during their experience. "My patients are my extended family, and I want to make sure they don't feel as if they're in a clinical setting," she says.
CONCIERGE SERVICE
Initially, Dr. Ferreira wanted to include a long dispensing bar in the optical area as a common area where people can talk freely. Yet, when she played with the image in her mind, the bar didn't seem to make full use of the space. "I wanted my optical area to provide an open shopping experience, so I settled with two smaller dispensing stations that don't hog the space. The smaller desks also allow patients to have a more private consultation," she says.
Across from the desks are wooden shelves hanging against the walls. Like a boutique, eyewear is on display for patients to freely browse and try on. "Our goal is to provide a retail experience, and our opticians are trained to recommend frame style based on personal preferences," she says.
"My main goal is to create a space where patients can not only receive comprehensive care and education but also walk away saying they've enjoyed the whole experience. So far we have one fully equipped exam room, but once we establish a steady patient flow, I'm planning to add technology to establish a dry eye spa," Dr. Ferreira says.