Things are not quite business as usual for Nathalie Cassis, OD, FAAO, of Envision Ghent Optometry in Norfolk, Virginia… yet. However, she is rolling with the punches and figuring it out with the help of her staff. While she never completely closed, she did see far fewer patients when she limited the practice only to emergency care.
In late May, Dr. Cassis was able to reopen to normal business hours. For several weeks before hand, she took on the role of director and producer and sometimes actor for a series of Youtube videos that showed patients how the practice was preparing for their return.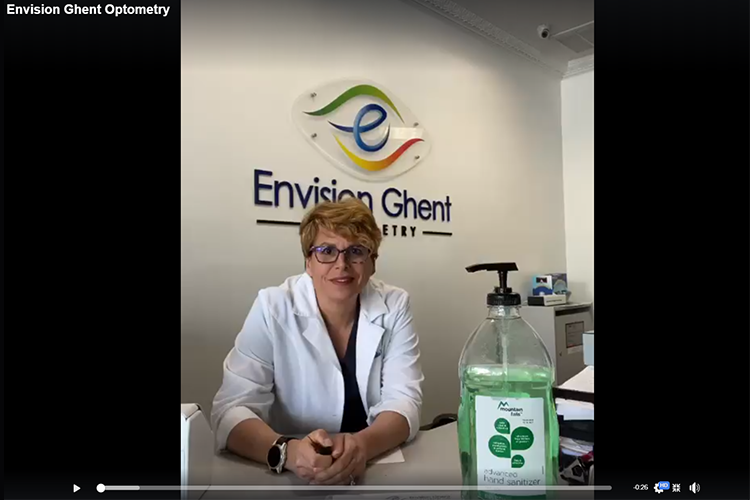 In one of those videos, the optician explains how patients will still be able to try on frames that interest them—but the process will be a little different. The patient will point to frames that appeal and then the optician will deliver them to the patient. The practice has a tall mirror—and the patient can stand in front of it, while the optician stands six feet to the side of the patient—but can see the patient's reflection clearly. Any frames that were touched in the process are sanitized before being turned to the frame board.
Dr. Cassis also lets patients know in a video how excited she and the team are to see them back in the office. She explains the precautions she has taken, such as installing sneeze guards for the front desk and sanitizing all diagnostic instruments before and after use.
THE PACE OF CHANGE
The pace of change during COVID has been tiring for everyone, she says. She'd create a set of plans and ideas, and some new development would make those obsolete, almost before they were implemented. Having her staff witness the uncertainty with which plans were made and remade was important in helping them understand how difficult the planning process is. "That idea was for yesterday; today we're going to do such and such" became almost a routine shift.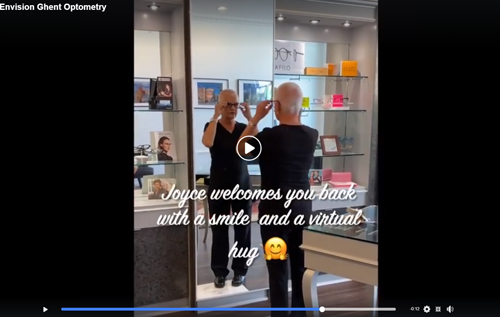 After laying off one team member and moving the other two temporarily to part-time status, she was glad to be back to normal business hours in late May. While they aren't seeing as many patients—only one per hour with 30 minutes allotted for medical visits—Dr. Cassis is still finding the new ways of practice to be mentally exhausting—as many ODs recently going back to work have expressed. "At this point, I can't be on autopilot," she says. "I have to think about each movement: When did I wash my hands? What did I touch?"
PATIENTS WANT SOCIAL INTERACTION
She created some time-saving steps, such as having patients fill out their paperwork before they come in or, if the patient is unable to do so, to let the practice staff know so that the forms can be completed over the phone. That eliminates the need for someone to sit in the reception area completing a medical history. But she has found so far as one of her biggest challenges is keeping the appointments to their allotted time because patients are so thrilled to be outside of their homes, doing something routine. "They have been so confined, they are glad to be back," she notes. "That's proven to be challenging because we don't want to be rude or rush them through."  On the other hand, she recognizes that it means that her patient base is ready to come back and spend money. "They're excited we made it through."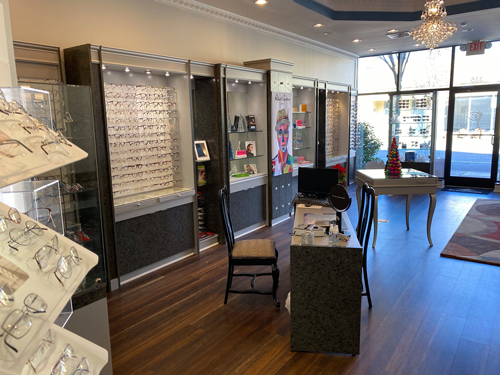 So Dr. Cassis focuses on showing gratitude, trying to keep frustrations and exhaustion out of sight. After all, she's also excited that the practice has made it through so far—and she's hoping that patients continue to come in, that this is the start of a new, safe way of practicing, and that the new routine starts to feel more streamlined and not as mentally exhausting, she says.
A Quiet One-Year Anniversary
Dr. Nathalie Cassis recently celebrated the one-year anniversary of Envision Ghent. She created a "before and after" video to show how the office was revamped.