On May 1, 2020, Sujey Kuan, OD, learned that she would be losing the lease to her corporate-affiliated practice at the end of that month. For the first two hours, she was shocked. Then she began working her networks. She contacted Maria Sampalis, OD, who founded Corporate ODs, and got some encouragement and advice from her. And then she call her mother. "She reminded me that I had a beautiful career that would allow me to keep walking forward," Dr. Kuan says.
So she realized that this unexpected event could be the start of something new. She had maintained her own phone number for the 10 years that she was in the other location, and the patient records were hers as well. She had created a practice name and logo already for SJ Vision Care, all things she could take with her. What she needed was a space in Palm Harbor, Florida—and she needed it fast.
"Finding the location took me the longest. That took a week," she says. She found a spot one mile to the north of where she had been. The space was empty, and the landlord was ready to negotiate to get her in. "I thought that trying to negotiate during COVID-19 would be the worst time, but it was actually very good. I was able to leverage my willingness to take an empty space right away." The space is larger than she needed it to be, but she's planning for growth.
OVERSEEING INSTALLATIONS
Dr. Kuan continued to see patients under her existing lease through May 30. But in the meantime, she was overseeing the preparation of the new space. The space had been used by a consulting company and included two offices with sinks. "Perfect, those would be my exam rooms," she says. "There was an area in the middle that would be ideal for an optical and the reception area was pretty well defined. The back had an area that employees could use and there's also space for a lab when I'm up and running fully," she says. "Right now, I need to catch my breath."
With relatively little remodeling required, she was able to "employ the army of my family. I had them come in and those who lived together could work together in one area to paint," she says. The plush carpeting will suffice; her chairs don't glide as easily as she'd like, but that's a minor inconvenience for right now.
"I had an online shopping spree," she says. She'd look through customer reviews and ratings of desks, tables and chairs that appealed to her, and then she'd order one to test it out for herself. If she liked it enough, she would order the remainder. To ensure delivery and a smooth process, she ordered ophthalmic equipment to outfit her two exam lanes locally. "I don't have the lab equipment yet," she says.
She ordered frame boards from framesdirect.com, and she's counting on her vendor representatives to help with her frame purchasing. "Running an optical is new to me, but I've received great advice and encouragement from frame vendors and my colleagues. It's amazing how the community works together to support ODs."
INFORMING PATIENTS
Ordering signage for the practice and getting it installed was delayed by days of rain. So she got creative and orders a banner that included her photo. "At first I was intimidated by the idea of putting my photo up there so large, but I got so many calls from patients who drove by and said they saw that I was moving. Even if they didn't recognize the practice name, they recognized me.
Since SJ Vision Care had its own phone and fax lines, she could move those numbers to the new location and not worry that patients wouldn't be able to reach her directly. She also sent out recall notices with the new address and sent emails and postcards to all patients telling them about the move.
Some patients even stopped by while they saw her working setting up the first week of June; she opened on Monday, June 8. "They'd knock on the door, and I'd give them a tour," she says.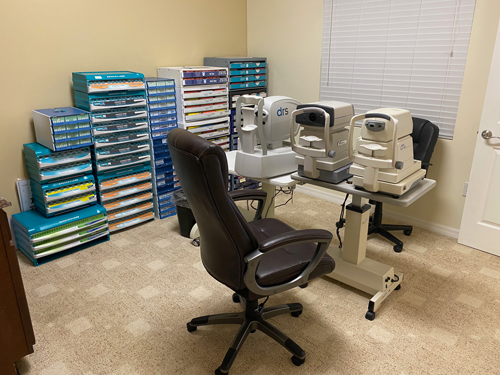 Reserving Sundays for Her Son
During the five weeks that Dr. Sujey Kuan was scrambling to finish out her lease and preparing to open a new office, 12-hour workdays weren't uncommon. "My son is almost 3, and I'd leave in the morning while he was still asleep, and he'd be asleep again when I got home," she says.
So she decided that she would keep Sundays open just for him. "That's our day together," she says. She's confident that now that she's an independent owner, she'll have the flexibility she wants later in her career to be part of his activities. "During this time, I wasn't spending as much time with him as I would have liked, but long-term, this is going to be better."