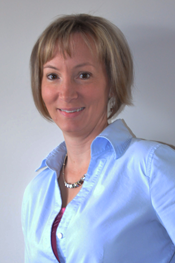 Heidi Schefferly, OD, recalls hearing many patients over the years say that they had trouble finding the practice. Visibility was a major issue for the office Dr. Schefferly shares with partner Jim Serino, OD, in Jackson, Michigan. "We were on the first floor, but there was very little signage," she says. The practice was founded in that location in 1976, and over the years since Dr. Schefferly joined in 1999, the space became increasingly more difficult to work in. "At 2,900 square feet with expanding technology and contact lens inventory, we were running out of room every time we wanted to bring in something new," Dr. Schefferly says.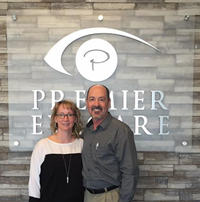 Dr. Schefferly and Dr. Serino initially contemplated a total remodel of the space and worked for about a year with an architect on a blueprint design. Ultimately, they decided that a move was necessary. "We thought it could be rearranged, but it wasn't going to work because the space was just too small," she says.
Their new office is just over a mile away, and the search didn't take long. It was the second potential office space they visited. They purchased the property in April 2014 with plans renovate immediately, but they ran into some hurdles with the city and city planner in regards to their parking lot. The negotiations delayed work for 18 months until October 2015 when they were finally able to continue their progress. They fixed the parking lot as instructed by the town before the weight restrictions were put into effect for the winter season and were gutting the building by December. The space was a former flooring store, so there weren't many existing walls or offices to take down.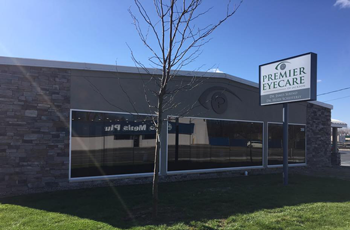 The 6,000-square-foot, freestanding building on a busy street is a sharp contrast from their previous office. "There's lots of visibility with glass windows in the front," Dr. Schefferly says, providing much more natural light and allowing passersby to peek in. "I think our staff is happier with those windows," she adds.
Patients enter the practice and immediately have access to the reception area and frame room. Their old space had a small lobby and everything else was blocked by doors. "We had people who never saw our optical and asked if we sold eyeglasses," Dr. Schefferly says. "Now patients can browse while they wait."
Most of the space—about 5,100 square feet—has been finished with the rest left for storage. The design was created specifically to improve patient flow and efficiency. "The clinic space is one big square around the business offices," Dr. Schefferly explains. Patients travel down one hallway to the large special testing room, which has allowed for better spacing of the new technology the doctors have added over the years. Then they travel to the exam room and down the opposite hall way to dispensing and the optical area.

The doctors had remote door bells installed, which plug into the wall outlet, to make sure patients aren't left waiting for an optician. "We push a button, and the optician meets us at the end of the hallway," she says. "It's wonderful to have that hand-off, where I can say, 'Mrs. Jones, this is our optician, Sandy. Mrs. Jones is looking to get a new pair of progressives.'"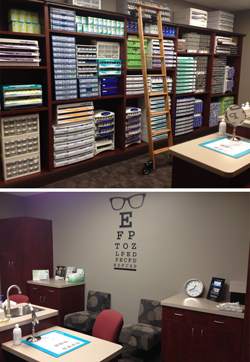 The move was made over a long weekend from a Thursday to a Monday, and they were up and running by Tuesday, April 12. "The move process was interesting because we had six different entities moving us," Dr. Schefferly says. "It was very efficient, but took a lot of planning." For example, their Marco representative moved the Marco TRS 5100 autorefraction systems into their five equipped exam rooms, while the IT support team moved the computers.
The space is designed to accommodate two full-time doctors, but Dr. Schefferly envisions a third OD joining the team at some point down the road on a part-time basis to allow Dr. Serino and herself to cut back on their hours.
Dr. Schefferly advises her colleagues to take their time with renovation and new office plans to ensure every detail is exactly right. "As frustrating as our delay was, it allowed us to go over our blueprints, and we did make changes prior to construction," she says. "Do it right, and don't be in a hurry."