Sarah Ebeling, OD, still remembers the day in optometry school when she learned about a particular shade of bright green "apple"—with a wavelength of 555 nanometers. "I learned it's the easiest wavelength of color for people to see. I knew from that point on that I'd use it in my own practice someday, hoping it would draw people in." And she did just that when she opened Wink Family Eye Care in December 2014.
The bright green was a starting point of her design to provide pops of color in a primarily white space, and it's been incorporated throughout her open and airy design in so many ways, from wall décor and paper towel dispensers to exam chairs and tables. A blue accent color was selected, as well, which matches the overall tone. "When designing the space, I wanted it to be very fresh and inviting and to reflect the type of practice I wanted for my patients: modern and comfortable."
For most of her career, Dr. Ebeling was commuting 40 minutes each way to work as an associate in a private practice. So she started looking for a way to open a practice in her community of Chanhassen, Minnesota. "I wanted to be a part of a private practice that was well respected in the community," she says. The area is growing in popularity, and it's estimated that another 10,000 people will move to the area over each of the next three decades, Dr. Ebeling adds.
She kept her key patient demographic in mind as she worked with a contractor and an architect. "There are a lot of young families and people like my husband and me, who work and have kids, and there was only one private practice in town—but not one that did pediatric eye care," Dr. Ebeling says. Even the name, Wink Family Eye Care, establishes a fun and playful twist for a practice that accommodates patients of all ages. "We can modify everything to be pediatric- or adult-centric."
The space was designed for the fast-pace of modern patients who want a high-tech and efficient yet comfortable environment. Patients check in on iPads, and there are high-fashion eyewear options for adults and children in the optical, as well as equipment from Marco, Optos and iCare for a streamlined exam experience. She looks forward to adding more technology to her office when she visits the exhibit hall at The Exchange®, the national Vision Source® meeting in 2017.
The most challenging part of the process was securing her space, Dr. Ebeling recalls. She signed a lease for one of the new centers popping up around town, and she told her employer of her plans to start her own practice closer to home. But after two years of delays, construction still had not started. "They joked that I gave them my two-year notice," she says, laughing. Then Dr. Ebeling noticed a lease notice in an existing space nearby, which ultimately became the home of Wink Family Eye Care. "Rent was cheaper than at the original location, and there were a lot of supporting businesses on either side," Dr. Ebeling says. The center also had "more of an urban vibe, and I could get into the space right away."
Once she signed the new lease, the project picked up the pace again. In just six weeks, the office space was gutted and a buildout was completed. She had picked out many pieces for her practice two years earlier and hit a bump in the road when she found out the green exam chairs she selected were discontinued. Thankfully with a special order, she was able to get them for her practice. Dr. Ebeling adds that The Container Store was a great resource finding storage options in her specific color palette and style.
Dr. Ebeling has one optician, an optometric technician and a front desk/contact lens technician, and as the office gets busier thanks to word-of-mouth referrals, she expects to hire a second optician. She's also renting space to a vision therapist, whose services draw patients. "The office was designed for minimal staff, and the front desk is a circular area with the dispensing table right out front," she explains.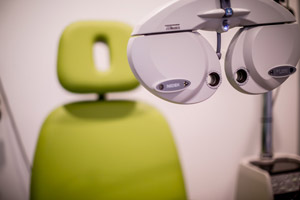 The practice is fulfilling Dr. Ebeling's main goals: to find a better work/life balance and serve her community. Now she lives just a few miles from her practice—and her youngest child's daycare is 30 seconds away. "We offer one late night on Thursdays until 7 p.m. but we are not open on the weekends," Dr. Ebeling says. "Patients appreciate and understand when we explain we want to be home with our families."
And as for her decision to pick a new office space, Dr. Ebeling says that she is extremely thankful that she found this new location when she did. The first spot she picked out for the office didn't begin construction until late in December 2015, three years later than planned. By then, she was celebrating her one-year anniversary.