Lisa Holtman, OD, had been working in Washington for about two years when the COVID-19 pandemic hit. Then, she lost her job and was challenged with her next steps on where to work and live. "Pre-COVID, my plan was to open a practice in 3-5 years," Dr. Holtman recalls. She was also considering moving back to her home state of Minnesota or Arizona, where she attended Midwestern University Arizona College of Optometry and has family living in the area.
She consulted the team at iCare Advisors on if she should stick with her original timeline or take the plunge ahead; she was still concerned about paying off her student loans following her 2017 graduation from Midwestern University Arizona College of Optometry. After fully analyzing her particular situation, her consultants advised her to move full speed ahead.
Dr. Holtman ultimately chose to go to her roots in the Midwest. "It was the right decision, more than I realized at the time," she says of her move back to Minnesota. She found great mentorship as an employee of Andrew Mattson, OD, of Lakeville, as she began the process of opening her own practice. "He's known every step of my project and has been really supportive and an open book with any questions or ideas I want to bounce off of him." She adds that she learned a lot about the type of work environment she wanted to create for her employees, as well as the type of flow her office should have and how to implement new procedures.
NARROWING THE SEARCH
Dr. Holtman's real estate broker from Carr Healthcare Realty started with 13 locations for a tour of the eastern side of the Twin Cities. "As we were driving around and exploring the neighborhoods and cities, I fell in love with the feel of Woodbury," Dr. Holtman recalls of the community about four hours away from where she grew up. She found a place in September 2020 and was negotiating the lease when she found that the lease was being given to another business. "My heart was set on that location," and she asked the landlord's agent to keep in touch if anything else became available. Right before Christmas 2020, Dr. Holtman received a voicemail from her broker; another lease was available in the same complex.
Surrounded by many other businesses—other medical professionals, restaurants, a bank and a gym—the location was perfect. It was formerly an office where the occupants wanted to get out of the lease early since they were working at home.
The keys were hers in March 2021, beginning the process of acquiring permits so that demolition for a total overhaul of the space could begin in May. Supply issues led to a few setbacks, mostly in the millwork, but Dr. Holtman said she's thankful she had the flexibility to swap to another wood material to keep things moving along.
CREATING A CABIN-COZY ATMOSPHERE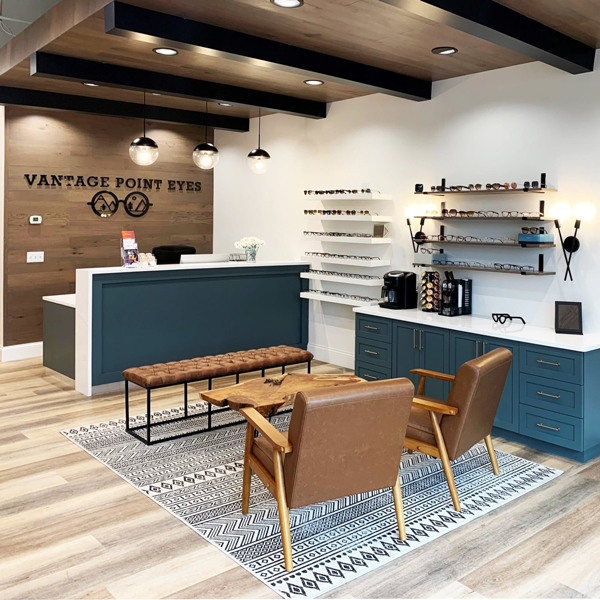 Wood, after all, was an important element in the woodsy, cabin theme that she wanted for the space. The exam room doors are barn doors, and there are many wooden accents situated throughout the space. One of Dr. Holtman's favorite features is the drop ceiling in the waiting area as well as the acrylic logo design waterfalling behind the reception desk. Many people in the Woodbury community have a lake house up north, and the office has replicated that cozy, comforting atmosphere that they are familiar with.
Since she opened her doors to Vantage Point Eyes in July, "many patients have said that they want to move in," Dr. Holtman says, laughing. "That's what I'm going for—that cozy cabin vibe in the metro."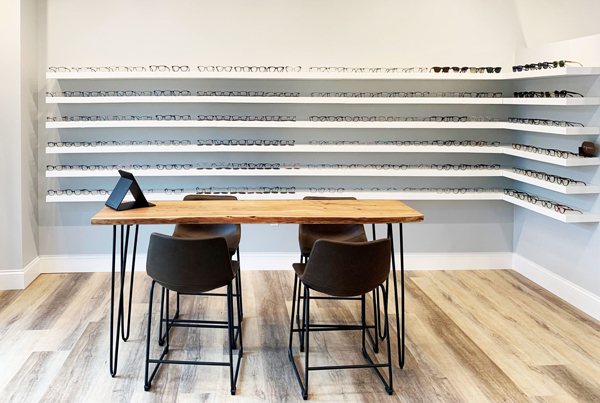 FORWARD-THINKING
But homey doesn't translate to old fashioned; in fact, Dr. Holtman says it was a must-have to use a paperless, cloud-based system. "I received a 72-page fax the other day; it converted into a PDF and went into the electronic chart. I'm not wasting all of that ink or paper." She also brought in the Maestro 2 OCT/Fundus Camera, which fit well in her smaller footprint, provided OCT and photo capabilities in one machine and met her budget as a start-up.
Dr. Holtman's been focused on getting the word out in her first few months, connecting with family of friends who are in the area and joining the Chamber of Commerce. She's networking with other medical professionals such as the chiropractor who opened earlier in the year. She's even captured a few patients who are in town staying at the hotels across the street. "Although I won't see them next year, those were patients I wasn't expecting."
Aside from routine eye care, Dr. Holtman is getting a lot of referrals from local therapeutic professionals in the area, thus fueling her passion to provide vision therapy and neuro-vision rehabilitation services. This is an area of high need and many rehabilitation facilities are always looking for vision therapy (VT) optometrists. She aspires to open a separate VT practice in the future.
She also wants to create greater awareness of the connection between brain injury and vision as well the important role that vision plays in pediatrics specifically for efficient learning. When considering optometry she shadowed an optometrist with this specialty and these areas were the emphasis of her residency she completed. Dr. Holtman says that she looks forward to the opportunity to educate others.
For now, she's at Vantage Point Eyes two days a week, working with Dr. Mattson—about 25 miles away— two days a week and occasionally picking up some fill-in work in a rural southeast Minnesota community. Even once she builds enough business to be at Vantage Point Eyes full time, she and Dr. Mattson plan to refer to each other; Dr. Mattson to her for VT and Dr. Holtman to him for dry eye. This ongoing relationship will benefit both of their practices and also allows Dr. Holtman to show her appreciation for his mentorship.