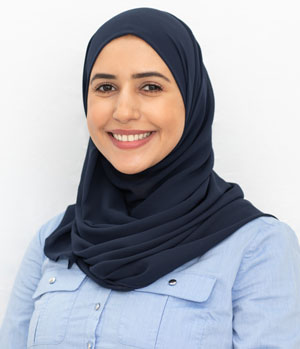 Randa Djabri, OD, says that while practice ownership was always a goal, she imagined herself there closer to 20 years after graduation. Yet just a few months after her May 2020 graduation from Nova Southeastern University College of Optometry, as she was completing a residency in ocular disease and primary care at the Miami VA, she found herself considering the option as she began the process of opening. "I started thinking about it, and my family gave me that 50 percent push that I needed," she says.
In December 2020, Dr. Djabri found a silver lining in the COVID-19 pandemic: there were many vacancies and spaces available during her search to find a perfect place to open her practice. After considering about 20 locations, she found an ideal location in January 2021 that was not too close to her competition in Fort Lauderdale, Florida. She is the only optometrist in her section of town east of the bridge connecting to the rest of the city. Her office serves a mostly elderly, retired population.
The small plaza is home to other medical professionals and a dry cleaner. The empty space just had walls, a floor and roof and was ready for her to make it her own. The lease was signed in early February 2021, and construction began on the 1,800 square foot space.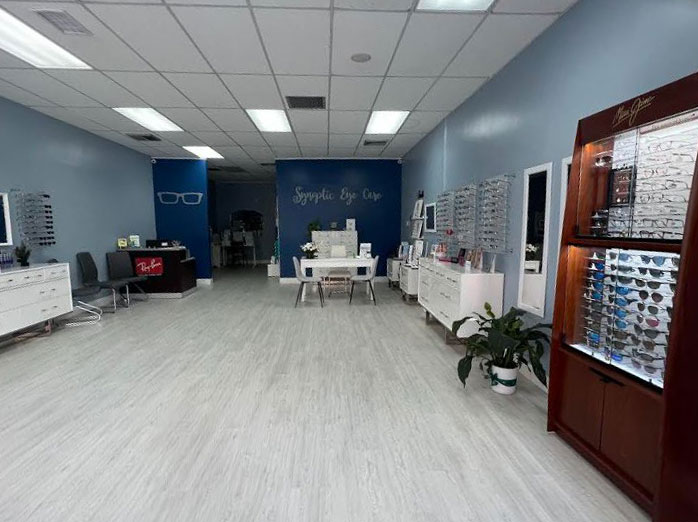 Dr. Djabri decided to start with one exam room; she had just graduated in May 2020 from Nova Southeastern University College of Optometry and was still completing a residency in ocular disease and primary care with the Miami VA as she began the process of opening. The space was ready by June 2021, about the same time as the completion of her residency training.
Dr. Djabri chose a modern feel with lots of blues from navy and lighter shades on the walls, and the atmosphere is more like a home than a traditional doctor's office. The space feels lively with a variety of plants, and most of the furniture is white. "I didn't know if it would work with so much white furniture in one place, but I started with one piece and most of it ended up white," she says, laughing. But the cohesive look came together in the bright space.
A modern exam lane was important to complete the environment. She started with an autorefractor, autolensometer, and tonometer, and shortly after opening, she added a fundus camera. Now she's building up inventory in other areas such as expanding her optical selection to include new lines of eyewear and sunwear for the snowbird patients who will be returning to the area soon.
Dr. Djabri has big plans for the future of her business. She's building her network with local ophthalmologists so she can co-manage and manage some conditions on her own, and she looks forward to offering dry eye care and treatments and specialty contact lens fittings as she builds that base of patients. She also has a passion for low vision that she sees as being a good match for her patient base down the road. "That's what I love about optometry; you can do a little bit of everything," she says.  As she grows the business, she continues to supplement her work at different offices on some weekends.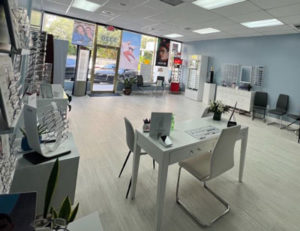 As Dr. Djabri has passed her first anniversary in the space, she's starting to see her first patients back for their second annual exam. She is loving the area she chose, and she enjoys the foot traffic in the community. "Many people here don't drive anymore, so when they are walking by, they stop in and love to chat," she says. "It's really nice."