Next month, Joanne Kim, OD, will celebrate her first anniversary since opening Wink Family Eyecare in Cypress, Texas, in August 2021. She secured an office space just five minutes from home, an ideal situation to be close to her young daughter and family. The business is growing, and as she prepares to add another full-time staff member to accommodate her patients, Dr. Kim reflected on the journey to ownership.
HER INSPIRATION
Dr. Kim was studying to become a psychologist at the University of California, Irvine, when she was in a life-changing car accident in her fourth year. The experience made her reassess her future, she recalls, and the impact that she wanted to have in her career. That's when a friend, who was working at Lenscrafters, encouraged her to join her in the office. "I don't wear glasses, so I never went to the optometrist, but working as a doctor's assistant opened my eyes to opportunities to help people in different ways." That job, combined with volunteer work with OneSight, confirmed that this was the right path. Dr. Kim enrolled in the University of Houston College of Optometry.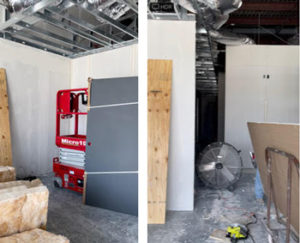 She spent the first four years after her 2016 graduation employed with a Texas State Optical location, but the thought of practice ownership was always in the back of her mind. Dr. Kim's parents were born in Korea, and when they immigrated to the U.S., they established themselves and built a reputation as business owners. "I've always had a business mindset and liked the challenge of opening a business," Dr. Kim says.
When the COVID-19 pandemic hit in 2020, Dr. Kim started working limited hours since daycare options were not predictable. Eventually, her hours were cut and then her boss let her go. Dr. Kim took on some relief work, which gave her the opportunity to build her own schedule, and it launched conversations with a friend about opening a practice together.
Together, they started discussing ideas and searched for an office space between both of their homes; the two live about an hour away from each other. Ultimately, they couldn't find a middle ground to open, and the plan didn't pan out. "We both have young children and wanted to be closer."
BRANCHING OUT ON HER OWN
Instead of getting discouraged, Dr. Kim rode that momentum and started the search for her own solo office location for about three months in early 2021. During her search, she saw that a shopping center down the street from her home was expanding. The proximity to home was quite appealing after previously commuting 40 minutes each way to work. She says that initially she wasn't sure if she wanted the space only because it was so close to home, but after careful contemplation, she decided it was the right fit. "Being so close to home is a huge plus."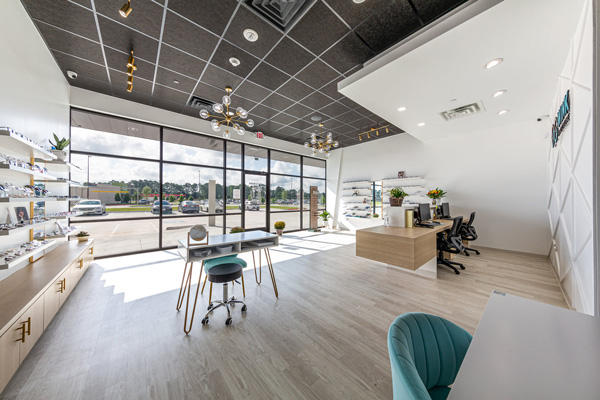 The 1,750 square foot space was brand-new construction and an empty shell when she signed her lease in April 2021. She says that she was hoping for a bigger office but the layout she decided on maximized the space and has worked out well for the past year. There's an open, airy feel to the office, which is mostly white with natural wood grains and tons of plants. Her logo and chairs in the optical add a pop of turquoise among the clean palette. The front wall is made entirely of windows, bringing lots of natural light into the space.
Dr. Kim is utilizing one exam lane for now, but there's space to set up a second when she's ready. She invested in an autorefractor, iCare tonometer, optomap technology, an autolensometer and an edger when she opened to provide the best care and convenience for patients.
She says the process ran smoothly despite supply chain issues and delays. "I was lucky. Our construction company was really on top of it, and there weren't any major hiccups."
Leading up to her opening in mid-August 2021, Dr. Kim posted on neighbor Facebook and Next Door pages. She says that she's grateful for the many word-of-mouth referrals she's received. There's also a ton of foot traffic in the shopping center, as people visit the anchor grocery store H-E-B, as well as neighboring businesses such as Smoothie King, Wing Stop and a pediatric orthodontist.
FOCUS ON SPECIALTY SERVICE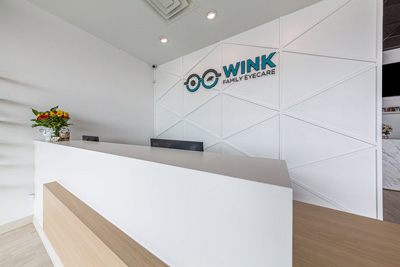 Dr. Kim says that she looks forward to turning her focus to specialty care now that her practice is becoming more established. She's certified for using MiSight Myopia Control Contact Lenses, and she plans to grow the myopia management area of the business.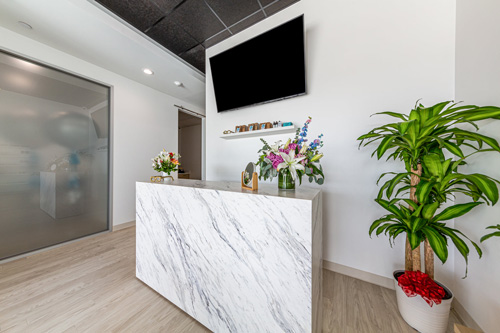 She's been inviting kids back six months after their exam for a free-of-charge screening on the autorefractor to see if their prescription has changed. "Fortunately, most of them haven't, but if they have a 0.5 change or more after a year, I think it's an opportunity to bring up the conversation." She looks forward to connecting with the many local schools to share how myopia management care to help students.