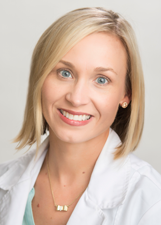 In 2012, after four years practicing inside the Bloomington, Indiana, Sam's Club, Diana Christensen, OD, says that she was excited to hear that her office area would undergo a renovation. The office expansion not only gave her more space, but it also provided an opportunity to leave her personal touch on the practice design and décor. Dr. Christensen now has her own private door leading to the waiting room, as well as a pretesting room and contact lens storage area, eliminating clutter from her own office.
Dr. Christensen also accented the decorations with pops of the Sam's Club royal blue such as in the wall art she selected. "Sam's Club let us decorate in a more contemporary style that has my own flair, and I wanted it to look clean," Dr. Christensen says. She also added a Keurig coffee maker that she says the patients love. "It's warm and welcoming here, and sometimes patients bring in their whole family."
The office expansion also paved the way for upgraded technology, and Dr. Christensen says that she is thankful to Sam's Club for providing a computerized vision chart, a new autorefractor and upgraded visual field perimeter. "New technology is a huge benefit and can bring more patients into the practice," Dr. Christensen says. The practice began integrating electronic medical records nearly two years ago and is now eliminating even more of its paper trail by using iPads and computers for data entry. Copies of prescriptions are printed clearly for patients. "We don't have to hand write everything," she says. "It prints out and looks professional, and being a small practice inside Sam's Club, professionalism is huge for us."
With more space for equipment, Dr. Christensen says that one of her goals over the next few years in her office is providing more medical eye care, and she is considering the purchase a retinal imaging device to help her launch this part of the practice. She's already introducing another new favorite service, fitting scleral lenses, which has already been a great success with keratoconus patients.