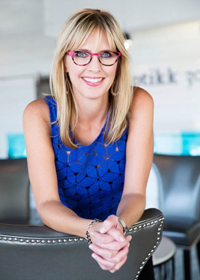 Korrie Lalim, OD, has more hours a day to enjoy life these days. Before she opened Optikk 30A, an independent practice in Santa Rosa Beach, Florida, in July 2015, she had been commuting three hours a day to a corporate optometry setting. As she had worked in corporate settings, big multidisciplinary clinics and as a fill-in doctor, Dr. Lalim had a chance to collect ideas about what works well and what doesn't as she thought about the kind of practice she'd open one day: "a boutique style practice that reflected my personality," she says.
That's just what she's created. Even its name, with the Norwegian word Optikk, reflects both her Northern European heritage and the scenic Route 30 A corridor that runs through small beach towns along the Florida Panhandle. "After the decision was made to open my office, it took eight months to find a commercial space as it is in very short supply on 30A, it was the perfect framework." She found the 2,100-square-foot space, which had been a takeout restaurant. The building's former owner, an interior designer, had added the wood floors and the high, dark ceilings. The former owner also suggested the inclusion of the sliding barn door to separate the lab from the optical. "Everyone comments on that," she says.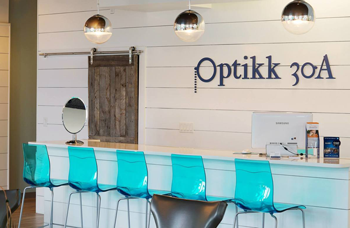 Another interior designer friend helped Dr. Lalim find interesting décor. "I didn't want it to look like a traditional optometry office," she says. When Dr. Lalim saw the translucent blue chairs on allmodern.com, the color scheme for the practice took hold. Although in these photos it looks as though the back of the frame boards is a similar blue, that's really LED lighting that can change.
"The practice has a good vibe to it," says Dr. Lalim. "I love the colorful art, and a lot of our frames are very colorful. It has a good feel when you walk in, open and airy." In fact, it's used occasionally for a donation-based yoga class to benefit a dog rescue. It's that kind of a community spot.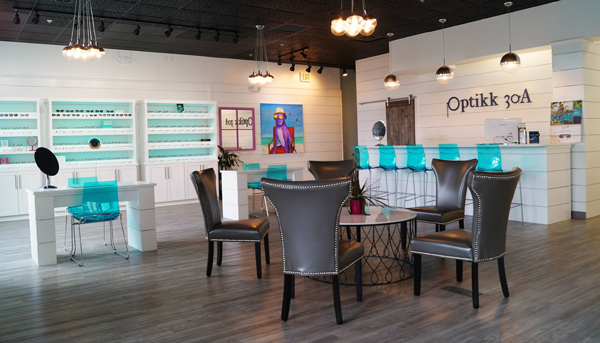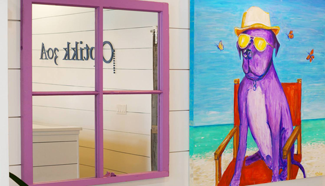 Business is growing. For the first months that she was open, it was just her and one staff person. "I was the optician and doing everything. I could only see about four full exams per day," she recalls. Adding an optician has been a boon, she says. "Not only is she terrific, adding her has allowed me to see more patients, so our revenue is definitely increasing." That's just one of many factors that have improved her quality of life.

Photos courtesy of Jordan Crowder and Marla Carter