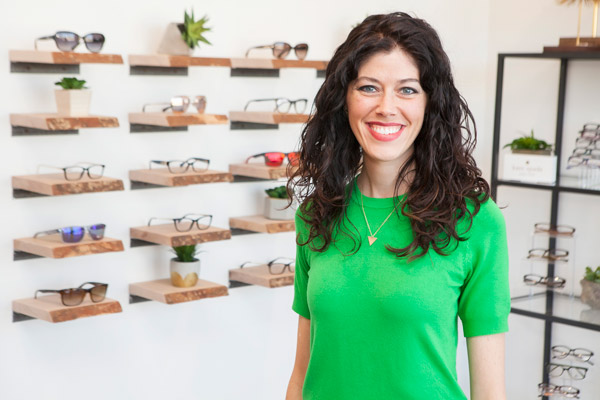 At the end of August, Erin Pitts, OD, and her husband were feverishly working to finish work at Eyes on Cypress, her brand new office in Cypress, Texas. Dr. Pitts says that they were setting up equipment and installing shelving one day when she texted a friend to see if she could watch her daughters so they could get some more work done. That's when her friend replied, "Did you know the hurricane is coming?" The couple was so focused on completing their projects, they had not been paying that much attention to the ever-more-threatening weather projections.
Hurricane Harvey hit the Houston area that weekend with devastating impact. The office only had some water damage in the front window, but it was otherwise safe from damage. However, Dr. Pitts' home ended up with 14 inches of water. What followed was a rush to finish the office and clear out the house for repair before mold started to grow in the hot and humid climate.
The process to open her own office had started months before, early in 2017, when Dr. Pitts worked with a broker and evaluated her options to find an office space. "The Houston suburbs are growing really fast, and there aren't many opportunities to buy an old building and renovate it. What was a field last year can be a huge apartment complex this year." Leasing a space was the most appropriate match for her budget. She was strongly considering one lease opportunity, but she says that something didn't feel quite right and the deal fell through. That's when she found the home for Eyes on Cypress right across the street. "It's a brand new shopping center with all medical offices," she says. It was a blank slate without even any walls, so she had full range to make it her own.
After signing the lease in April, construction was underway with a tight budget for building and decorating the 1,759 square-foot office. The space is light and airy, with elements of home interior décor to make patients feel comfortable. "I am a minimalist, and I wanted it to look clean and not cluttered." She's still selecting the perfect artwork for the space but envisions a collection of photographs of local people of all ages from the community running down the main hall. They will be smiling and wearing eyeglasses.
They worked with a commercial contractor, and her husband helped with the IT wiring as well as building frame displays and more. "The frame displays are moveable so that when we add new frames, we can change the set-up around," Dr. Pitts says. She went with rough-edged wood shelves, with the bark kept in place, on a feature wall to offer different texture against the white walls.
Dr. Pitts ordered many pieces from Amazon, which was working out well before the storm hit. But with mail delivery shut down for weeks, many of her packages were lost in the process of trying to reroute them to her office. She ended up adding some furniture that wasn't damaged in the home flood, such as dining room chairs, to replace the orders that never arrived.
As far as instrumentation, there were many items on Dr. Pitts' wish list. It was important for her to practice full scope optometry so a visual field was a must. She was able to purchase one from a friend from optometry school and set up her exam room with equipment from another doctor who was closing his office. Her autorefractor was another exception. "I wanted it to be fast to see kids really easily, so I made that work in the budget." One exam room is set up for now, but there is room for two; Dr. Pitts also has a special room for in-office vision therapy which she will be adding after the first of the year. She hopes to add an OCT, edger and Optos technology as the business grows.
While the office is just a few months old, the word is spreading about the office. She invested in a unique website design and presence to make sure potential patients could find her online, and many referrals come in from Dr. Pitts' church community and also Facebook when she posts on her practice and personal pages. "I didn't realize that my network was that big," she says. Insurance websites have drawn patients in, as well, and the practice is located at a busy intersection with great visibility of her sign, which catches the attention of passersby.
Dr. Pitts says that she's thankful for the overwhelming support she received from her local community and also those in the profession to get up and running quickly on Sept. 6, 2017, just a few weeks delayed. "We had a lot of help from people who knew us and people who didn't," she says, adding that her Alcon representative spent an entire day helping clean out her house and returned the following day with his family for extra manpower. Patients are understanding as the final pieces of the office come together. "They understand that the mail was crazy, and we're all just trying to get over the shock."
Dr. Pitts continues to work two days a week at a pediatric and family practice where she's worked since her 2011 graduation from University of Houston College of Optometry and spends three days at Eyes on Cypress. Two months after Hurricane Harvey, her family finally returned home after living with friends as repairs were made to the house. "The four of us are living upstairs and sharing one bathroom but at least we are home," she says. That return and the opening the practice has let them step forward on the road to recovery.