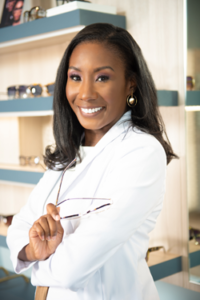 When LaTandra Blue, OD, listened to a podcast by Darryl Glover, OD, she was hooked. A member of the Black Eyecare Perspective, Dr. Blue was hungry for knowledge on growing her new practice and marketing to her already-substantial patient base. Blue Vision Center opened its doors in Birmingham, Alabama on January 25th, 2021—and it hasn't slowed down yet. "It's been pretty busy," says Dr. Blue. "It's been well above projections. I thought I'd see four to five [patients] a day… we're booking 15 a day." Even as the sole doctor and one of four people that work at Blue Vision Center, Dr. Blue doesn't mind the hustle. "It's a good problem to have," she laughs.
After graduating from the University of Alabama at Birmingham School of Optometry in 2013, she moved around in the following years to two different private practices. In that time, she got married and had her first child, and as baby number two was on the way, she left her second private practice to work as an employed OD from 2016 to September of 2020. (The math is right; she opened her own practice four months later.) "It was a fast turnaround, but I was building along the way," she says. "COVID gave me all those months to focus on my practice."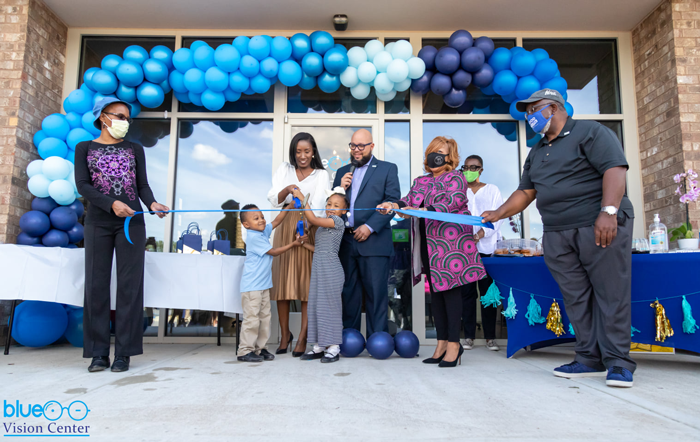 On her staff, she has a receptionist who also handles billing, an optician and a COO who wears many hats—her husband, Pastor Camara Blue. The center is equipped with a full optical and two exam lanes. When it came to stocking her practice with equipment, it was smooth sailing as Dr. Blue was a member of Acquios Advisors. "Equipment was easy," she says. "They used people in their alliance, I sent in the list I wanted and went over everything to make sure it was in my budget." For interior design, Dr. Blue worked with Patricia Bobilin of EyeDesigns, but what you see is all her. From the color schemes to the flooring, the practice reflects Dr. Blue's authentic style.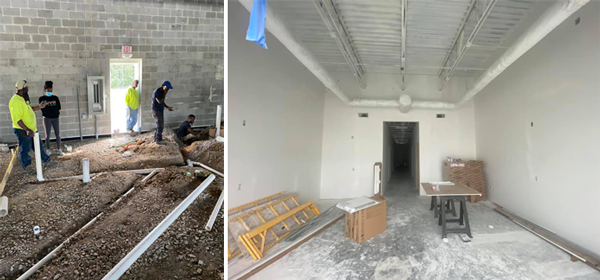 A PASSION TO SERVE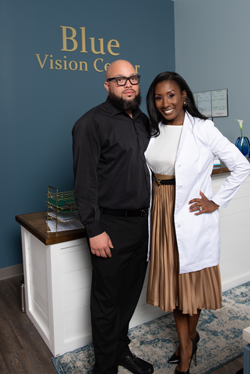 To serve is a key concept for Dr. Blue and her practice. In June of 2018, she fulfilled a duty and a dream by joining the Army Reserves in a Medical Support Unit, and she now serves as a Captain. "I'm super patriotic," she says. "I've always wanted to serve in some kind of way." When a close friend of Dr. Blue who is a recruiter for the Army came to her; the two began to discuss opportunities for physicians. While COVID changed her projected responsibilities somewhat, Dr. Blue was still able to make a major difference. "I did get to go off and be the Army woman… be GI Jane for a little," she laughs. "I wanted to give back to the soldiers."
Dr. Blue's heart for service doesn't end with her military service, though. Her physical positioning in her community is no accident. "The area I chose is about 10 minutes from a more low income area of Birmingham, but also backs up to one of the wealthiest areas in Birmingham," she says. "I wanted something nice for [everyone] and to be accessible and affordable. Literally, we're at a cross section of life where we are." Her belief in providing quality care to patients of all socioeconomic backgrounds drives her business choices. "I don't want to feel like I'm blocking a certain [demographic] of people off," she says. "Good eye care should be accessible to everyone on any level."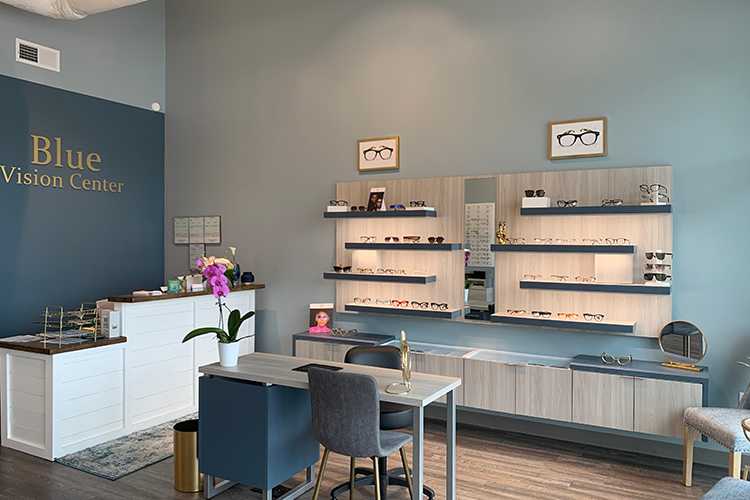 Her new space and her tried-and-true mindset have allowed Dr. Blue to build an environment where patients feel welcome and important. "I'm a talker when it comes to my patients. I build a rapport with everyone," she says.
"People who have seen me for years know about my kids, my husband, my story." She credits the early success the practice has achieved with the rapport she has built with patients over time. "People like that hometown doctor feel. They know you and can grow with you," she says. "It's a huge blessing."