After Morgan Welburn, OD, graduated from the University of Waterloo School of Optometry in 2016, she joined the rural practice of Renfrew Eye Clinic in Renfrew, Ontario. "It worked out well for me because as I started working, one of the partners—who had practiced for more than 30 years—was retiring," she says. After a year, she became a partner in 2017, joining Alexandra Rowley, OD, who had graduated six years prior and had been the newest partner in the practice. Today, Dr. Welburn and Dr. Rowley also have two associate ODs on their team.
The practice covers a wide scope of care and sees patients of all ages with a large portion of them being geriatric from nearby retirement communities, as well as lots of disease management and co-management since the nearest ophthalmologist is over an hour away.
"There's something new and challenging every day, and we love it," Dr. Welburn says. "Each doctor has their own style."
While the established practice had a loyal patient base over its years in the community, Dr. Welburn says that a revamp plus additional space was needed to help the practice continue to flourish and bring on additional associate doctors. In the summer of 2021, Dr. Welburn and Dr. Rowley initiated a renovation that would add 700 square feet to the back of their space.
WORKING THROUGH RENOVATION AND EXPANSION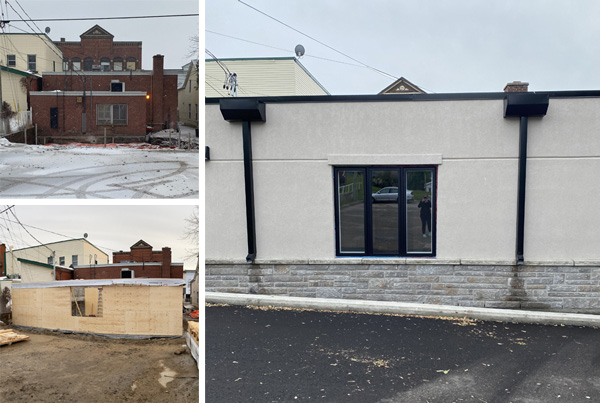 Once the finances were aligned and construction was scheduled, shovels hit the ground in the middle of January 2022. The office remained open for the next seven months through the renovation. "It was not an easy task, but it was necessary," Dr. Welburn says. "Ideally, our contractor would have liked us to go into another space to let them demo, but it wasn't an option for us. They were really good at working with temporary walls, but there was a lot of noise and dry wall dust."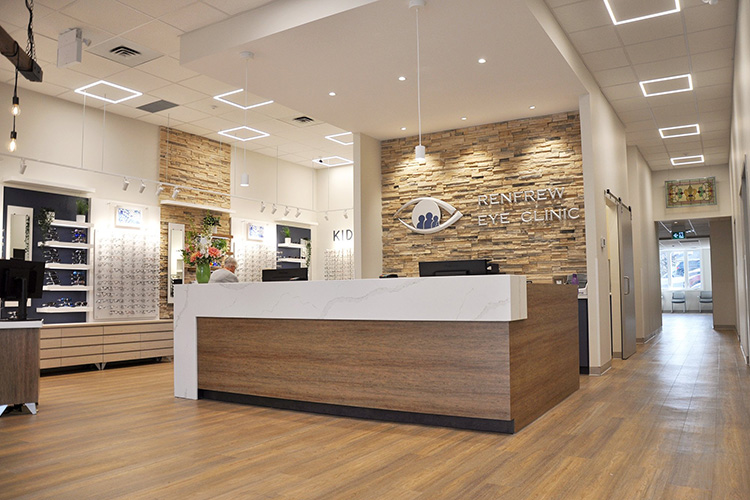 Drawing inspiration for their updated look, however, was much simpler. She says that they found many ideas right from Women In Optometry including styles and stonework designs that they shared with their interior designer to bring the final look together. They replicated the stonework they liked on the front of the building coupled with barn beams and lighting. Inside, they chose a zen and relaxing style, replacing dark gray tones with off-white, beiger and an accent of navy. They also incorporated heritage art that showcases Renfrew, dating back to the 1800s. Patients love to walk around and check out the photos and reminisce about what the community used to look like.
Dr. Welburn and Dr. Rowley also spent a lot of time learning about lighting, which they felt the space had been lacking. "Lighting is super important in retail, and we worked with a fantastic electrician who taught us how many lumens should be on your merchandise to make it stand out and not create a glare. It should be welcoming to the eye."
The expansion to a total of 3,500 square feet allowed them to reach many goals for the space, including doubling their numbers of exam rooms from three to six. They were able to create a private pretesting area; formerly, they had this equipment lining a hallway and they were able to double the size of their optical. They also added a contact lens center which allowed for added storage and for a space where patients can take their time learning to insert their lenses, without losing doctor chair time. They are now utilizing their basement space, relocating the lab to that area so that they could have more room for patients on the main level.
Another important change was making the doorways and hallways wider to accommodate wheelchairs and walkers. It's a detail that's certainly being noticed. "It's easier for patients to get around, and they've expressed their gratitude."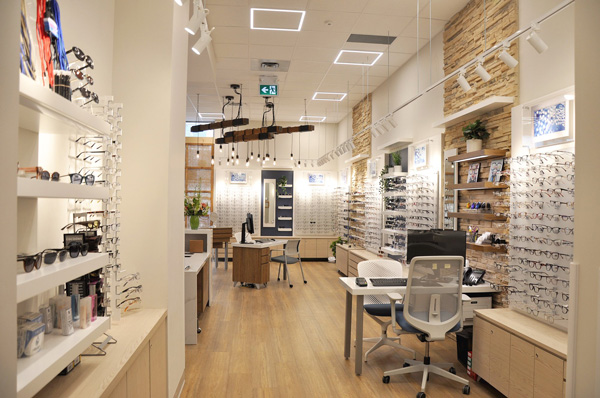 In July 2022, the renovations were complete. Patients are loving the expanded office and new design, Dr. Welburn says. "We were skeptical at first because we knew patients would be displaced by the craziness of the renovation, but we get great comments all the time when people come in. When you are practicing in the space every day, you don't realize that things are outdated. But the patients notice, and the feedback has been awesome."
That's rewarding after several challenging months making the changes. "I'd like to say we'll never have to do it again," Dr. Welburn says, laughing, but she adds that if the practice continues its path of growth, a move or expansion may be needed again in the future. But for now, they can enjoy the benefits of their efforts.
MATCH OR MURAL?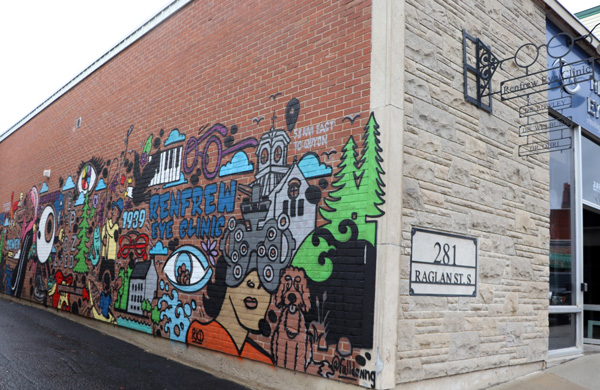 The building had formerly been an old bank and had good bones, but they were faced with a challenge of how to match the new façade of the building with the old. Dr. Welburn says that they considered painting the existing brick to match the new addition, but they decided to go with something a little more fun: a giant mural that runs along a pedestrian alleyway on the side of the building.
Dr. Welburn found their mural artist through a local coffee shop that had some cool window art on display. She was referred to Robbie Lariviere of Fall Down Gallery, and when she viewed the artist's Instagram page she thought it would be a perfect match.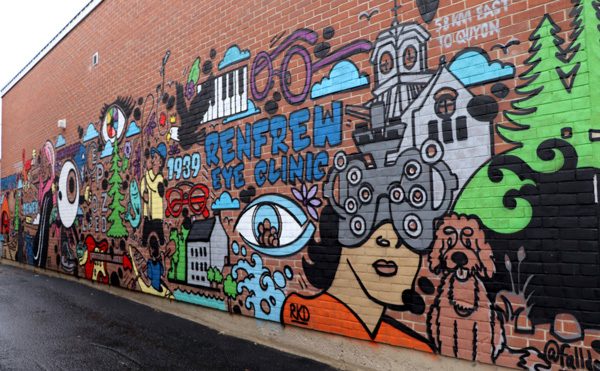 After discussing the main and secondary concepts that the doctors wanted to highlight, Lariviere provided a rough draft to give them an idea of the look. "We wanted to pay homage to the founding fathers—the three doctors who founded the practice—and their names are embedded and there are eye-related parts like a phoropter, eyeball and eyechart," she explains. Then there are elements that reflect the town of Renfrew and Ottawa Valley, such as the famous clock tower and swinging bridge, and tributes to the doctors' favorite hobbies: camping, canoeing, biking and fishing, as well as pictures of their dogs. The initials of Dr. Rowley's children and Dr. Welburn's nephew are embedded in the art, too, and there's even a nod to the New England Patriots; Dr. Welburn has been a big fan since she was in high school.
Dr. Welburn said the creation of the mural was quite amazing, as the artist freehanded and finished the design, which is about 25 feet wide by 10 feet tall, all in one day in August 2022 with an assistant. The mural is very colorful with a graffiti style. "We had vandalism in the past, so if someone tags it, it will mix in," Dr. Welburn says. So far, that hasn't been an issue, and the mural has been well received by both patients and people around town. "The patients love it, and we've had people stop by and take selfies in front of it." There are so many elements to the artwork that passersby can discover something new about it each time they take a look.
---
Dr. Welburn also shared some advice on the renovation process with WO. Read her tips to make it easier on your team.