After graduating from New England College of Optometry in 2019, Ramandeep Toor, OD, BSc, was contacted by a colleague who planned to open a second location. The colleague wanted Dr. Toor to become a lead associate and help plan the opening and interior design. Fast forward, Dr. Toor soon found herself in Erin Ridge Vision Center in St. Albert, Alberta, Canada.
COMFORTABLE AND STYLISH
The location boasts 2,500 square feet of space, with three exam lanes, one of which will become a specialty room for vision therapy and dry eye disease/medispa; two pretesting rooms connected with a sliding door; an office; a break room; and a main dispensing room with a lab. The optical area is connected to the clinic by a short hallway.
The construction took roughly a year, with minor construction delays due to supply chain delays in material and equipment. The concept that Dr. Toor had in mind was a sleek, modern office with a sense of comfort. Since the practice focuses on primary family care optometry, she wanted to design a place that wouldn't seem daunting or overwhelming. Wooden tables with warm undertones were the perfect solution.
The optical dispensing desks are made from a large slab of honey-colored live edge that contrasts with the black legs and chair. Each slab has its unique shape, adding a special touch to the desks that may otherwise seem mundane. The cabinets in both the optical and exam rooms have a modern beige color to match the desks and wood patterns accentuate the hardwood flooring.
While she wanted the patients to feel at home, she did not necessarily want a rustic-cabin-in-the-woods theme, so Dr. Toor created several eye-catching wow factors. As soon as patients walk into the office, the first thing that grabs their attention is the bright bamboo chandelier hanging above the front desk. "It blends into space well because our practice has high ceilings, which let us add windows that let a lot of shine through. The chandelier is a patient favorite – we hear compliments fairly commonly," she says.
In contrast to the wooden tables and cabinets, another wow factor is the marble slab front desk that features dramatic streaks of green and gray tones. "We always hear patients murmur 'wow' when they walk in," she says. Overall the blended balance between the natural materials and modern touches creates a modern yet warm environment.
ALL EYES ON THE FRAME BOARDS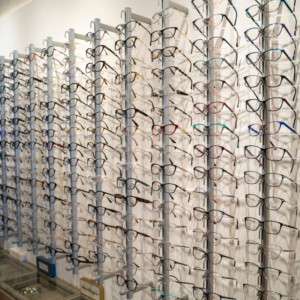 Erin Ridge Vision Center has a large frame selection, displayed on clear holders, which are attached to the walls so they can be viewed from any spot in the optical. The high-end designer brands are displayed in cabinets or on the walls in glass cabinets.
THE BIG LAUNCH
A month before the grand opening in November 2021, Dr. Toor planned a blowout event. "We wanted to go all out and attract as many people as we possibly could," she says. She contacted local business owners and vendors to gather more than 20 giveaway baskets. Local restaurants bought smokers to cater barbeque; we provided toys and games for children, and DJs blasted music to heat up the atmosphere. The practice also held a mini car show for everyone to enjoy. "Everyone who came found something that interested them and left with a gift bag, which had goodies from local vendors, free eye drops and eye masks, discount codes to local businesses and more," she says.
The extravagant grand opening event positively impacted the opening week. "We saw a huge influx in patient flow and our practice presence in the community went up significantly," she says.