Jocelyn Leung, OD, envisioned opening her own practice when she was a student at the University of Waterloo. When she was ready to go all-in, she scouted for a promising location, an essential component for the success of a cold-start practice.
PROMISING FUTURE
Despite being a dense and highly competitive area, the street of Eglinton Avenue in Toronto, "had a need for private practice. People who reside and work there have the interest to dedicate their time to premium health care and would appreciate the dry eye specialty and myopia management services that my practice would offer," she says.
The location was also perfect to gain foot traffic and exposure. Lumos Vision Care is on the ground floor on the street front, surrounded by eateries, banks and multiple clothing stores. Eglinton Grand, a historic site and an event venue, is located across the practice, and in front of the practice is a developing subway station. "The historic yet developing neighborhood was just the ideal space, putting rest to some of my worries," she says.
Construction began in September 2021 and the entire process took roughly three months, with a month of obtaining permits and two months of buildout. COVID-19 delays caused some slight delays in millwork and equipment arrival, but the whole process moved along smoothly and was completed by the original target date. While she was waiting for some final deliveries, she found a great option. "I was very fortunate that my representative was able to loan me some equipment in the meantime," she says.
CREATING A NATURAL ATMOSPHERE
"Finding the right designer was imperative, and I specifically researched designers who have not had prior experience designing optometry offices or any other medical settings. I wanted to hire someone knowledgeable about typical consumer flow," Dr. Leung says.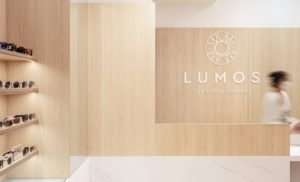 Matching with the sleek, minimalistic design of the practice logo, the interior design is composed of neutral tones, mostly consisting of various white, clean beige and gray shades. She selected millwork of the flooring, furniture, optical area and walls, uniformly made from light-colored oak wood, creating a naturally bright and warm environment. The receptionist's table has a white marbled table with gray streaks to incorporate a clean look.
Natural light floods the space, and it's enhanced by light fixtures with yellow undertones. "I didn't want the light to strain or overwhelm patients' eyes, plus the light bounced off and accentuated the wooden furniture beautifully," she says. Green plants and succulents adorn eyewear displays and tables to emit a warm vibe.
A BOUTIQUE EXPERIENCE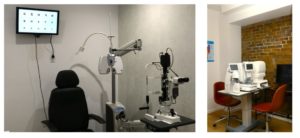 The practice is 1,100 square feet with two exam rooms, pretesting room, a contact lens room and a wheelchair-accessible bathroom, and a 500 square feet basement used as a storage and employee break room. More than half of the total space is allocated for the optical and reception area.
"The goal was to lure people in to get a closer look at the selections," she says. All eyewear is placed out in the open so people can freely try it on. On one wall, frames are displayed on top of shelving units and highlighted by small lights. "I originally didn't feel the need to install lighting underneath shelves due to additional cost, but after seeing the final product, I couldn't help but notice how it highlighted small details that otherwise wouldn't be noticeable," she says.
On the other side, eyewear is displayed with a more artistic approach. Frames are laid out on top of tables next to mini succulents and accessories, creating an enhanced boutique experience. So patients could get a sense of their complete look, she placed full-length mirrors around the space. There's also a long dispensing table in the middle of the optical area where patients are encouraged to sit and chat.

"It feels surreal opening my own location, and I can't wait to see the practice bloom to its full potential," she says.