Before Nataliya Yakovleva, OD, became an optometrist, she had several occupations, but none of them were in health care. Originally from Russia, her college degree is in education, specifically in teaching the English language. Coming to this country had her exploring other options. "As an immigrant, oftentimes you are not able to use your original education. You must be open to other options in order to get established. I have tried accounting, property management and marketing, and eventually ended up in real estate. I was in real estate in 2007 when the economy started to recess, and by 2008 real estate took a hit," she recalls.
So she thought that a career in health care might be more recession-proof. "I was thinking of something administrative; I knew marketing," she says. But a visit to a local optometric practice changed her mind. "I remember sitting in that office waiting to be seen and realizing that though recession was in place, this business seemed to have a stable stream of customers coming through the door. My eye exam was quick and pleasant. So I thought, why not become an eye doctor?" Her learning curve was steep. "Not having any education or experience in health care, I had to start from scratch. At that point, I didn't even know the difference between an MD and an OD," she recalls. It took her several years to get the necessary undergraduate degree followed by four years Nova Southeastern University College of Optometry.
She started working at a private practice after graduation and all seemed to go great for a few years. However, during COVID's unstable time, she was laid off and though later rehired, the conditions of employment had changed from salary to a production-based plan. "One of the reasons I went into health care and out of real estate was to have stable income and to get away from commissions, so the switch was super concerning," she says, "However, that shift opened my eyes to the financial potential of this business and realization that I wanted to have something of my own." She also thought it would serve to inspire her two teenage daughters.
And so, the journey began. She found a space that had been a chiropractic office before
and needed some major renovations. Walls had to be knocked down and rebuilt to create a more open space and the flow she wanted. The interior design, fully created and executed by Dr. Yakovleva, is done in the contemporary modern style with clean lines in white, grays, taupe and sage colors that create sleek but warm and welcoming environment. "It was challenging, but also fun creating this space." The clinical side features innovative equipment with advanced technologies for diagnostics and management of various ocular conditions. In September 2021, InOptix Eyecare Center officially opened the doors to the patients of Jacksonville, Florida.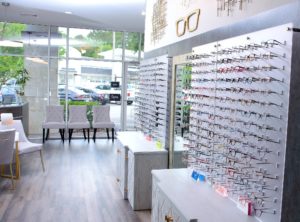 It's a primary care, full-scope optometric practice for all age groups with a few special services. For instance, Dr. Yakovleva sees patients ages 5 and up and specializes in myopia management for kids. She also loves working with the challenging specialty contact lens patients. "I love the tougher fits like scleral, gas perm and multifocal lenses. The impact on patients' lives is huge."
A recent addition to the services is TempSure Envi, a radio-frequency laser treatment that not only safely and effectively improves skin appearance by smoothing fine lines and baggy eyes but is also now used to treat meibomian gland dysfunction. The goal is to establish a dry eye clinic with stress on aesthetics offering various lines of products for eyes and skin care.
Her optical store showcases designer lines of frames with a few exclusive brands such as Lindberg, iGreen, LaMatta, OVVO, etc. A fully equipped optical lab allows a lot of patients to get their glasses the same day!
The practice started a bit slow – the omicron virus was surging just as it opened, but it has been picking up since. Patients in the area seem to appreciate having great quality eye care just around the corner –based on the practice's 5-star Google reviews. "Opening a practice cold is challenging but also truly rewarding. Besides, this is not the first time I started something 'from scratch,'" says Dr. Yakovleva.