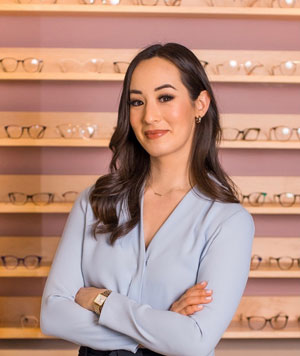 Ashala Mah, OD, says that while she always had a goal of practice ownership, she fell into a comfortable rut working as an associate following her graduation from the University of Waterloo School of Optometry. "I was enjoying living life in Vancouver, but I felt a little unfulfilled," she recalls. "I've always had an entrepreneurial spirit, and when the pandemic hit, that was the nudge to set me off to do my own thing."
Dr. Mah and her husband Brandon Baker, OD, who she met in optometry school, started moving forward with their plans to establish their own roots. "We were both thinking, 'Will we regret it if we don't do it?'" They began their search for a location in August 2020 in Squamish, British Columbia, about 45 minutes north of downtown Vancouver. Squamish is a more rural area where many young families and Millennials have moved during the pandemic. They were planning on renting, but then came across an opportunity to purchase a commercial spot in September 2020, and they closed on the space in December.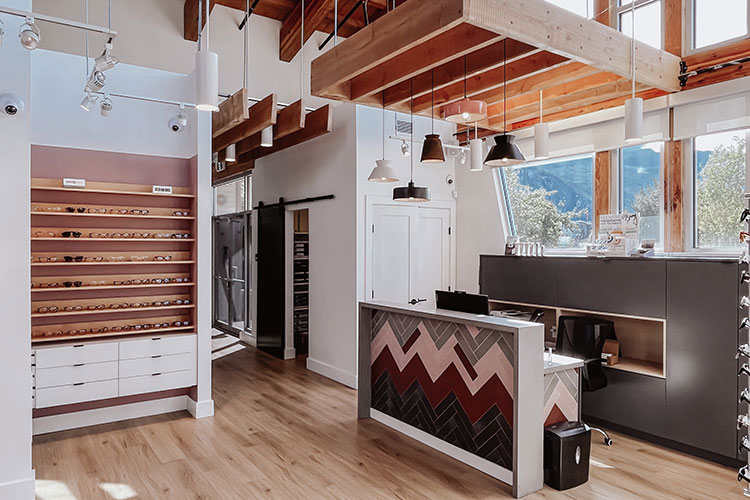 Construction and renovations began on the future home of Garibaldi Eye Care in January 2021. It was formerly a children's play place that unfortunately closed due to pandemic precautions. Their space is the largest unit in a commercial condo complex. It is street level, with two other businesses beside, and residential condos above.
The 1,300 square foot space was mostly an open design, so they added walls, electrical and plumbing to finish the office. Dr. Mah worked with designer Megan Bennet, who was referred to her by a colleague, and she is very pleased with the beautiful final design in the space. The style is industrial yet warm with 20-foot ceilings, large windows, and stunning timber details. A green moss wall with the clinic logo welcomes patients at the front. There are also accents in pink, gray and terracotta. The front desk incorporates a gorgeous herringbone tile that was imported from Portugal—and took a while to arrive. Ceramic lights hang above the front desk, and a neon "Eye See You" sign hangs in the pre-test area. The tile accents can also be seen in the contact lens room, which you enter through an arched doorway. The black, sliding barn doors that are not only aesthetically pleasing, but also helps fulfill their need to be wheelchair accessible in a smaller space.
When it came to technology, Dr. Mah says that they went big from the start so they could provide full comprehensive care, as well as specialty dry eye diagnostics and treatment. The idea was to economize space as efficiently as possible. For pre-test, Garibaldi Eye Care uses the Tomey MR600. This allows them to perform multiple tests—including refraction, keratometry, tonometry, pachymetry and topography—in one machine with a small footprint. They added the Optos Monaco, in order to have retinal imaging as well as OCT technology all in one instrument. They also have the Optopol Visual Field. For dry eye cases, they added the Firefly slit lamp with anterior segment camera and infrared meibographer. Dr. Mah says her favorite piece of equipment is the InMode Lumecca IPL, and Forma-i Radio Frequency device that they added to the practice early in 2022.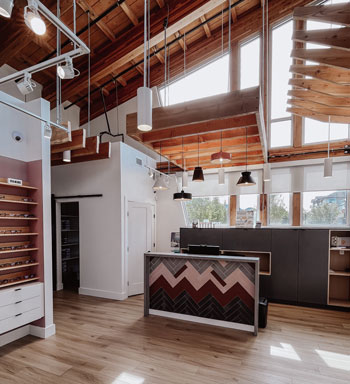 The practice officially opened for business in July 2021, surrounded by other professionals including physiotherapists, a chiropractor and massage therapists. Dr. Mah and Dr. Baker split their week in the office space, providing coverage from Tuesday through Saturday. Dr. Mah recently stepped away from her position in Vancouver to focus full time on Garibaldi Eye Care.
There are two exam lanes with one equipped for now, and Dr. Mah is considering the best use for the second room, which may become a dry eye treatment room to expand upon the services she already offers such as radio frequency and intense pulse light therapy. "We have seen an excellent response to our dry eye services so far! We were a little apprehensive about bringing in the technology as a cold start without a client base," she says. But through social media, local newspaper advertising, referrals from colleagues, and word-of-mouth, they have been able to build up that specialty care portion of the business. She hopes to add myopia management in the future, but for now, she jokes that the children of Squamish are too active and that she hasn't seen many myopic children.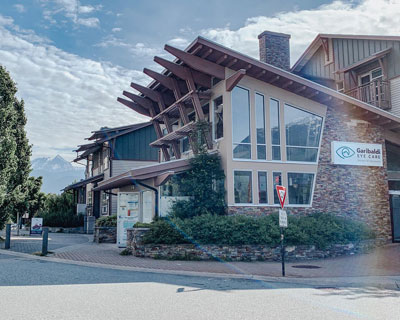 Dr. Mah and Dr. Baker considered several locations in Squamish, but they agree that they chose the best one of the options based on its location, accessibility and parking availability. They even bought a townhouse nearby the practice and have a two-minute walk to work. "It's a dream," she says. Being a part of the community has allowed them to join the Chamber of Commerce, sponsor local sporting tournaments and be available in the evenings to speak at meetings for local mom and baby, or seniors groups. They've been asking all patients to send in their family and friends, and Dr. Mah says that the word-of-mouth referrals have been a tremendous help as they grow.