Who knew a bank would be the perfect space to open an optometry office? As inventory started overflowing and her lease renewal was approaching, Jean Hess Barden, OD, decided it was an ideal time to move. She couldn't find the right location close to the center of town until she stumbled upon a closed bank down the street. While there were some difficulties figuring out a new layout, Greater Thumb Eyecare was newly born in Vassar, Michigan.
Her previous office was 1,200 square feet with one exam lane, one pretesting room and one post-testing room. At 2,800 square feet, her new space is more than twice as large with two exam lanes, one pretesting room, one post-testing room, optical space and an employee break room.
TAKING THE REINS OF INTERIOR DESIGN
"I didn't experience many bumps on the road. The entire construction process was new and fun, and the only downfall was that the grand opening took longer than expected because contractors were so busy," she says.
Alongside her contractor and local designers, Dr. Barden actively participated in the design process, handling the optical space and parts of the exam rooms. One personal touch was the gray wallpaper stamped with rows of eyeglasses, which decorates the employee break rooms and pre- and post-testing rooms. "I stumbled upon it while I was searching the web, and it was a perfect fit. It matches the logo color and also livens up the space, so many of my patients love it," she says.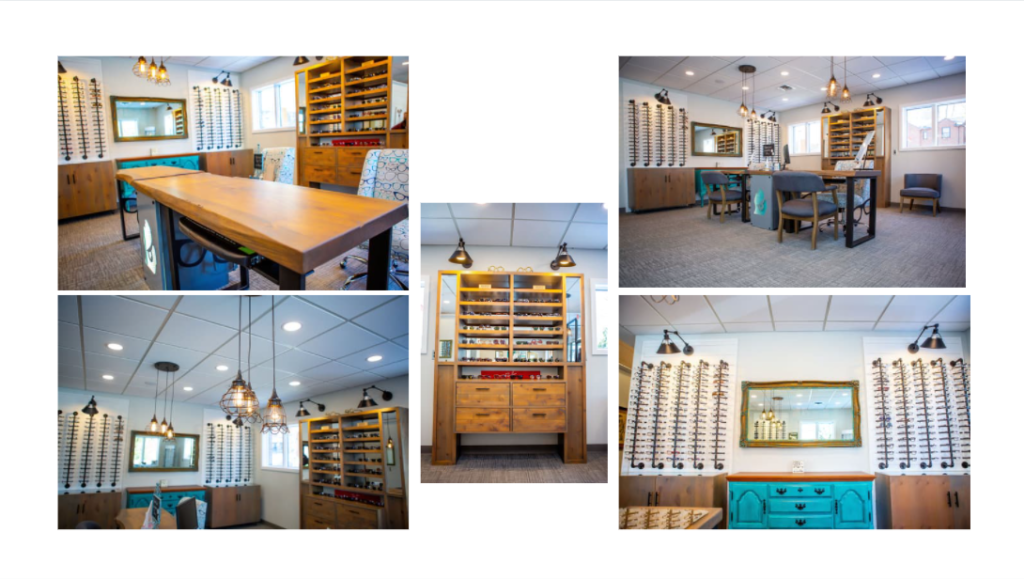 There's a bit of a rustic look throughout, with artwork of animals wearing eyeglasses hanging on the main room's two feature walls and a raccoon rug anchoring the kids' area. "The animals give a whimsical feel to the practice and an overall more enjoyable experience for the children," Dr. Barden says. In addition, most of her interior rooms have barn doors. Although they were initially installed for convenience, she likes how the aesthetic that the barn doors create, and a lot of her patients comment that they love the look.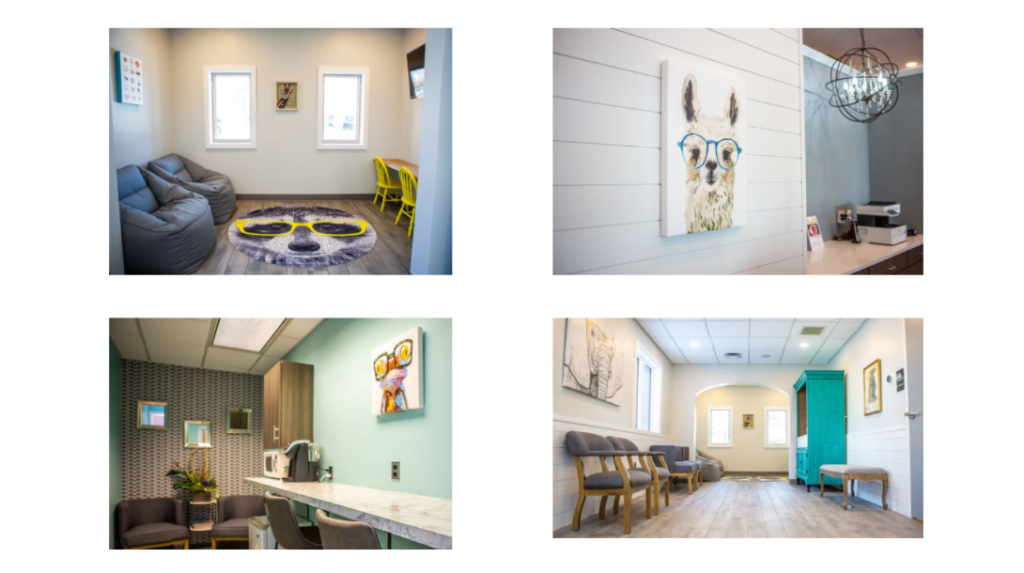 Throughout the design process, Dr. Barden scouted for older but solid furniture that could be refurbished. Not only is it more cost friendly, but it also allows her to play with her imagination and have custom-made furniture. For example, the coffee center was created from a '90s entertainment center, and she and her husband, who owns a hardware store, made frame racks from scratch.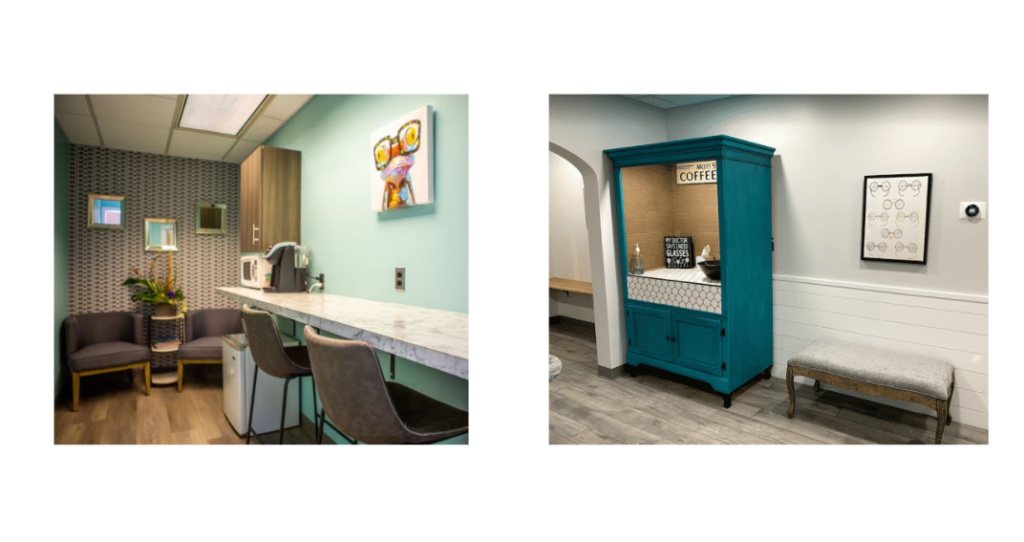 FULFILLING HER DREAMS
Relocating into a former bank transformed some of Dr. Barden's dreams into reality. At the beginning of the COVID-19 pandemic, she had thought of having a drive-through area for convenience and the added benefits to having fewer patients in the office for quick trips like picking up contact lenses, dropping off eyewear to be adjusted or paying a bill. The bank's former drive-up windows serve exactly that purpose.
With the new location, Dr. Barden was also able to install a wider access into the building to accommodate wheelchairs and add a wheelchair-accessible exam lane. "I'm glad I have the space to design a place that is more accessible and friendly to all my patients," she says.
PATIENT REACTIONS
Patients are thrilled. "They especially love the big parking lot, because the parking lot used to be so small before," she says. The updated interior designs are also a big hit, and many patients leave comments on the practice's Facebook page.
Although retrofitting a bank wasn't on her radar, now that the practice is open, the interest rates are sky high.