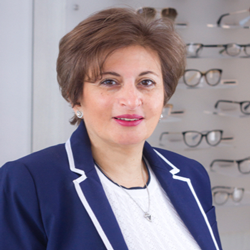 When a unique, iconic building had a space for lease in Mississauga, Ontario, near Toronto, Amany Wissa, OD, knew she had to take a leap of faith. Dr. Wissa had been working in Brampton, Ontario, since 2012, sharing a small area within a walk-in clinic. But a new building, called The Arc, pushed her to action. The building is shaped like a cruise ship, with towering levels of steel and glass, and it is filled with condominiums above and businesses "below-deck." Thus was the beginning of the aptly named Arc Eye Care. When it came to designing her practice, Dr. Wissa "became obsessed with interior design," she says.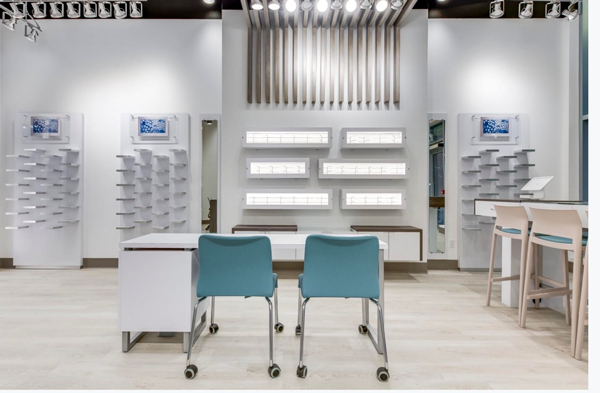 Finding Pinterest photos of restaurants and other businesses as her inspiration, she got to work. Opting out of a large reception area to give more space for her optical, Dr. Wissa has been inspired by more of a boutique retail look. "I wanted a clean, minimalist, white look with an open concept." When she needed inspiration for optometry-specific businesses, though, she turned to WO.
"Optometry is about light and geometric lines," she says, and she has incorporated these principles to her look with wooden cabinets and back-lit optical shelves. The whites and neutrals provide a serene backdrop to the frame displays, teal accent chairs and stools and colorful artwork on the walls.
Her patients' response has been one of love and comfort. "It feels nice—very welcoming and peaceful and open. The colors are easy on the eye so it doesn't make you feel stressed." The details don't stop in the reception area, though. "I have two exam rooms, one lane for exams and one for dry eye patients." The dry eye lane is more spa than clinical; patients sit in a recliner and are surrounded by ocean blues.
 A SPACE FOR EVERYONE
Dr. Wissa's favorite space is the community area, which consists of a high communal table with two tablets that allow patients to check themselves in, streamlining the process. The tablets also allow patients to look at fun lenses and learn about different aspects of eye health.
Of course, being open in the pre-COVID-19 world was different, and Dr. Wissa is ready to roll with the punches; the practice opened only in mid-June. "I didn't expect to open my doors in a pandemic," she says. With spread out bar stools and chairs and the new use of clear acrylic panels as breath shields, Dr. Wissa is able to maintain her brand while keeping patients safe.
THE FUTURE IS NOW
Asked to describe her practice in a word, Dr. Wissa says futuristic. "Like this is the future of eye care," she says. "It's the future of modern optometry—not an old classic office with a coffee machine," she laughs. She supports this mission by having purchased high-tech diagnostic instrumentation, such as an OCT, digital refraction systems and she plans to connect everything to her electronic medical records system.


Overall, Dr. Wissa wants her practice to be a place where patients feel happy. "I want the flow to be easy," she says. "I want things that give you good vibes. People need that right now—something encouraging."