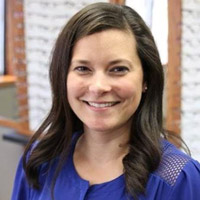 When Jenn Sowers, OD, bought a practice in 2016, she started making big plans for what she was going to add: things like expanding pediatric care and maybe one day bringing on a third optometrist.
She also knew what she was going to get rid of—starting with the sliding glass window at the reception desk. "The sound of the window opening made me cringe," she says. "It made it seem like patients were interrupting us."
So a few months after she bought Caledonia Vision Center in Caledonia, Michigan, she brought in the contractors. Gone is the wall with the sliding glass window. In its place is a cleaner and more open space for arriving patients. And with that wall gone, now the optical displays are basically part of the reception area.
"When I bought the practice it had a very typical layout. Patients walked in and saw a wall with a sliding glass window," Dr. Sowers says. "When we had the old style, you would tell patients to have a seat, and it was very easy to forget they're out there," she says. "Now, my patients rarely sit down and just wait. They're looking at frames or they're trying on sunglasses because everything's so open."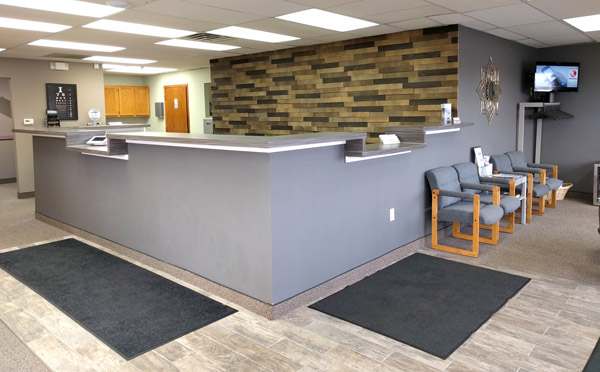 She also added a Keurig coffee maker in the reception area. The coffee option seems to have an effect on how patients engage with the frame displays. "I used to have people who would otherwise sit there on their phone," she says. "Now, if they have a cup of coffee or a bottle of water, they'll walk through the optical and look around."

The L-shaped reception desk is also new, redesigned to make it easier for staff to engage with arriving patients. Behind the reception desk is a newly installed wall with a reclaimed-wood look behind the desk. That attractive accent wall replaces what used to be a wall of patients' paper records.
The need to get rid of that wall of heavy cabinets that held patient records was a "secondary project" that happens in renovation projects, she says. One change gives rise to another, and so on. The wall of records was unnecessary anyway because the practice has been using electronic health records for more than a decade. Plus, taking out the wall with the glass window meant new carpeting throughout. "It always snowballs into a different project," she says.
In the optical area, the biggest challenge is that the space has lots of windows, which limits the wall displays. Dr. Sowers plans to redo existing frame displays, using glass shelving and stands rather than frame boards.

She also added a third exam room and an OCT. The patient count at the practice is up, largely because there are now two ODs—Dr. Sowers and the practice's founder and previous owner, Richard Choryan, OD.
She's also brought on additional staff—a billing person, four opticians and a clinic manager. That last position has made a big difference in the practice efficiency. Dr. Sowers says that sometimes the practice would get behind in its schedule in part because the staff was stretched thin. "Initially I thought I needed another doctor. Then I realized I just need someone to help me with patient flow."
She's gotten good feedback from longtime patients, she says. Dr. Choryan has a long practice history in Caledonia and "everybody knows him," Dr. Sowers says. Now, with the expanded practice and new look, "it's just been a totally new pace and a new clinic style," she says.