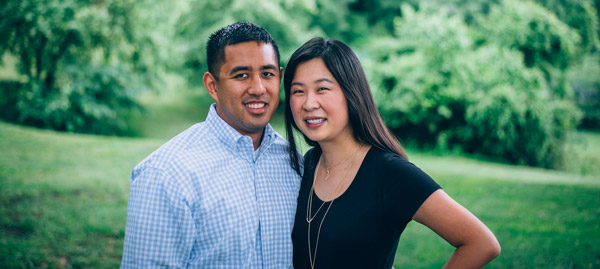 Monica Ma, OD, and her husband, Jonathan Reynon, OD, were eating pizza in a new shopping center in Cary, North Carolina, when they came to the realization that the center could be home to their new practice. "I said, 'Let's see if we can start right here,'" Dr. Ma recalls. Located less than two miles from their home and in an area of high growth, there was great potential.
Dr. Ma says that she always thought her route to practice ownership would be buying into an office. Following her graduation from optometry school, she commuted for five years to a private practice and also covered hours in Dr. Reynon's Target Optical subleases. The private practice owner had already planned to sell his office to another long-time associate, who was not looking for a partner, so Dr. Ma decided to join forces with her husband closer to home. "With all of our experiences, we realized a lot of things we would do differently in our own practice," she says. "Cash flow is a major negative of a cold start, but you can tailor everything how you want it."
Dr. Ma and Dr. Reynon hired commercial real estate lawyer, Jose Santana, Esq., a principal at Segall Group based out of Baltimore. They made the connection through a family friend who is a partner at the firm. Negotiations for the space took nearly five months. The shopping center, already home to a Target, grocery store and movie theater, with room for more, is owned by a national retailer. Originally, small offices were not a part of the vision for the massive center. "We negotiated for the lease, but we had a back-up plan if it didn't go through."
In the end, they didn't need it. They secured their 2,500-square-foot space, the future home of Parkside Eyecare even before there was a ceiling or floor under construction. They worked with a contractor who had experience with medical and optometry offices and also networked at Vision Expo East for ideas and advice. "We looked at what others had designed previously, because we wanted to make sure we didn't miss anything," Dr. Ma says.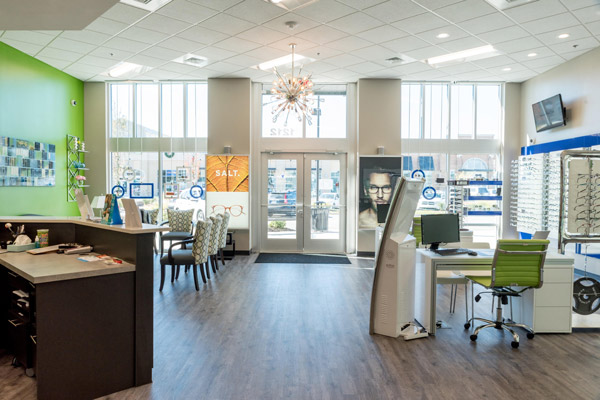 While her personal style is more "black and white," Dr. Ma says that she knew from conversations with colleagues and designers that she needed pops of at least a primary and secondary color. So they painted the walls a light gray and chose a shade of blue and complementing green. "It's soothing yet still bright for a medical office," she says. She selected furniture and artwork to achieve the desired atmosphere, tapping into resources such as Wayfair and Uttermost online. Fairfield, a local company, upholstered the couches and chairs.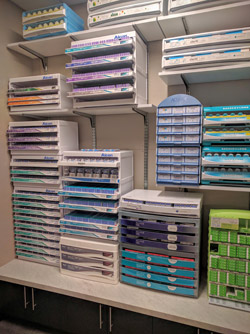 The rectangular space features the optical and reception in front with an optical and edging lab, three exam rooms, a pretesting room, a special testing room, a contact lens room, a break room, doctor's office and manager's office. There's a playroom for waiting children, and there are two restrooms, one for staff and one for patients. The contact lens room was one of the most challenging to design, Dr. Ma says, because manufacturers provide different size storage containers that can change at any time. So they put up plywood backing directly to the mail wall with paint match and placed adjustable shelving on metal brackets, so that it can be modified as needed.
For now, one exam room is complete with space for the future, Dr. Ma says. She and Dr. Reynon take turns working in the new office and continue to work the Target Optical subleases.
They plan to focus the practice on primary care with disease treatment and management. Dr. Ma gained valuable experience working with glaucoma patients or those with diabetic retinopathy in her former place of employment, located in a rural, underprivileged area. To be sure she could care for these medical concerns right in the new office, the doctors invested in an OCT, visual field, fundus camera, anterior segment camera and digital refractor from the start. "Most of our patients work in nearby Research Triangle Park, which is one of the most prominent areas for tech and development, in the U.S.," she explains, so an investment in technology was important. "The digital refractor allows us to provide a more precise and accurate prescription for our patients, and the anterior segment camera allows us to show patients what we are seeing in the slit lamp, which really aids in patient understanding and compliance with treatment plans," Dr. Ma says. "We felt like this technology will set us apart from other offices and give our patients an amazing eye care experience."

To continue the high-tech feel from the instrumentation, they incorporated several 40" TVs around the reception and optical area for digital advertising. Above the frame displays, TVs provide more information about frame lines and in-depth videos about the practice's independent lines. Two large Duratrans displays are used for backlight film. "It creates a nice professional advertisement vs. a poster or a window cling," she says. Dr. Ma adds that it's essential to map out technology placement—from instrumentation to computers and security cameras—early in the design and planning process to ensure a smooth installation.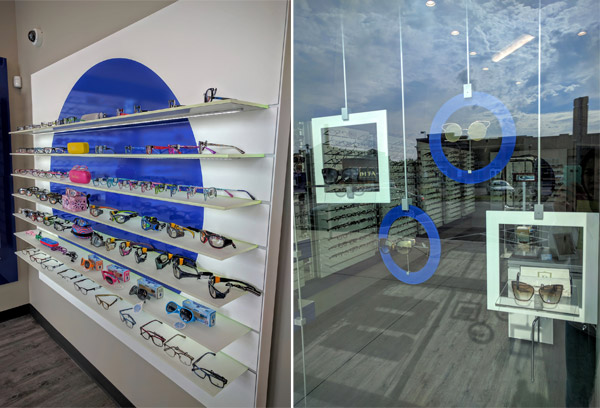 Dr. Ma also envisioned a high-end up optical with an in-house lab for quick turnaround. There are a few optical boutiques nearby owned by opticians only, and many local offices are getting rid of their own edging equipment. "I did the frame-buying and picked every single frame that's on the board," Dr. Ma says. "It was an exciting process, and now we carry high-end frames that we hope patients will enjoy." Patients can complete the entire eye care process—from exam to frame selection and dispensing—conveniently and efficiently under one roof.
The frames are displayed on Presenta Nova displays, a company that Dr. Ma and Dr. Reynon met at Vision Expo. Based out of Croatia, "Presenta Nova offered something that you don't normally see in North Carolina," Dr. Ma explains. It's a clean, modern look with a lot of white and LED lights with the blue color from their logo carried over into the trim. "In the windows, we have hanging window displays, showcasing glasses and sunglasses, for people walking by on the sidewalk just like a jewelry store would have."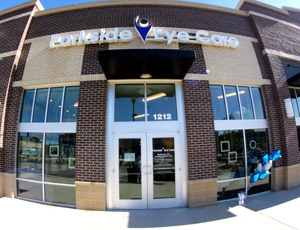 Parkside Eyecare opened its doors in October, and Dr. Ma says that she's happy to be back practicing in her hometown. She's arranging speaking opportunities with the local schools and a nearby 55+ community, and they will also do some specific, targeted mailers. Foot traffic will also increase as the shopping center reaches full capacity. The doctors are looking forward to gaining even more word-of-mouth referrals, as family, friends and colleagues of current patients share the word about their exceptional experience at Parkside Eye Care.