Creating Comfort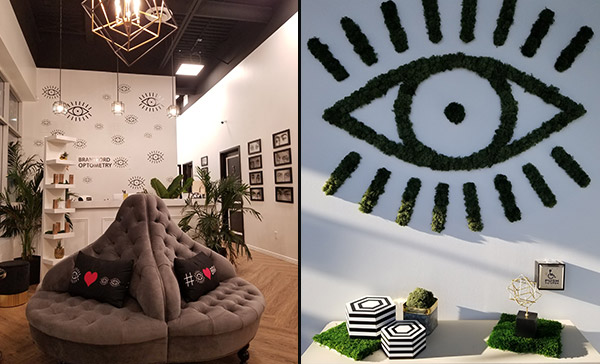 Many of the features that Sareya Khatkur, OD, of Ontario, Canada, brought into her practice were selected in part to thank patients for their loyalty over the years. She wanted to create a space that invited them to come in, sit down with a cup of coffee and enjoy themselves. In fact, it was patients themselves who voted on her Instagram page, asking her to bring palm trees into the practice to add a little tropical flair to the cold Northern winters. An eye logo appears throughout the office in different textures—worked into the wallpaper design, reflected in mirrors and a 3-D, touchable version. A custom, round, four-seat couch with embroidered pillows creates another focal and touchpoint. Dr. Khatkur encouraged her patients to weigh in on a number of design elements. "The office itself is not for me—it's for my patients," she says. Click here to read her story.
A Tactile Experience
Spaces should appeal to all the senses, stimulating not just the visual. While many ODs consider the sights, sounds and flow of a practice, these ODs incorporated texture into their practice designs.
The walls in the Rogers, Arkansas, office of Jessica Dinwiddie, OD, contrast a smooth wood and a rough brick, for example. Her frame display planks are right up against the brick walls, providing a dramatic backdrop. Fabric-covered chairs are set off from galvanized-looking counter stools. She created a shopper-friendly environment with terrific window appeal to draw in passersby who want an extraordinary—and even tactile—experience while they're shopping for higher-end frames and lenses. Click here to read her story.
Repurposed Appeal
There's something about the sleek, silvery look of old barn wood that makes people want to run their fingers over it. Tracy Millwood, OD, of Hanceville, Alabama, brought that into her practice—literally—by using wood from a 100-year-old barn for her stunning circular reception desk, frame boards and some cabinetry. The kids' area, with huge, reflecting eyeglasses and animal-themed stools, is utterly touchable. She mixed the old, the old-looking and the new in the practice she opened cold in March 2018 in a three-bedroom historic house in the city's downtown. Click here to read her story.
Pecan Into the Next Room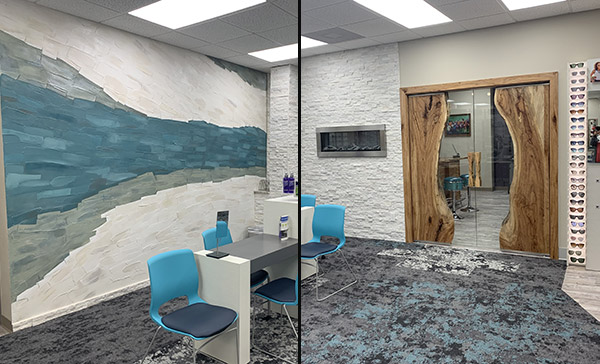 A Texas pecan tree has found a stunning new life in the Lubbock, Texas, office of Jewell Ginter, OD. Dr. Ginter's builder found these unique wood and glass doors custom crafted for a restaurant that never got off the ground. Dr. Ginter knew they'd fit the bill perfectly to create a special space for the men's optical offerings. She then contracted the same artist to build a glass table for her—the foundation of which is a hollowed-out section of a pecan tree that was struck by lightning. Click here to read her story.
Stone and Light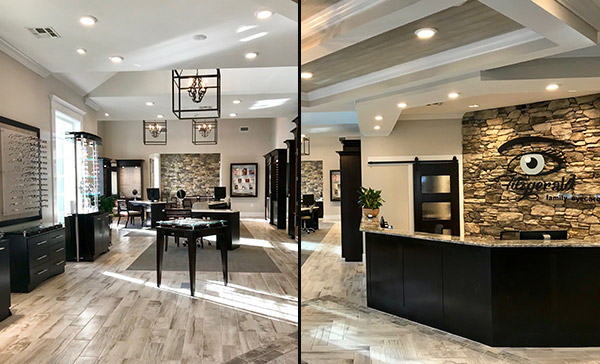 Ellen Fitzgerald, OD, of Douglas, Georgia, needed a larger space for her 12-year-old practice. She and her husband built a 6,000- square-foot space where stone, light and high ceilings create a dramatic setting. Not only did she double the exam rooms and add a space for testing, but upstairs rooms serve as an exercise spot for staff and a place for her own and staff members' children to play or work comfortably when the need arises. Click here to read her story.