The practice that Monica Johnsonbaugh, OD, opened in April 2016 is not in Detroit. In fact, one of the few things that the affluent, nearby community of Grosse Pointe, Michigan, shares with its urban neighbor, is the 313 telephone area code—that, and a tremendous pride in the city's Cinderella story of urban renewal. "It's so exciting to see the growth in Detroit and the variation of culture. I wanted our name to reflect both communities," she says, so that's how she selected Focus 313 Eyecare. When she spoke to Women In Optometry, her office had been open for just six months, but she is already imagining a time when she can expand into Detroit itself and bring the same idea of a boutique optical to the city.
Dr. Johnsonbaugh has been practicing optometry since 2009. "I worked in all the different settings, and while I had a goal to one day open my own practice, I didn't know when or how that would happen," she says. A move to Grosse Pointe opened the door. In such a wealthy community, Dr. Johnsonbaugh was surprised to find that there weren't any boutique-style opticals at all. "The closest ones were about a 30-minute drive. People in Grosse Pointe tend to like to shop locally, if they can, so I saw a need."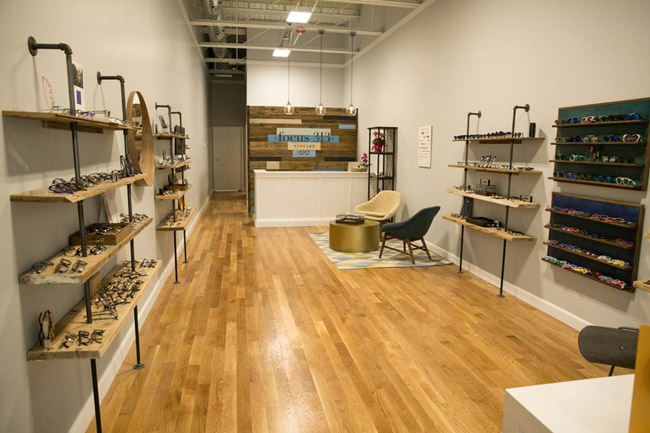 Then she saw the building that would be exactly right. "If I was going to try this, I would only do it if I could find a spot right downtown in the Village of Grosse Pointe," she says. A building, right on the main shopping street, lined with restaurants and boutiques, was being split into four store fronts. She signed a lease on one, where creative seasonal displays attract the attention of passersby. In October, cute pumpkins and skeletons were wearing fashionable eyewear. "We put a ton of photos on Instagram and Facebook," she says.
Inside, the décor also reflects the interest in the city of Detroit. "We use unusual reclaimed shelving from old Detroit homes for shelving and the main wall behind our front desk. Our logo is burned into the wood."
Dr. Johnsonbaugh's husband, Andrew Johnsonbaugh, is her practice manager; between the two of them, they manage all the tasks. "He's always been in business, so he has the expertise to make it run profitably," she says. She says they decided to start lean. "I didn't want to get in over my head, so in our 1,000 square feet of space, we have one exam lane and one pretest lane. Most of the space is dedicated to the optical because we wanted that to be the focus in this retail-oriented spot, while still offering medical optometry, pediatric care and specialized contact lens fittings."
The practice carries only independent frame lines. "My husband and I went to Vision Expo West and looked at many frame lines, selecting what spoke to us and what was unique to the area. We selected about five lines to start with, each with a different demographic in mind. These included Salt, Dita, Cutler and Gross, Mykita and Etnia O. Barcelona." Initially, they were concerned that some people might balk at some of the prices. "Instead, we found that our higher-end frames were going great, so we added Linda Farrow, Matsuda and Anne et Valentin.
The optical has been drawing in many patients with outside prescriptions, but the fact that Dr. Johnsonbaugh accepts VSP and EyeMed has helped, too. "About ninety percent of our new patients say that they learned about us when they walked past. Then they add that when they saw I accepted their insurance, it clinched it."
She and her husband take time to educate each and every patient on the medical model of optometry in which she practices, and they focus on converting those outside prescriptions into next year's exams. "We absolutely love to serve our own community and bring a unique practice style to our area with Focus 313 Eyecare."