Elaine Happ, OD, and Mary Gregory, OD, have long had an unusual optical at Uptown Eye Care in Monticello, Minnesota. The dispensary resembled a park scene, with large trees, park benches, street lights and a paved pathway that lead browsers around to various optical displays. It was designed to evoke a walk in the park, a leisurely outing. Patients loved it.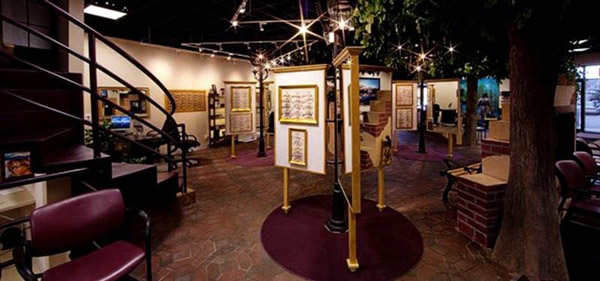 But as the practice grew to include four ODs, an eye surgeon who comes in periodically and 20 staff members, it got crowded. The doctors realized that a great deal of space was dedicated to this park setting. "So we had an architect come out and look at some ideas for a new flow," says Dr. Happ.
She wanted something just as memorable that could meld with the existing décor. With the architects sketches in hand and inspired in part by Bruno Mars' hit Uptown Funk, Dr. Happ contacted a friend, a graffiti artist, and told him what she wanted: a woman looking at the front door, the practice name, some art depicting eyeglasses and the color purple as a tribute to Minneapolis legend Prince. She also contacted a friend, who is a sheet metal worker-turned-artist to commission a beautiful metal art piece featured prominently behind the front desk.
The remodeling got underway, and two of the trees of came down. The existing optical area was repartitioned and a spiral staircase, which had been blocked off so that it wasn't an attractive nuisance, was enclosed. The door to that staircase is now in the dispensing area, so the only ones who can access it are staff members. The area downstairs provides more room for staff who are not directly involved with the patients to spread out.
The ground level dispensing bar is a big help. Patients and customers formerly had to wait while staff ran upstairs and downstairs to make any adjustments. "We have a new area for the technicians and new computers and desks that are more convenient and offer more privacy. In addition to two existing pretesting rooms, we added a special testing room for VEP. Dr. Gregory and Miranda Lepinski, OD, work with traumatic brain injury patients, so we needed to create a very quiet place for special testing," she says. The five exam rooms also got a facelift, with new carpeting and new counters.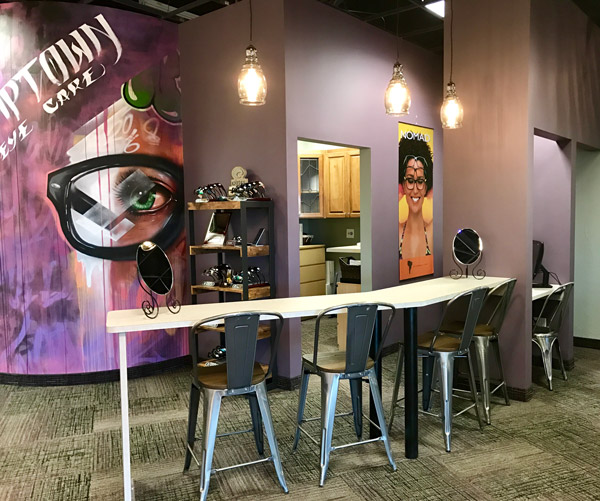 Then the graffiti artist came in on a Saturday. By the end of Sunday, the practice had been transformed. In addition, she and her optician set about to repurpose the existing frame board. She put sheet metal on the back of the existing frame boards, and optician John Nevala took a sander to it and made designs. The inventory hasn't changed, but it looks different since the displays are closer together now.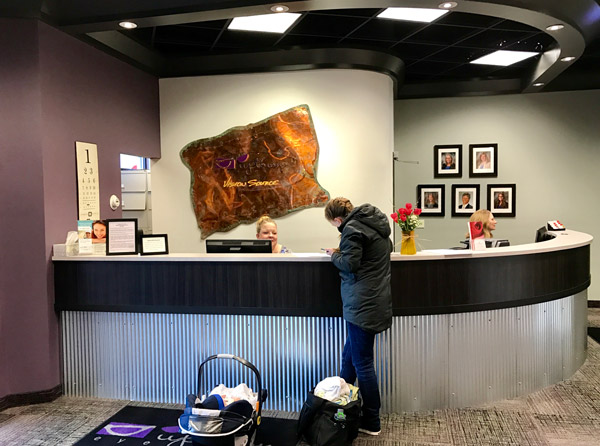 Dr. Happ says she is thrilled with the vibe of the new practice—which is saying something. She had designed the park theme herself so she was a little sad to see it go. Plus, this was her third remodel, so she was well aware of the disruptions that a remodeling creates. But now that she's in it, she feels like it has imbued some new enthusiasm. "We had a college student home from New York City on break stop by to pick up his contact lenses, and he was saying how he would expect to find a place like this in New York City. It's got a nice, warm feel to it."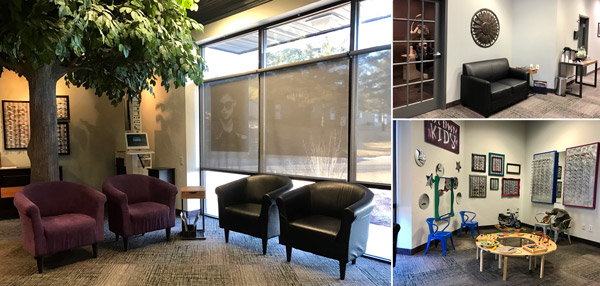 Ask Building Owner for Help With Good Ideas
In this latest remodel, Dr. Elaine Happ went to her property manager to see about adding a vestibule to the building so that the optical area didn't get blasted by the extreme temperatures outside every time the door opened. Not only did the manager agree that it was a good idea, he also agreed to pay for it. "Earlier in my career, I would have been too naïve to ask for something like that," she says. But of course, the property manager can use that as a selling point for the next tenant—although Dr. Happ isn't planning on leaving this building anytime soon.