An abridged version of this series appears in the 2Q 2015 cover story._x005F_x0001_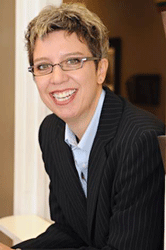 Part I: The Inspiration
By Amanda Lee, OD
Writing this article has given me a form of self-forgiveness. It has allowed me to forgive those darn commercials that seem to permeate television channels that just happen to be on most of the time in my house. You know those commercials on HGTV, the ones that Home Depot and Lowe's seem to run tirelessly. The "Let's Do This," or "You Can Do It, We Can Help," by Home Depot. The "Never Stop Improving," or "Let's Build Something Together," by Lowe's. For about a year now I have felt like I was duped into thinking that I was some kind of personal general contractor. Duped maybe, but ultimately enriched. Enriched in skill-sets, and satisfaction that I am more that just and optometrist by day. I am DIY'er! If you ever thought about trying this yourself, let me share our story with you.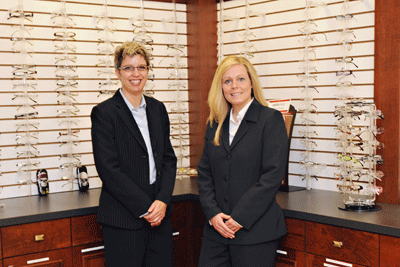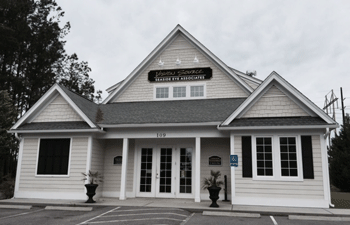 It was a typical clinic day at Seaside Eye Associates, our Vision Source® office located in Myrtle Beach, South Carolina. Our office was full of patients; staff; my partner, Tammy Tully, OD; and me. If you practice with a partner or an associate, you know that every now and then an impromptu conversation occurs in the hallway, kitchen, or lab while waiting for the next patient to be worked up. One particular day that conversation, which skipped from business goals, weekend plans, patient care, payroll, family, etc., took an unexpected turn. I'll admit it, I was only half listening because I think I'm good at multitasking (I can hear my mother saying, "There you go thinking again!"). But I paused for a moment because my partner made me rewind my brain and consciously comprehend what she had just stated.
The conversation went a little like this:
Dr. Lee: "Wait, what did you say? You want to do what?" (Stated in utter bewilderment.)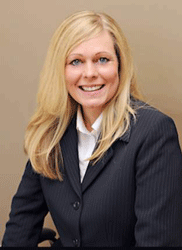 Dr. Tully: "I want to makeover the optical dispensary." (Later I came to know that she was thinking about all the binge HGTV programs she had watched the previous weekend.)
Dr. Lee: "Yeah, me too, it really needs to be updated! You know, we have this 'patient experience' that we're trying to create and the optical dispensary boards really don't align with that message." (Mentally I'm thinking of whom we can call to get the job done, how much it might cost and how quickly it could be done. Looking back, my mental commentary should have read more like this, "Really, Dr. Lee, you were stupid enough to think that?)
That's IT! Nothing more took place, and suddenly we were on a very focused task to do just what she said she wanted to do. We had some challenges ahead, and I was levelheaded enough to understand that, but the job needed to be done, there was no way to get around it. So for the rest of the week, during every free moment, we searched the Internet for general decor and current optical dispensary ideas. We shared what we found and what we liked with each other. A path began to show itself, and we had already begun to walk down it. While we hadn't realized it, we had become DIY general contractors for our own optical, or what I will refer to as DIYO from now on.
First step: Replace outdated optical frame boards
Issues: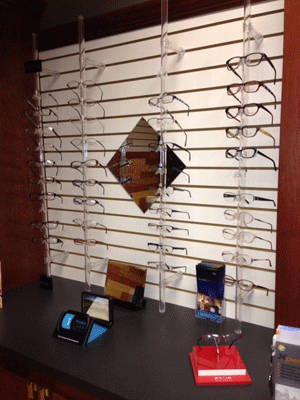 We had seven slat-style frame boards (that look better in a garage, but maybe not, highly organized garages have become quite fancy these days).
Acrylic rods attach to the frame boards, but do not lend to a high-end retail environment.
Acrylic clips attach to each rod and hold the frames in place. (These could possibly be useful if reused.)
We've never designed a retail space for an optical dispensary before. (Shouldn't this be number one?)
Keep costs down; we want the custom look but not the custom price. (No, this should definitely be number one!)
Options:
Hire an existing optical design company. (Costing greater than $15,000 for basic design and upgrade of seven frame boards.)
Hire a local carpenter to create our vision. (Costing greater than $12,000, based on previously done work that was already in place.)
Buy existing pre-manufactured dispensary wall and frame-boards. (Nearing the $10,000 mark for seven frame boards that we would have to modify to fit our exiting space and hang ourselves.)
DIYO (Do It Yourselves Optical, costing our time and creativity and challenging our skill-set.)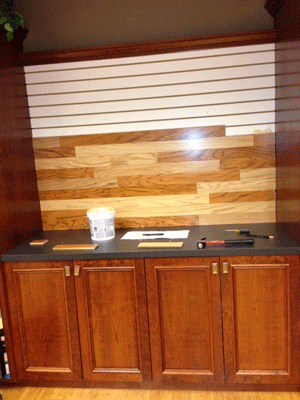 From our individual research and sharing of ideas earlier in the week to further conversation hashing out the basic design idea, we decided that we wanted a more nautical/beach-cottage style theme. To save money we knew we didn't want to tear out the existing cabinets and counter-tops that were custom created for the existing floor space. We asked ourselves if we could use some of the existing items already present in the dispensary and repurpose or reuse them? The answer actually had to be "yes," in order to keep our costs down and get the beach-cottage look we were after.
Next installment: Bringing the Beach In