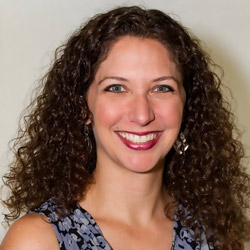 Joanna Carter, OD, of Medford, Oregon, says that a conversation with her colleague last year changed the course of her career. She was attending the College of Optometrists in Vision Development (COVD) conference in April 2016 when she ran into Brenda Montecalvo, OD, FCOVD, of Beavercreek, Ohio. Dr. Carter explained that she was practicing vision therapy (VT) when she could, but there were definitely restraints working out of an exam room as an associate OD in a private practice. "That's when Dr. Montecalvo said you just need to open your own office," Dr. Carter recalls.
That wasn't a part of Dr. Carter's plan. "I never wanted to be a solo practitioner," she says, adding that she was hesitant to take away any time from her top priority—her family. Dr. Montecalvo reassured her that it could work. "She told me that when you are the specialist, you make your own hours and the patients will come to you."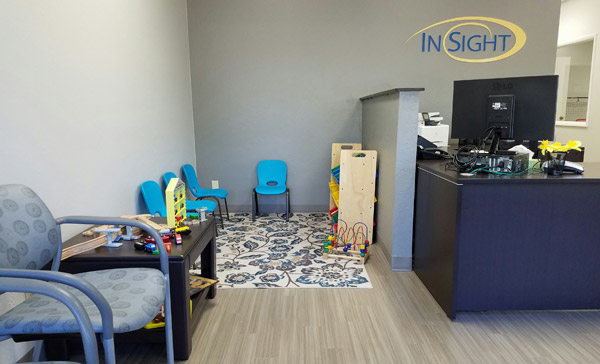 Dr. Carter decided it was finally time to focus on VT. She had been waiting for the right time and the opportunity to do so for more than a decade after discovering VT was her passion during an internship at a specialty clinic. Dr. Carter started her career at as an associate in a private practice, building up a VT patient base alongside her primary care duties. But after the birth of her first child, she moved to work at Sears for five years where she did not practice VT at all. "It was a really hard decision to make during my time at Sears, but I knew in the back of mind it would come back," she says. Before she left for her new venture last year, she had been working at another private practice for about four years where she fit in VT when she could.
Dr. Carter looked for a location and researched the costs for equipment upon her return from the conference last year. She kept her search region small. "I looked in a two-block radius of my children's schools," she says, which is convenient as a mother but also as she builds her referral-based practice. "I didn't need to be on the main drag."

She found a three-office complex with its own parking lot, next door to an investment advisor office. The space was in dire need of a refresh. "It was ugly," Dr. Carter says, laughing. It had previously been a bank so the biggest part of the renovation was removing two walls and enclosing a window from the exam room to the hallway. The flooring was completely redone, and the walls and ceiling all got a fresh coat of paint. "It wasn't a terribly expensive remodel, but it sure gave the space a nice facelift," she says.
Dr. Carter worked closely with a design group to choose furniture and that would complement the walls. There are a lot of light gray tones with some dark blue and yellow accents to match her logo. Dr. Carter sketched her logo by hand to start, and then had a designer create her vision digitally.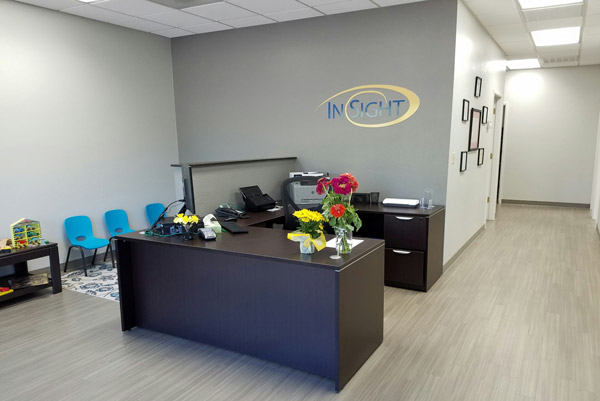 Computer and electronic costs added up quickly, so Dr. Carter set up a basic exam room with a great variety of additional VT supplies to start. She keeps a close eye on new technology for future purchases. "There are always new gadgets coming out, and there are some big ticket items on my white board wish list," she says.
The doors at InSight Vision Therapy opened in the middle of August 2016. Dr. Carter recently celebrated six months in practice, and she says that she's pleased with the progress so far. Dr. Carter had a nice foundation from patients who followed her for their VT care. She says that she appreciates her former employer's understanding to part ways so that she could specialize with her VT patients, and he refers to her for VT. She sends primary care patients in his direction.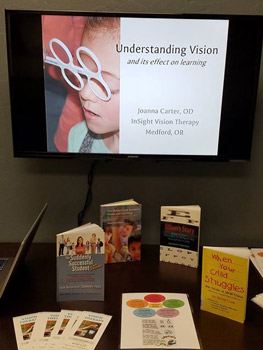 She's also reaching out to the local medical community to build her referral network. "I'm a very vocal person, and every OD in the valley knows my passion for VT," she says, as she has held seminars for ODs and other specialists such as the neuro rehab team at the local hospital. She's also connecting with children's rehab centers and schools. Dr. Carter plans to be the solo doctor for now, but hopes the practice will grow to need another staff member.
Looking back on her conversation with Dr. Montecalvo, Dr. Carter says that her colleague's encouragement came at the right time. "My youngest child had just started kindergarten and with everyone in school all day, I'm working more hours than I have in the past 10 years," she says. But she still has time for family: the kids come to the office after school two days a week, and she closes at 4:30 p.m. to be home in time for dinner with her husband and three children. "I'm spending time with them and going to after-school activities. I feel like it's been a good balance."
That flexibility has been valuable as Dr. Carter started her fellowship process for COVD with a goal to complete it in time for next year's meeting. "I'm seeing a lot of really interesting, no-one-can-figure-it-out cases, and I'm thrilled that I can do more research on the disease processes that can affect body and eyes."