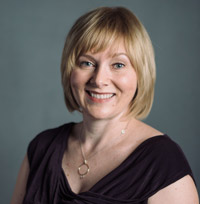 Deana LaBrosse, OD, says that she found the location for Evanston Eye Wellness in Evanston, Illinois, by chance in July 2015. "I knew some people who owned the business across the street, and when I saw the space it was perfect," she recalls. Close to the L, the Chicago-area transit system, the heavy foot traffic area was appealing. "I lived in this neighborhood and because I was familiar with the community, I pursued it."
This cold-start plan was many years in the making, as Dr. LaBrosse waited for the timing to be right. In 2015, she decided to take the plunge as her youngest daughter entered preschool. "I knew I wanted to be in a position where I could see my patient care through from beginning to end, which includes the optical experience, as well," she says. "My prescription is only as good as the product patients receive."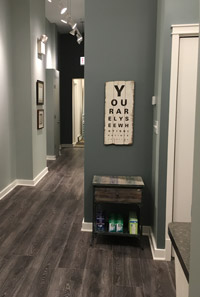 Dr. LaBrosse enjoyed flexibility in her career for the past few years though mobile optometric care for special populations. Having a custom schedule was essential, not only to meet the demands of her young daughter but also to manage her own recovery from a spinal fusion two years ago. She wanted her private practice to be an extension of that flexibility that would also allow her to pursue her passions within the optometric industry: natural eye health and dry eye treatment. Her own health care experience and recovery piqued her interest further in natural health remedies.
The current home of Evanston Eye Wellness was once a cutlery store with a small front store and a large warehouse space in the back. Negotiating the lease was the most time-consuming part of the process, she says, but was finally complete by the end of October 2015. Construction began the week of Christmas.
Dr. LaBrosse drew from lessons learned while helping her husband, Michael Zost OD, FCOVD, FAAO, open his own practice several years ago. That process provided solid experience in terms of office layout and design. Her oldest daughter, who is studying architecture, also pitched in to help with the initial mock-up drawings and sketches. Dr. LaBrosse interviewed a few architects until she found one who was aligned with her vision. "I wanted a design that reflected my desire to practice in a more natural way," she says, and she researched how to use color and the environment to influence mood. The calming, spa-like atmosphere incorporates favorite features, such as live plants, from other high-end opticals where she previously worked.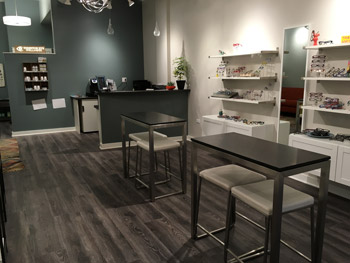 Lighting and flooring were two areas where Dr. LaBrosse wanted to make an investment in the office space. "I splurged on what I thought would make good accents and what I needed for durability," she says. She chose LED lighting for energy efficiency and to aid in the demonstration of blue-light filtering ophthalmic lenses. Dr. LaBrosse and her daughter worked with a local lighting shop to pick the necessary lighting to create the atmosphere she envisioned, as well as meet the town's efficiency requirements regarding wattage used. "We had to calculate the light spread and the fixtures I needed," she explains.
Dr. LaBrosse signed a 10-year lease, so she wanted a floor that would hold up. She decided on a luxury vinyl tile that looks like a wide-plank hardwood floor. "This building is from the late 1800s, so nothing is level," Dr. LaBrosse says. "But the floor looks gorgeous, and it molds to the different slants on the floor." This route helped level the area and also eliminated excessive work on the subfloor, which saved money.
In other areas, Dr. LaBrosse says that she was very conscious of her budget after going through the loan process with her husband. "I didn't want to go overboard on areas like the optical displays." She got those displays and her exam room cabinetry from IKEA for a stylish yet affordable look.
In early March, Dr. LaBrosse welcomed her first patients, and patients from her past are already finding her in her new space when they pass by for work or from living in the neighborhood. Others recognized her name from her involvement at the schools with her daughters. She even saw a patient from the first office where she worked 10 years ago.
Flexibility continues to rank high in importance. "I set my own hours and do things my own way, and I can take off to attend a school performance or when they have a teacher in-service day." She is also studying and adjusting the schedule along the way to meet her own and patients' needs and currently covers hours in the office for a portion of five days. "You may think you have to work evenings or weekends, but those haven't been my busiest times," Dr. LaBrosse says. She offers earlier morning appointments, which have been a convenient option for local professionals who stop in before work.
"It's an interesting time in health care for the Chicago market. Service delivery becomes quicker in pace and less personal, and people don't necessarily like that. That's what I'm betting on," she says. "People will come in, and we don't need to follow the same traditional practice model. Patients have been welcoming and more than happy to support a small business here. I've always realized that private practice was where I needed to be."