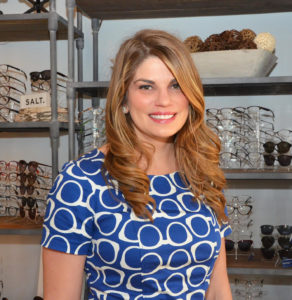 Renovating a house into an optometry practice isn't the traditional route, but for Melanie Dombrowski, OD, FAAO, MBA, the situation turned out to be even better. Since she attended optometry school, Dr. Dombrowski knew she wanted to practice in North Carolina. Her great uncle, who was also an OD, always talked about how wonderful the location and community was and it was enough to pique her interest. After working as an independent contractor for several years and obtaining an MBA degree, she opened the doors to her own practice, Salisbury Eyecare & Eyewear in Salisbury, North Carolina.
Due to the practice's boutique style and dry eye specialty, it quickly grew to gain a loyal patient base and steady income. Her financial advisor recommended she was ready for a change. "I rented the space to keep costs down low, but after five years of practice, my financial advisor recommended that I purchase my own property," she says.
GAINING CONFIDENCE
Wanting to stay downtown, she scouted for empty units but the only location that appealed to her was an 1895 Victorian house, located two minutes from her previous practice. Signing the lease was not an easy decision. "I was afraid to put a practice in a house – everything seemed too risky," she says. Yet, unable to turn away from the historical charming house, she reached out to fellow female ODs looking for advice. Surprisingly, she saw that the process was actually quite common, which was enough to light the fire.
CREATING A VICTORIAN ERA
It was a quick transition. Dr. Dombrowski took ownership in February, started construction in June and had her grand opening in September. "It was a smooth construction process. I contacted a design team, Charlotte Staton Design, during the time the previous owners were moving out, so I had a plan all complete and ready to go. We only ran into one wall that needed to be removed or replaced, and the process exposed a brick chimney, which I fell in love with. It captured the house's original features, making it more characteristic," she says.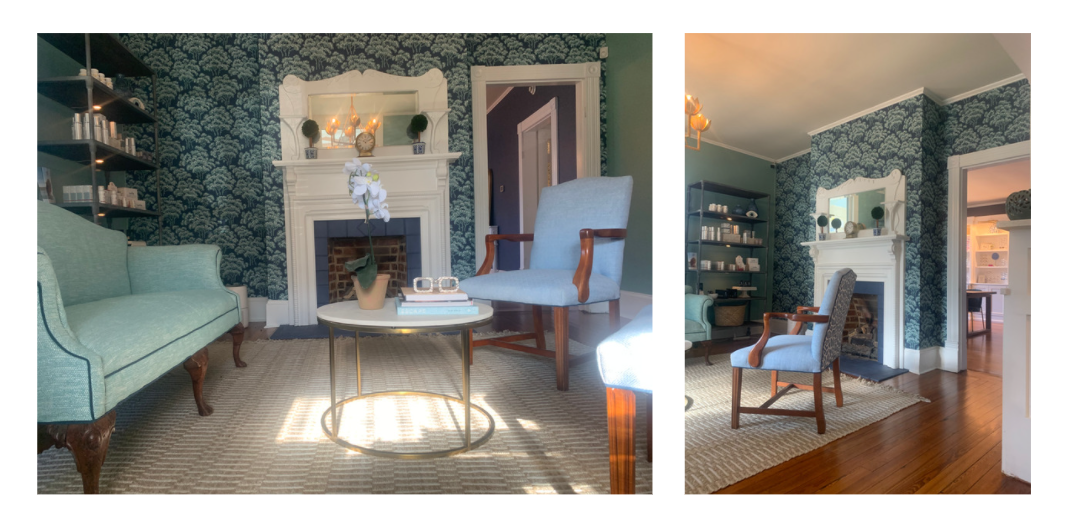 Moving away from the rustic industrial design in her previous location, the new Salisbury Eyecare & Eyewear is more glamorous, staying true to the Victorian theme. For the main colors, she picked creamy white tones accented with rich colors and a subdued teal color that decorates the main wallpapers. Dr. Dombrowski and her team settled on gold and brass fixtures and chandeliers, which are the stars of the show. "It's the first thing my patients notice, and they are always asking where they're from," she says.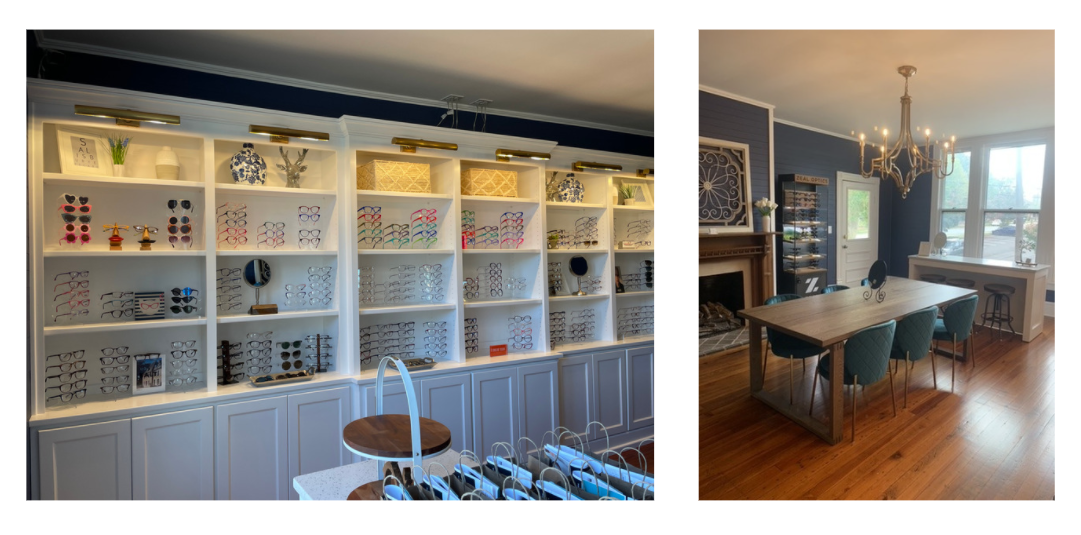 The house had been used by a law firm, and the attorneys had converted a large library to a conference room. Dr. Dombrowski transformed it into an optical space, which more closely resembles the original library. It features a deep navy wallpaper contrasted with white cabinets. In addition to the cabinets, Dr. Dombrowski installed extended built-in shelves to create boutique-style displays. "Rather than using frame boards, I wanted to display my eyewear collection like an open library," she says. In the middle of the room, there is a long oak table where the optician sits with patients. "I always loved the idea of having open conversations, so the table was placed to mimic a dining table where everyone can relax and talk freely," she says. Her staff members also have tablets to carry around rather than having assigned locations.
The practice boasts 2,400 square feet with a retail space for her dry eye, skincare and makeup products, an optical space, three exam rooms and an office, which is located on the second floor. Since the practice specializes in dry care and skincare aesthetics, Dr. Dombrowski utilizes the third exam room as a dedicated dry eye treatment room and esthetics spa.
Transforming a house into a private practice requires a lot of creativity, but the result is worth it, she says. One tip Dr. Dombrowski gives is this: "Don't fight the house; embrace its character."