Julie Phan, OD, met Toan Nguyen, OD, as students at the American Optometry Association Optometry's Meeting in 2010. The two hit it off, and after six years of a long-distance relationship as Dr. Nguyen continued to work in Kansas, the couple got married and planned for his relocation to California. Dr. Phan was raised there, and they wanted to open a practice together when he arrived in September 2016.
Dr. Phan already had a thriving office as a leaseholder in the Sam's Club in San Bernardino, California. She had built her practice there in a space that had been vacant for two years with no doctor, starting with no patients and transforming it into a bustling business. Now it was time to build on her successful platform. She'd keep the sublease, and the couple would start an independent, standalone practice.
They started their search for a prime location in a knowingly saturated optometry market and viewed eight properties. They thought that they had found the perfect spot just a month into their search in October 2016: a large, new building that offered great potential with a lot of foot traffic and was not too far from her leased office. But the monthly rental fee came with a hefty price tag of $6,000 per month. Their consultant suggested that might be too high of an overhead for a startup.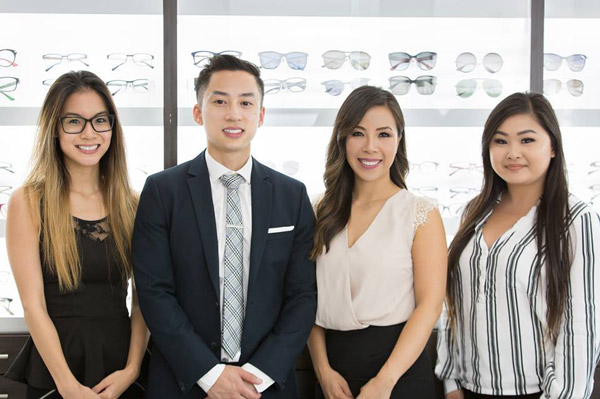 Disappointed that the plan had fallen through, Dr. Nguyen took a drive and ended up in a small town called San Marino to look at another property. It was, again, too big, but the vacant space next door seemed perfect. The sign in the window at the former wine shop read "For Lease by Owner," and there were no public listings. "It was not advertised, and no one knew about it," Dr. Phan recalls. They started researching, checking Google Maps for proximity of other optometrists and found that none were in a two-mile radius, which was rare to find in Southern California. San Marino had great potential for a primary care practice: a best-rated school district, home prices averaging between $3-5 million and no other optometrist in the city.
Dr. Phan and Dr. Nguyen couldn't believe that there were no ODs in town and jumped on the opportunity. When meeting with the city planning commission, they learned that most medical businesses were deterred from coming in due to the lack of parking spaces in the affluent and exclusive town. But since the couple was determined to focus on the patient experience instead of high volume, they knew that they could make it work with the four allowable parking spots. Dr. Phan says that the town council was elated that residents could support a local optometrist instead of traveling out to nearby towns.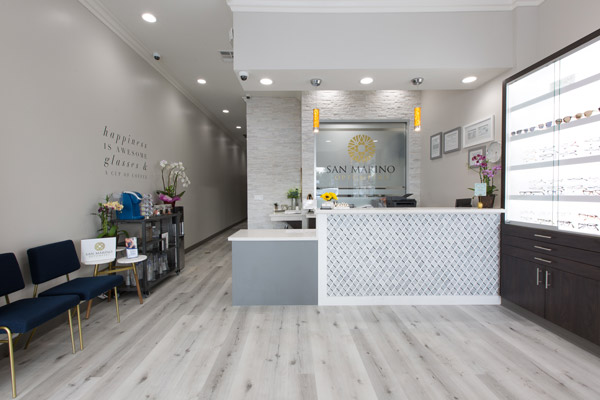 It took five months to get all of their approvals. Construction began in March on the empty shell. There was no demolition work to be done, so they hired a contractor to bring Dr. Phan's vision to life. "I love shopping, so it was the perfect opportunity to invest in our business." She envisioned the office to be totally unique and "100 percent different than everyone else—modern, bright, warm and welcoming," she says. "I wanted it to look like a living room in a home, and when patients walk in, they see things familiar to many elegant homes, from the texture on the walls to modern tile arrangements." Dr. Phan splurged for marble in the bathroom and quartz countertops, pulling inspiration from home, living room and bathroom designs on Pinterest.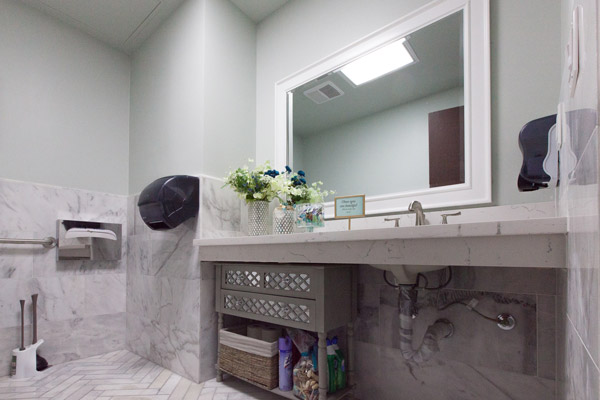 Dr. Phan worked with their architect to maximize their 1,000 square foot rectangular space with room for growth. One exam room is equipped for primary care and the second is their dry eye spa, complete with candles and other aesthetic details to encourage relaxation. It looks more like a beauty salon than a doctor's office. They brought in Miboflo technology from the start to help their dry eye sufferers with a treatment that is more natural and long-term than artificial tears. Curiosity in this treatment has drawn patients into the practice already. She also plans to specialize in orthokeratology. "There is a huge Asian American population here with myopia progressing, and it's an epidemic we want to address," Dr. Phan says.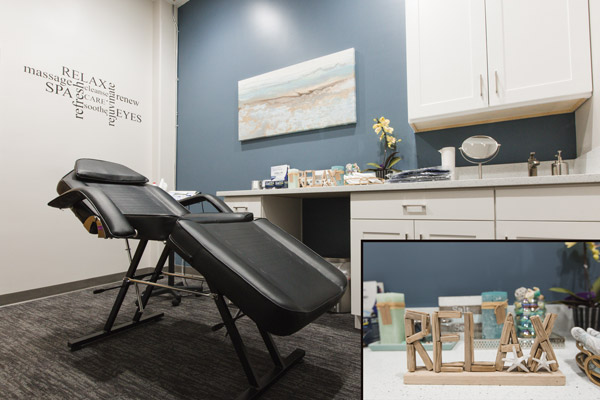 Dr. Phan and Dr. Nguyen visited a number of offices to decide how they should display frames in the optical. They chose display shelving, which they found to be the new modern way of showcasing frame styles. "We wanted to backlight the shelving so that it enhances the colors and metals," she explains. They ended up having these shelves custom-designed from the measurements Dr. Nguyen took specifically to fit the number of frames that they wanted to display, which will all be unique hand-crafted, independent brands with the exception of Ray Ban and Gucci. Staff members are highly trained on the lens and frame options and understand the quality behind the selections. They are prepared to educate patients on the dedicated craftsmanship it took to create a frame with a higher price tag. "We may not cater to everyone, and that's OK," Dr. Phan says. "We want to cater to those who value this service and an attentive, calm experience of going to an optometrist office."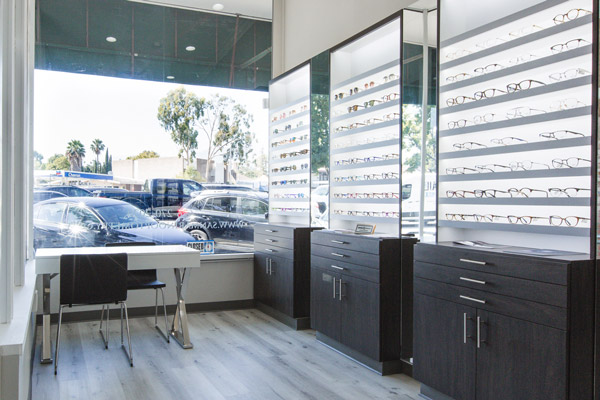 Doors opened to San Marino Optometry in June, and Dr. Phan says that she regularly receives positive feedback on the office style and design, starting at the front desk where the golden orange in the logo and hanging lights pop against the surrounding neutral palette. Several patients have commented "Wow, I can't believe my insurance would send me to a place like this!" Online marketing on Facebook, Instagram and Google have been successful, and Dr. Phan is making connections in the community with local businesses, as well as the district nurse and primary care providers. The practice is developing a referral relationship with a glaucoma specialist down the street. "Face-to-face recognition is important," she says. "We want to get out in the community and meet people. When they get to know us as people, they feel more comfortable to come and get an eye exam."
As their patient volume grows, Dr. Phan and Dr. Nguyen plan to add on new technology from their instrumentation wish list: an edger—to provide patients with quick turnaround times—and an OCT and fundus camera to help them manage more medical care and ocular diseases in-house.
The doctors are currently splitting their schedules by rotating days in each practice, which are 50 miles apart. Dr. Phan says that she definitely plans to keep her leased practice and enjoys serving both communities. "The demographics are completely different, and both are great," she says. "At Sam's Club, my patients enjoy affordable quality eye care, and their best interest is to stay with me in San Bernardino. If they want to travel for high-end glasses or for a dry eye spa session, they can come visit my private practice."
In San Marino, the goal is simple. "Every decision we make is for our patients," Dr. Phan says. "We want to give patients the best eye care experience around." Dr. Phan says that they feel fortunate to be able to chase their dream and look forward to growing both practices.