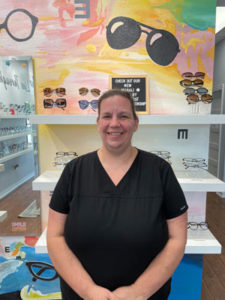 Bristol Family Eyecare acquired its second location in Georgetown, Texas, in August 2019, and the space needed a bit of differentiation, says Amy Belflower, office manager. The office is near to a dry cleaner and a donut shop, both of which saw heavy traffic even during the pandemic.
"At first, we were thinking about adding quotes to the wall," she says, noting that the front desk area is highly visible through the all-glass front. But as she, Kayla Kindla, OD, and the staff and doctors began to brainstorm, someone mentioned local mural painter Sarah Blankenship. "We thought her work would brighten up our space."
Since the mural was completed in March, it has drawn attention. "We even had a new patient who saw our photos on Instagram and looked us up as a result. The mural was the deciding factor in her coming here," Belflower says.
Since owner Dan Bristol, OD, purchased this practice, he also acquired a third in December 2020.  Dr. Kindla is the primary provider in the Georgetown location.