Kristin O'Brien, OD, and her husband were living in Anchorage, Alaska, where she was completing a residency, when she received a phone call from Gregory Cavanaugh, OD. He wanted to know if she was interested in purchasing his practice in Sidney, Montana.
While Dr. O'Brien's immediate goal wasn't practice ownership, Dr. Cavanaugh's inquiry was appealing. Dr. O'Brien first met Dr. Cavanaugh during optometry school at a Great Western Council of Optometry conference where he was networking with students, and potential future buyers, who grew up in the states surrounding his practice such as North Dakota and Wyoming and might want to return back home after school. Dr. O'Brien wanted to do just that, but the job market was slow there following her 2008 graduation from Pacific University College of Optometry. "My hometown is just two hours from Sidney," she says.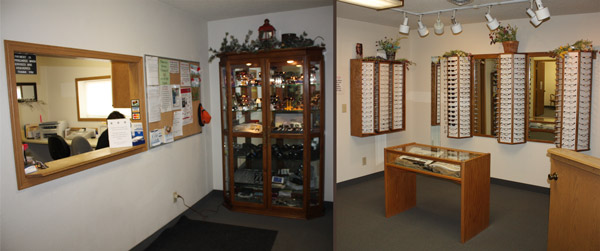 The plan was that Dr. O'Brien would work in the practice for five years and then purchase it from Dr. Cavanaugh. Dr. O'Brien and her husband moved to Montana in 2009, and she joined Family Eye Care. "After a year and a half, the oil boom happened, and it was truly insane. We were so overwhelmed with patients," she says. Dr. Cavanaugh was finding it difficult to cut back his hours, so they decided to transfer the ownership sooner.
Dr. O'Brien changed the practice name to Sidney Eye Care, and she says that one of the first things she considered when she took over was expanding or building a new office space. The office lacked visibility, located in the back of a former department store constructed in the 1950s. In the years since then, the space had been split into three offices with the practice's office space in the back.
After considering the options, Dr. O'Brien decided to purchase the building and expand once the other offices were vacant. Groundbreaking and the start of demolition began in July 2015, and the office stayed open during the renovation with signs alerting patients to the changes that were underway. "Our contractors were amazing and conscious of our business hours, so they waited until Friday afternoon or the weekend to blow out any walls," she says. They tripled their space but also created additional office spaces for rental opportunities.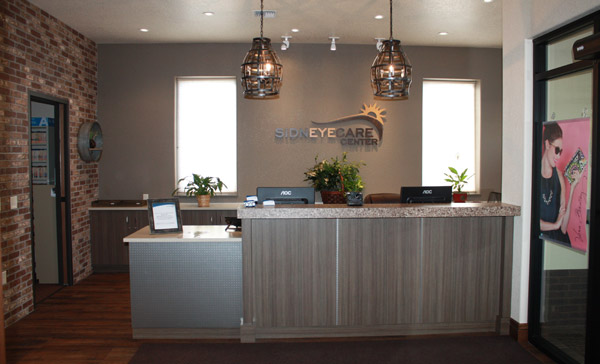 An architect aided with the initial structural design and gave some ideas for the cosmetic side, Dr. O'Brien, but she and her husband ultimately took over the interior design. She describes the space as a warm, industrial design, with unique lighting and a fireplace for patients to sit near while they are waiting. They incorporated warm woods, hardwood floor and carpeting and a color palette of dark grays, reds and browns. They just finished painting before Dr. O'Brien went on her maternity leave, and she says that she's thankful for the handiwork her husband put into the project, including rebuilding the canopy outside and redoing their signage and more.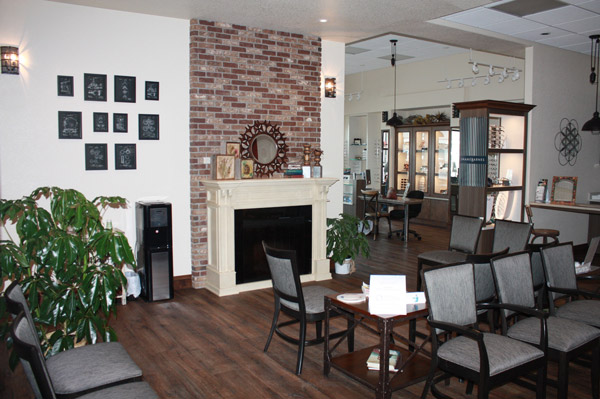 The new office has five exam rooms compared to two before, she purchased new instrumentation for three of them so that they are all fully equipped. That's helpful every day for office flow, and particularly on the day each month when a visiting ophthalmologist uses some of the rooms. The gallery-style optical has provided much more space for more frames and new lines. "We added designer sunglasses and other products that we never had room for before," she says. She also added an OCT and a new electronic health record system with RevolutionEHR with the expansion.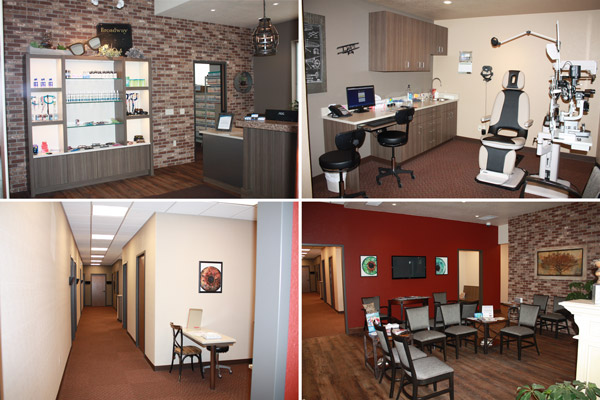 Dr. O'Brien started seeing patients in the new office space in February 2016, and continued to make finishing touches as the year progressed, leading to the grand reopening in September 2016. Dr. Cavanaugh remains a subcontractor and covers 4-6 days per month, and Dr. O'Brien and her associate OD are in the office full time.
While Sidney Eye Care relocated only to the other side of the same building, the impact is huge. "I've received the most amazing, positive feedback from patients and even people who are not, who have said that it makes the downtown look very nice," Dr. O'Brien says. The new store front office is located on a main route of Central Avenue, creating great exposure. "It's very eye-catching when you drive by." The building once had painted advertisements on it, and now there's a much more professional presence. "Even our vendor representatives and lab manager are amazed with how the clinic turned out. It has a feeling like you're in the city in our small-town community."