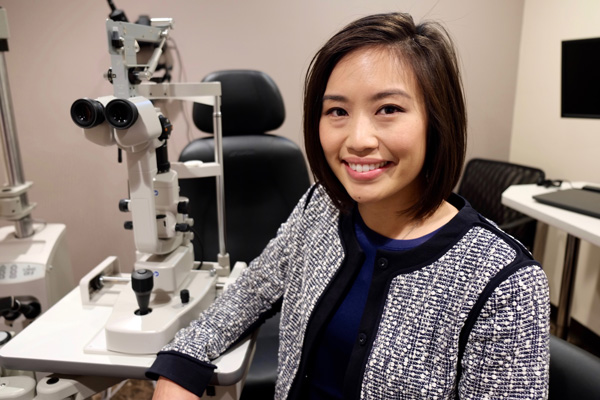 Olivia Do, OD, drove by her then-future office space in La Jolla, California, several times a day before she chose it as her own. The location was ideal: near several schools on a busy street and bordering both a residential area and touristy destinations in town. After the space was vacant for several months, Dr. Do took notice and reached out to the leasing agent who thought her business would be an ideal fit.
Location was important to Dr. Do, who had been contemplating her next career move for some time. Since her 2008 graduation from The New England College of Optometry, she had completed a residency in specialty contact lenses at UMSL in St. Louis, returned to her hometown of Toronto to practice for two years and then moved to California to be with her husband. She had researched purchasing one of a few practices that were for sale, but their geographic locations just didn't match her vision. When she decided a cold start would be her path, the pieces began to come together in the spring of 2015.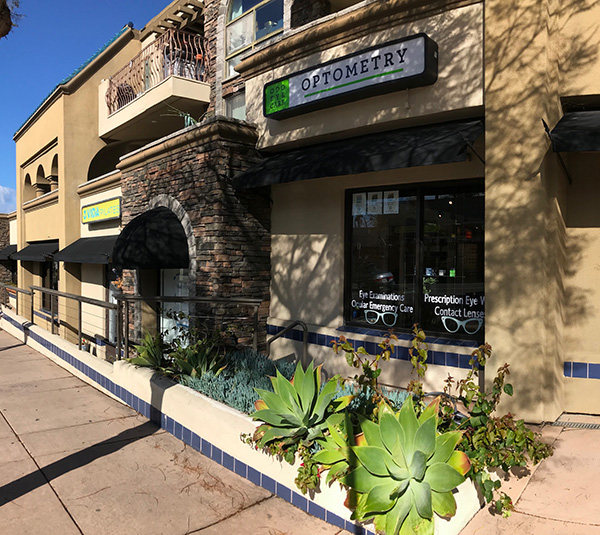 Her space is a former interior decorator's office, next to a bridal shop and other small businesses with an anchor restaurant called Sammy's Pizza, a well-known community landmark. The renovation process took about four months with some permitting and construction delays, as Dr. Do had the space transformed for ODO Eye Care Optometry. There had been only one wall so she added a few more for her ideal office flow, and the drop ceiling that had been incorporated in some areas was removed. "It gives an open, minimalist feeling with an interesting industrial look," Dr. Do says.
She says that she's thankful that the former occupant paid attention to details with hardwood floors and marble tiling, both features she was able to work into her own design. "I wanted a neutral palette in terms of display and furniture," which she achieved using several shades of taupe throughout to make her unique eyewear really pop. She was pleased with the turnout of her display cabinets from Eye Designs, and she selected other furniture pieces from Crate & Barrel and Wayfair to complete the space.
Dr. Do purchased some new and used technology to get up and running, and her top two must-haves included a new autorefractor and retinal camera. "You want to show patients that the office is up-to-date, and the investment in a retinal camera has helped with education and monitoring for many patients," Dr. Do says. "When they have never seen the back of their eye, I can compare their images to pictures of pathology." Even though it was a big bite for her, she says that she recommends the investment as one that is worth working towards early on.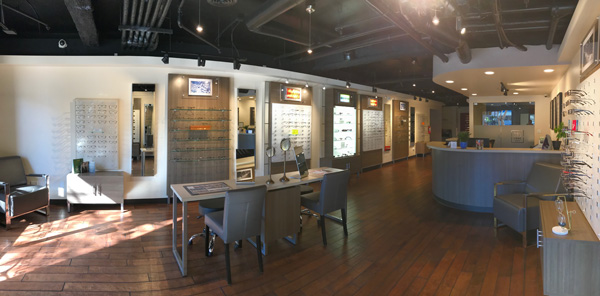 The practice opened its doors at the end of October 2015. Dr. Do says that her participation in the community has helped bring patients in the door; she visited local pediatricians and school nurses to make them aware that she can provide vision wellness exams and handle eye emergencies. She's also gained a number of new patients by simply asking current patients for their referrals and participating on vision and medical plans.
As she approached her third anniversary in 2018, Dr. Do added a second staff member, who has become a valuable asset to the team. "I've found this addition to be extremely helpful as we are getting busier so that we can stay on top patient requests and orders." she says. She's looking forward to integrating more specialty contact lens fittings in 2019 and establishing a dry eye clinic with the recent addition of a meibographer/topographer unit and hopes to bring in an OCT unit in the near future.
While ownership wasn't always her goal, Dr. Do says that the journey has been challenging but provides her with the balance and control over career and family. "On certain days, it can be difficult," she says. "But I like that I can arrange my schedule to be at my daughter's preschool or to take my kids to the park one afternoon." She's found support in a Facebook group founded by Jenilee Rebarber, OD, which is dedicated to women who have cold started their practices. "I wish I had that group when I was opening. It can be a lonely journey, but it's wonderful to have support from people who are going through the same struggles and doctors with established practices who can share their wisdom."