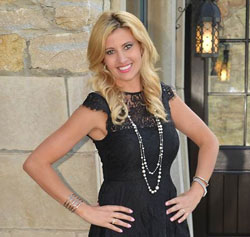 When Kayla Gaddis, OD, stepped into the empty space that had been a high-end clothing boutique but was then only an empty shell, she looked around and decided, "I can work with this," she says. "There were no walls, no floors, no lighting. But there was a stone wall, a fireplace, a wrought-iron stairway and these unusual little house-like structures."
Dr. Gaddis came to McKinney, Texas, with her husband and two young children. She had worked with a large multispecialty MD/OD group in Louisiana for six years, but was ready to return to be closer to her hometown. She sent designer Barbara Wright photos of the space and told her what she envisioned. "I had an idea in my head, and I wanted to work with what was there. But I didn't know how to make it flow for an optometry practice."
The result was the Blink Eyecare, a unique practice and optical that Dr. Gaddis had dreamed of. The space has two exam lanes, both near to the contact lens area so that Dr. Gaddis can access them easily." There's a lab area and a front office. The two house-like structures had been dressing rooms in the clothing boutique. Now one houses the children's play area and the other is where her visual field testing is done.
In her shabby chic design, with a chandelier in the patient lounge, Dr. Gaddis originally thought she'd opt for stained concrete floors. "The designer advised me not to do that. When you walk on that hard surface, over and over and for years, you'll feel it in your back. So I went with a wood-look vinyl that cushions the feet a little more. I appreciated that the designer was looking for my long-term health."
After she picked out paint colors, a local designer helped her select the furniture. "I didn't want frame bars. I wanted all open countertops so that it's easier to be creative with our displays," she says. She enjoys rearranging the displays, trying out different setups to keep patients browsing and shopping a little longer. "When patients walk into the office, they're drawn to the right to begin shopping. We have custom made displays on the corners of our dispensing areas and we have random shelves in the stonework. On the left, there's a big, beautiful cabinet where we store lens cleaners, cases and chains for sale."
The stairs lead to smaller open 300-square-foot space on the second level that Dr. Gaddis will use for her office. The stairway itself is a focal point that the clothing boutique, which closed in 2008 during the recession, featured so models could make a memorable entrance in a fashion event. Dr. Gaddis would like to use the same idea for her eyewear fashion events.
Lighting was an expense that pays off, she says. "I have one big window in the front and others, but on the sides there are no windows. So I use track lighting, chandeliers and more to create a comfortable look," she says. She also has only four chairs in the patient lounge. "If there are no chairs, then patients shop."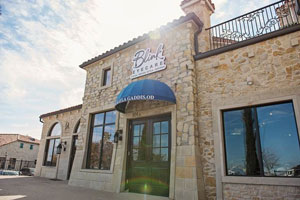 If patients arrive before Dr. Gaddis is ready to see them, the optician will start with frame styling and hand the patient a felt-lined, black jewelry tray. "They can pick out their frames and carry them around as they decide," she says. That has helped her increase sales and enthusiasm for her optical. Dr. Gaddis also joined Vision Source®, hired Williams Consulting to start and eagerly pursues ideas for growing her practice.