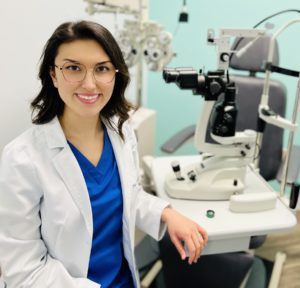 After Tina Ansari, OD, graduated from University of California Berkeley College of Optometry in 2014, having her own independent practice one day was her goal. She and her husband moved to Phoenix, Arizona, but they knew it was not their long-term goal to stay there. "Both of our families are in Virginia, but I used the time to work in private and corporate practices so that I could gain experience and pay off student loans so that I could be in a better place financially when an opportunity arose," she says.
In late 2018, they moved to Virginia. While working as an associate, , she continued searching for an opportunity to buy an existing practice. "Between limits with noncompete agreements and tentative deals falling through, I decided to start looking at opening my own practice. The idea that I could design and develop a practice the way I wanted became more appealing than having the automatic patient base. Starting my own practice would give me the freedom to bring in the technology I found necessary to provide the highest level of care for my patients, while focusing on building relationships and a great patient experience" she says.
Then COVID-19 hit – and everyone's business slowed down. That provided her the opportunity to search for a space, which she found in Gainesville, Virginia, in a shell of a small shopping center that already had a mix of retail, medical professionals and personal services, like hair and nail salons. "It was a great fit to bring a neighborhood family optometrist into the space. I'm also passionate about dry eye and specialty contact lenses, so I can bring in more special services once I have a larger patient base," she says.
After several delays, Dr. Ansari opened the doors to Lumen Eye Center in February 2022, about five months later than she originally planned because of construction delays and modifications to the plan requested by the county.
As delays and revisions can be costly, she needed to make some sacrifices. "There are things that I did not want to compromise on, such as my equipment. I wanted the OCT, fundus camera and topographer right from the start, but I decided I'd initially equip just one of the two exam lanes. I also settled for a manual phoropter for now," she says. The experience honed her shopping and negotiating skills and creativity. "I negotiated for the best deals or packages I could, and for the optical displays, I went to Ikea, Wayfair and Amazon to get the clean, modern look I wanted with a lower price tag. It took a lot more planning and creativity, but I was able to save money."
Dr. Ansari says that she regularly looked through Women in Optometry's practice design stories for ideas and colors. "I created my own vision board, and I got lots of inspiration from the designs of other women ODs' practices. I probably spent six months looking at paint swatches," she says, laughing.
One area that she wanted to emphasize was lighting – reflected by the practice name – Lumen– and logo. "Accent lighting and fixture are very important," she says. Not only does it help put the 200 or so frames she started with in their best light, but good lighting also makes people feel comfortable and relaxed. As she gets to know her patient base a little better, she'll be able to finetune her offerings a little more.
Dr. Ansari is working on building the business – and still works about two-and-a-half days elsewhere. She'd love to pull back from her other work so she can dedicate herself entirely to this practice, and she's hoping that at the six-month mark, she can work four of her six days a week here and within a year, her own practice can support her exclusively.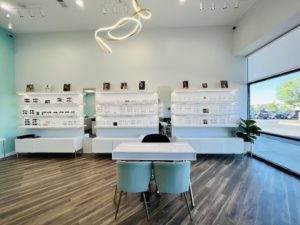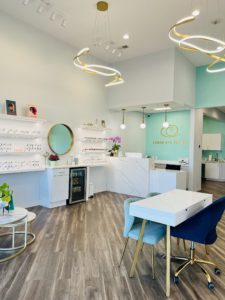 BEST ADVICE
Dr. Ansari says that she made two smart decisions early on. First, paying off her student loans gave her financial flexibility. "I didn't want to worry about student loans when it was time for me to take out a business loan. So I graduated with the goal of paying off my loans as quickly as I could."
She also joined PECAA, specifically for its Cold Start program, which allowed her to take advantage of discounts and gain support from the advisors who shortened her learning curve. "The people I've met through the group have been amazing colleagues and shared so much of their expertise and perspective."