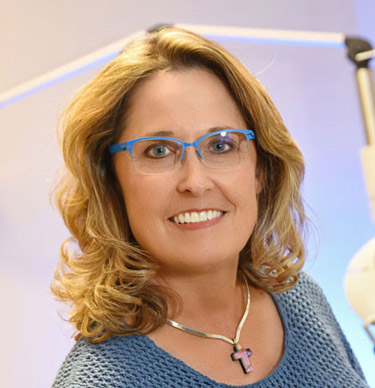 When Theresa Slover, optician for Advanced Eye Care in Tulsa, Oklahoma, went to the RevolutionEHR user meeting, she saw a new frame and lenses solution, called twelve84, that she thought would be ideal for many private-pay patients in the office, while creating great efficiencies for the staff. twelve84 is an in-house eyewear brand and frame management system designed to help doctors increase their capture rate. The patient order is facilitated directly through RevolutionEHR, with frame inventory stocked at the lab, which saves a noticeable amount of time and generates more profit.
Slover says that the practice has a higher-end demographic, yet it also serves a number of seniors and others on fixed budgets. Some have told her that they would like to purchase their eyewear from the practice but were hesitant because of the price points. "We want these patients to feel comfortable shopping with us," she says. twelve84 presents patients with an affordable package price for frames, lenses, AR treatment and a two-year warranty. Patients don't have the sense that they're being upsold or need to think about how much individual features cost. Since adding the twelve84 options last year, these patients have been drawn to the simplicity and appreciate the convenience. The practice is simplifying the package and improving the quality of life for its patients with this quality, affordable eyewear package.
Practice owner Denise Roddy, OD, says that Slover's excitement about the program convinced her to get on board. The results have been just what she has come to expect from RevolutionEHR—great service and added efficiency. "We had one of the doctors and some staff members try the products themselves, and we felt these were great quality lenses that we could recommend confidently," she says.
Patient benefits
Loyal patients want to be able to purchase their eyewear from the practice, but if they perceive that they can get a much better deal elsewhere, it may be difficult to resist. Offering the twelve84 options allows private-pay patients, contact lens patients and those who are looking for a second pair outside of their vision plan coverage to buy the eyewear they need at an affordable price point. "It's a simplified presentation to patients. We don't have to offer a percentage off for patients who don't have insurance, and what they're finding here is actually a lower price than our branded products with discounts," Dr. Roddy says.
Simplified ordering
Not only is the presentation to the patients simple: offering beautiful eyewear at one package price, but twelve84 also eliminates many of the steps in the ordering process. "At the completion of the exam in RevolutionEHR, the patient receives a printout of his or her prescription, and the data is also sent directly to the front desk and to the opticians," says Dr. Roddy. For twelve84 selection orders, the optical staff submits the order in RevolutionEHR, noting the frames and lenses. The order is then transmitted to the lab, where the eyewear is completed and sent back to the practice or directly to the patient. "We don't have to pay for shipping frames to the lab, and we can keep these frames on the board. We have been very happy with the service and the turnaround time," she says.
Incorporating twelve84 has allowed the practice to offer great eyewear to more patients and, in many cases, exceeded their expectations. "We pride ourselves on exceptional care. Our standard is that we are going to offer our patients the best products to meet their needs," says Dr. Roddy. Doctors and staff are happy to deliver that level of service; twelve84 allows them to spread that
happiness even further.