Set Up a Practice for Success, Then Hope for the Best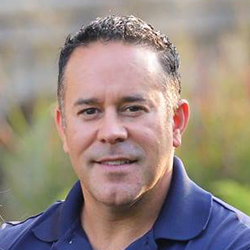 As was the case for most of the planet, Travis Johnson, OD, FAAO, found his world coming to a screeching halt in March 2020. While his independent practice inside a Walmart, Music City Eye Care, in Murfreesboro, Tennessee, never had to close completely, drastic changes were made to their daily practice life. They made the decision to follow Walmart's corporate lead and decreased their daily hours to four hours a day from 10 until 2 from April until August. The office was open for emergency and medical care and some primary care. "We were able to take care of patients with glaucoma and diabetes and for foreign body removal," says Dr. Johnson. Being one of the few nonemergency health care providers who was able to safely stay open kept the office busy. "Coming to a doctor's office that was sanitized felt fairly safe to patients," Dr. Johnson says. "We had a very low no-show rate."
When it came to their cleaning procedures, the doctors and staff kept with the industry standard: sanitizing all chairs including armrests and anywhere they could possibly have contact with patients. The staff and doctors wore masks; and the number of people allowed in the office was limited. One practice that was key for Dr. Johnson was sanitizing equipment chin and forehead rests in front of patients in the exam chair. "We would wipe down anything their face would touch," he says, "so they saw us do it. Witnessing us cleaning the instruments enhanced their feeling of security." The practice also implemented new staff protocols on mask-and glove-wearing and disposal.
Demand for range of services 
Dr. Johnson's office specializes in a high level of medical care. "We are at the tip of the spear regarding corporate-affiliated types of practices," he says. The practice takes advantage of an advanced scope of practice, from diabetic exams to injections. "The state of Tennessee has been very generous and allows [us to prescribe] oral medications and injections. We've been very medically driven since we opened here."
One trend that has been on the upswing—for Dr. Johnson's practice locations as well as for many ODs—is the demand for contact lenses that accompanies the mask mandates. "We're doing 20 percent more contact lens fittings than in a normal week pre COVID-19," says Dr. Johnson. "More people want contact lenses because masks are fogging up their eyeglasses. People who haven't worn contacts [in years] are back."
While the contact lens boom has been beneficial, Walmart has also been a powerful force in this challenging time in terms of recouping and retaining its customer base through marketing. In addition, the practice uses a robust website that has served as a model for other practices inside Walmart. The doctors use the RevolutionEHR practice management system to send text reminders for examines and other messages to patients.
Be prepared 
Dr. Johnson feels as though one thing that proved to be a boon for Magic City Eye Care was the level of preparation in regards to their emergency protocol. "[We were ready with] recall and electronic medical records, and we had a viable patient base for dry eye and glaucoma. Those kinds of things kept our practice busy," he reflects. "We set ourselves up for success."
While these systems were tested on a large scale in 2020, it's important to be prepared to continue to provide patients with much-needed eye care services during other unforeseen disruptions, such as storm-related closings. While Dr. Johnson is hopeful that the experience of 2020 will not be repeated, it has reinforced for him the importance of being flexible.