There was a time, about two years ago, that the staff at the Goldthwaite, Texas, office of Melanie Bartek, OD, FCOVD, would spend time every month putting labels on recall postcards and waiting for the phone to ring from people confirming their appointments. If they didn't receive the calls, the staff members would start calling people at home, Dr. Bartek says.
Even in a rural place like Goldthwaite, most people have switched over to using cell phones and email as their contacts. Many calls to patients' homes would go unanswered, or staff members would leave messages on answering machines and wonder if they reached the person. "It was a time-consuming process," Dr. Bartek says.
So when she heard about Solutionreach at her state optometric association meeting and again at a Vision Source® meeting she
attended, she thought she'd give it a try. It has simplified the entire recall procedure, she says. Solutionreach is a patient engagement
system that lets eye care providers' offices communicate with patients how and when they want to be contacted.
Sammy Reyes, who works in the lab and also covers the front desk, remembers the old process, and he much prefers the new one. "It has freed up a lot more time to focus on other areas. Each month, we would spend at least 45 minutes
printing out cards and stickers and adding stamps," he says. The practice prints out only a few postcards now to patients who expressly
say that's how they want to be contacted.
Reyes adds that the overall management of the appointment calendar is easier with Solutionreach, too. "We send either an email
or text reminder the week before, the day before and an hour before the appointment time. A lot of patients thank us specifically for that reminder an hour before the scheduled time because they had gotten busy and forgot."
For those who receive the reminder and realize they cannot make the appointment, it's easy to text or email back a response to request an alternate appointment time. "There's much less back and forth with phone tag," says Reyes. And because the practice gets reliable and fast responses with these reminders, the staff also has more of an opportunity to fill those spaces suddenly left empty. Practice staff is alerted by a red flag that there's been a notification to a Solutionreach appointment message. "We're able to respond
quickly so that we can reschedule the patients, and we have more of a chance to fill in the empty holes," he says.
Dr. Bartek says that, to date, recalls and appointment reminders are primary uses of Solutionreach, but she and the practice staff
have also learned how convenient it is to get messages out in a hurry. If the doctor's schedule suddenly changes or if the roads
are icy, she or a staff member can log into the Solutionreach remotely to send out a message that explains the closure or delay. That's handy in bad weather because it means no staff member needs to navigate potentially hazardous roads to get to the office to answer phones or make calls to patients.
In addition, Solutionreach sends out surveys to patients after appointments, and these survey results provide Dr. Bartek with terrific feedback about patients' perceptions and their experiences, and the comments can also be added to a practice's website or social media pages.
Reyes says that these added benefits were not the initial draw to using Solutionreach but have added tremendous value. "We have
started using it more for general announcements, such as when we have a shift in hours or a holiday schedule."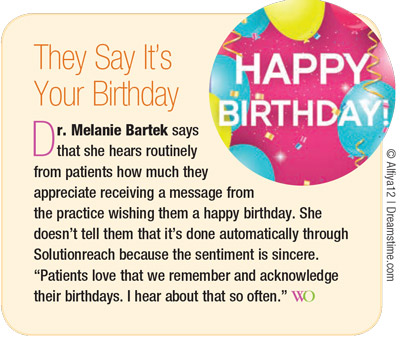 He says that the switch over to Solutionreach wasn't complicated. "We had been collecting patients' emails on our intake forms, but we hardly ever used them for anything. So we knew that patients were willing to provide them," he says.
Dr. Bartek says that the staff particularly notices the difference on busy days. Being able to continue to focus on the patients in
the office and any other tasks that must be completed is far better than having to pull one staff member aside to make reminder calls to
the next day's patients. "I haven't measured if our no-show rate has dropped, but I have the sense that having Solutionreach has made a difference for us in that way, too."
Dr. Bartek adds that while it might be possible for a practice that collects emails and cell phone numbers to send messages and reminders to patients electronically, it wouldn't be easy. "Solutionreach brings it to you all set up. The system talks to our electronic health records software and automatically pulls in the information it needs to send these messages out on time and consistently," she says. "Even if I had a staff member in house who could manage it, it would still be a big time commitment."